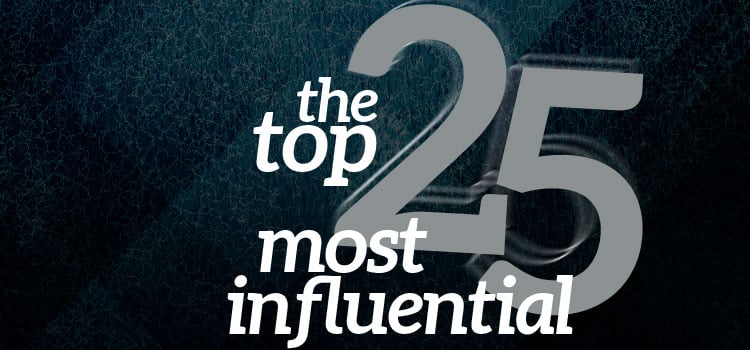 Canadian Lawyer's Top 25 Most Influential in the justice system and legal profession in Canada is now in its seventh year. The Top 25 is always the magazine's most-read, and most commented-on, feature. Its popularity — both in terms of the number of nominations we received as well as the number of votes in the public poll — highlights the engagement and pride in their colleagues that lawyers, judges, and others in the legal profession have.
As we do every year, we put out a public call for nominations to legal groups and associations representing a variety of memberships and geographies; last year's Top 25 honourees; our readership; and our internal panel of writers and editors.
Likely due to the introduction of the new "young innovators" category, this year, we far surpassed all previous years, receiving more than 200 nominations, which the internal panel whittled down to about 160 candidates who met our criteria. The pool of nominees was so strong in the young influencers category that it alone had 70 candidates. It truly was amazing to see what these lawyers under 40 are accomplishing — in all areas of the law and from all across the country. As the editor of Canadian Lawyer for almost a decade, and someone who is constantly impressed with the work lawyers do, even I was blown out of the water by the quality of the candidates.
Once we had the long list of candidates, we posted it online and polled our readers for their votes — and you let us know in droves what you thought. The number of voters increased by 22 per cent over last year, with 11,071 people participating and commenting on those who they thought made their mark over the past 18 months. The final list of 25 honourees is based on that poll with input and the last word from the Canadian Lawyer editorial panel.
Being named as one of Canadian Lawyer's Top 25 Most Influential highlights the important and significant work jurists have done in the last 18 months or so. Some of them may have steered big deals or made the most splash on the news pages — but it's about their leadership and influence in a larger sphere. It is not a recognition of lifetime achievement, but inclusion in the Top 25 speaks to a level of respect, the ability to influence public opinion, and to help shape the laws of this country and others; contribution to the strength and quality of legal services; involvement and impact within the justice community; and social and political influence and involvement.
The Top 25 is split into five areas of influence with five winners in each of the following categories: the new young influencers; government, associations, and non-profits, including: courts, public inquiries, and officers of Parliament; changemakers; criminal and human rights law; and corporate-commercial law. Nominees were put in the category in which the individual exercised their influence during the time period, which at times may differ from their main area of practice.
A number of previous honourees are back this year: Senator Murray Sinclair's work on the Truth and Reconciliation Commission, whose report and recommendations were released last fall, continues to be an integral driver to changes in the way First Nations people, lives, and law are perceived and treated in Canada. Human rights and immigration lawyer Lorne Waldman continues to be involved in cases that are an integral part of the dialogue in Canadian society. Ontario Superior Court Justice Paul Perell reappears on the list once again due to the influence and importance of the decisions that he's penned.
Marie Henein, who first appeared on the list last year, was almost guaranteed a spot again as a result of her work on the Jian Ghomeshi trial and the ripple effect of the case in both the legal community and beyond. She was, by far, this year's top vote getter. She was lauded by voters for, among other things, withstanding "tremendous pressure and negative feedback, yet represented the profession admirably," as well as for being "an inspirational lawyer and a role model for young female lawyers."
With the introduction this year of the young influencers category, we see a group of extremely talented and dedicated lawyers under 40 who are making a real impact in the profession and their communities. To a certain degree, every single one of the 70 nominees deserved to be on the list because their stories are so varied and incredibly impressive. We had candidates from practically every province in a wide variety of practice areas and industries. From leading their local bar associations, to arguing precedent-setting cases in their first years of practice, to embracing new ways of practising and blazing trails in their communities, all of the nominees are setting the bar high and poised for ongoing success. Five of the most impressive candidates are highlighted in this year's Top 25.
While only 25 of the incredible nominees can make the final list, every single one of them has had an impact, and their accomplishments are many and varied — not to mention many of them done behind the scenes or on a pro bono or volunteer basis. It's these lawyers and judges from across Canada and many different areas of practice who uphold the greatest ideals of the profession and are worthy of recognition.
Below we present the Top 25 Most Influential for 2016. They are listed with the top vote getter in each category first, followed by the others in alphabetical order.
Want to add your own kudos? Disagree with the choices? Did we miss someone obvious? E-mail it to [email protected]. We'll be doing it all again next year.
* This article was prepared with the assistance of Mallory Hendry.