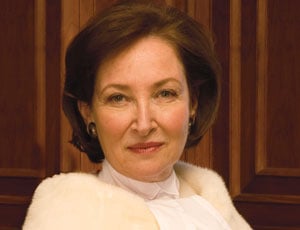 Supreme Court of Canada
Rosalie Abella co-wrote the decision affirming that law societies are authorized to deny accreditation to
Trinity Western University's proposed law school. The longest-serving and first Jewish woman appointed to the Supreme Court of Canada, Abella coined the term "employment equity" and has been fighting for equality throughout her career. Earlier this year, she was elected to the American Philosophical Society, founded in 1743 by Benjamin Franklin, putting Abella in the company of Thomas Jefferson, Charles Darwin and Albert Einstein. She was the recipient of the Scotiabank Ethical Leadership award and is the recipient of the 2018 Lifetime Achievement Award by WILL. Abella received an honorary degree from Thompson Rivers University for expertise in human rights law and employment equity and was awarded the Calgary Peace Prize in 2017. Notable decisions that Abella wrote or co-wrote are R. v. Magoon (unlawful confinement, 2018), R. v. Jordan (court delays, 2017), Google Inc. v. Equustek Solutions Inc. (technology company bringing action against distributor for unlawful use and sale of its intellectual property through internet, 2017) and Teva Canada Ltd. v. TD Canada Trust (bank's defence against fraudulent cheque conversion, 2017).
WHAT VOTERS HAD TO SAY:
"There is no denying the massive influence of Rosie Abella on the Canadian legal system. Her vision of and thinking on administrative law and equality rights have profoundly shaped those areas of the law."
"Consistently leads in the field of equity."