General counsel support business growth at Maple Leaf, Smucker, and Coca-Cola Canada Bottling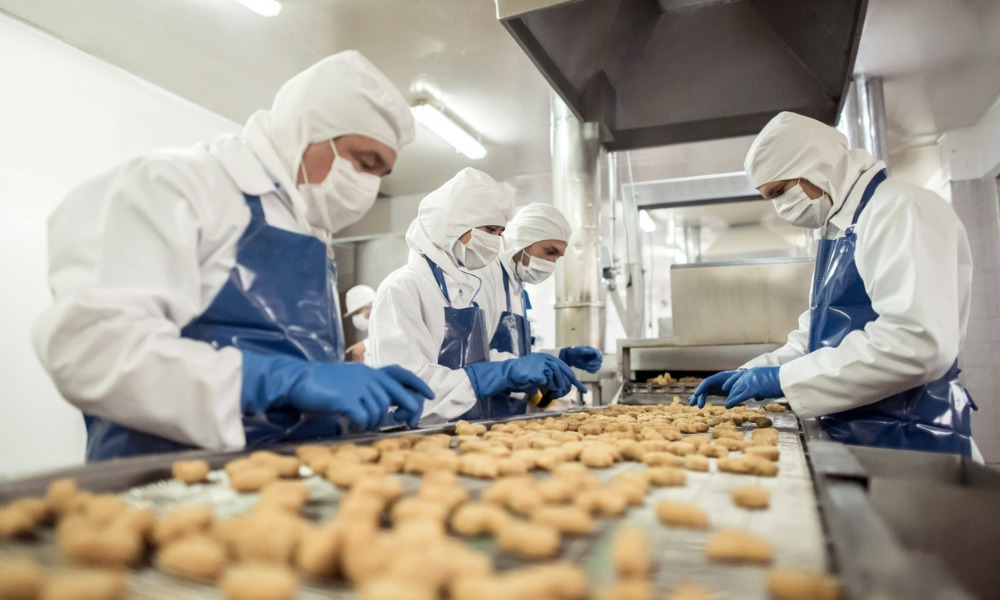 As an essential industry, the food and beverage manufacturing sector continued to operate throughout the pandemic crisis while other industries scaled back production amid reduced demand. However, supply chain disruption, health and safety restrictions, and changing consumer habits meant that manufacturers in the food and beverage industry had to pivot in many areas to meet a surge in demand.
"Like a lot of suppliers, we faced a surge in demand for a number of our products, which has put significant strain on all areas of our supply chain from warehousing, to getting cases out, to procuring the product," says George Ellinidis, vice president and general counsel, Canada and International, at Smucker Foods of Canada Corp. — a wholly-owned subsidiary of The J.M. Smucker Co.
The company, which owns many well-known fruit spreads and brands including Folgers coffee, Robin Hood flour and Bick's pickles and condiments, adapted by sourcing raw materials and packaging from alternative suppliers. The company also leveraged long-term relationships with existing suppliers. For example, Smucker had to source cucumbers for Bick's pickles from different contract packers. The team also had to track down alternative materials to make the packaging for its Robin Hood flour amid a rush in demand for baking products early in the pandemic.
The legal department works closely with the supply chain and contract manufacturing team at Smucker, led by Todd Campbell, vice president of supply chain and operations, to support and assist with contract negotiations and the drafting of trademarks related to new packaging.
"What I think the pandemic has taught us is that moving forward, we need to be ready to pivot in areas we may not have predicted, and we can't simply rely on a playbook of operational items and practices that we've used in the past because we just don't know how we're going to have to adapt in the future, depending on the situation that arises," says Ellinidis.
At Maple Leaf Foods Inc., rigorous planning and implementation of evolving safety protocols meant that food continued to be delivered to shelves to meet demand. At the same time, the company also continued its long-standing focus on offering sustainable packaging and reducing its environmental footprint.
"We had to work very collaboratively with our suppliers to make sure the full flow of food from farm to fork continued, so it was all-hands-on-deck from logistics teams and operations teams, supply chain teams and customer sales teams," says Suzanne Hathaway, senior vice president, general counsel at Maple Leaf Foods.
Maple Leaf invested around $58 million in COVID-related expenses in 2020, which covered everything from putting additional infrastructure into facilities to keep people safe, to donations and contributing to security in communities.
Due to stringent restrictions on the number of people permitted to work in plants, Maple Leaf pivoted to develop creative ways to use technology for automating systems, including audits and equipment inspections.
The legal department at Maple Leaf works collaboratively with the entire organization to provide support and help identify and mitigate risk. Hathaway's team is also working to ensure a smooth return-to-office for staff working remotely since the start of the pandemic and consider all options for the future working model.
"There are privacy concerns and access concerns and confidentiality issues, and we are thinking through conversations about vaccines in the workplace, and even how the pandemic has affected how we may think about our contracting strategy going forward," says Hathaway. Hathaway says the focus will be to continue contributing to the community more broadly by focusing on sustainability, good animal care and creating shared value.
At Coca-Cola Canada Bottling, the team shifted its focus to packaging and products that were less strained by supply chain shortages.
"From the scarcity of certain supplies like aluminum cans to manufacturing disruptions due to the dozens of COVID protocols that we've implemented to keep our employees safe, Coca-Cola Canada Bottling has weathered the storm by quickly pivoting to adjust to the realities faced by our business," says Gennady Ferenbok, vice president, general counsel and secretary at Coca-Cola Canada Bottling. This independently-owned company has a contract with Coca-Cola to manufacture, bottle, distribute and sell Coke products across Canada. For example, due to a North American aluminum shortage, Coca-Cola Canada Bottling worked closely with brand partners to focus on promoting its alternative polyethylene terephthalate bottle packaging.
The pandemic brought additional risks and uncertainty to many long-standing operating norms, so Ferenbok's department has been busy helping the organization to foresee, understand and respond to challenges. Ferenbok expects this to continue in the future.
"The food and beverage supply chain is incredibly complex but also incredibly strong and resilient," he says. "I expect the industry will continue on its current trajectory and get ahead of, or quickly adapt to, whatever changes the future might hold."