Scott Kirkpatrick prepares to support the business amid global restructuring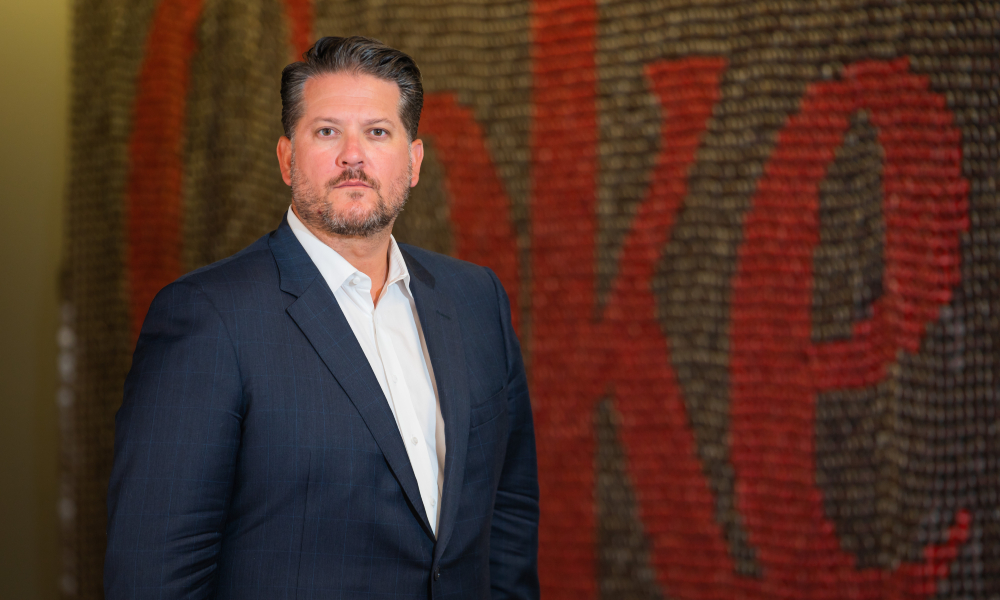 The Coca-Cola Company recently announced a strategic plan to better position its brands to boost growth in the wake of falling revenues caused by the COVID-19 pandemic crisis. The restructuring will see the business streamline its operations into nine operating units and five global category leads.
As the Atlanta, GA-based global beverage giant evaluates its ideal structure — first in North America and then globally — the Canadian legal team is making a pre-emptive strike to assess new ways in which it can continue supporting the evolving business.
"Change itself inevitably brings a lot of support that's required from our legal team — the most obvious area being in the employment and labour space," says Scott Kirkpatrick, general counsel and executive vice president at The Coca-Cola Company (Canada). "We are really looking at how we best provide services to our bottlers and to our consumers and to our customers." Examining finance organization, HR and marketing and considering ways to make them more efficient are among the priorities for Kirkpatrick's team for the restructuring.
In addition to leading a team of five direct reports on the legal team, Kirkpatrick sits on the executive team for Coca-Cola Ltd. in Canada and for Minute Maid, and he is on the board of directors. The team collaborates with global legal leadership while driving national business objectives.
"The legal team enjoys a seat at the table when it comes to strategy, so we try to lead the Canadian business in a way that obviously rolls out to the global business in Atlanta," he says.
Building and retaining a diverse team and helping the organization in its goal to focus on diversity and inclusion have long been priorities for Kirkpatrick. While he is proud to lead a legal team that is representative of the diverse population of Toronto, he is also actively involved in helping other functions and locations across the global company to understand the need for diverse hiring and inclusion.
"The Coca-Cola company is in more countries than the United Nations, so the issues that arise are quite complex and change from geography to geography," says Kirkpatrick. "Being a part of the global and North America-wide diversity conversation has been fascinating because what representation means in every country is actually very different."
The COVID-19 pandemic crisis resulted in a decline in some aspects of work for Kirkpatrick's team in the second quarter of 2020, such as preparing new contracts and entering agreements with restaurants and food service operators, following a decline in business from the out-of-home sector. However, work increased in other areas.
"A lot of our partners in professional sports or theatres and existing restaurant customers obviously needed a lot of support and needed revisions to contracts or a new lens through which we would look at marketing and funding and things of that nature," says Kirkpatrick.
While the Coca-Cola Company's Toronto-based headquarters has been closed since the pandemic struck in March and remains closed until the end of 2020, production operations continued throughout the crisis, as food and beverage companies are considered an essential service. The legal team had to deal with issues surrounding employees who tested positive for COVID-19 as well as customers who reported associates testing positive. Facilities had to be closed for cleaning in some cases.
The legal team was already well equipped to work remotely and had previously adopted a paperless work policy and electronic systems, which made the shift smoother.
"The fact that we could already sign documents electronically and that our contract management and filing was all done electronically was certainly helpful," says Kirkpatrick. "If we were relying on physical paper for a lot of these deals, that would have been far more cumbersome." The team has also become more proficient in the use of tools including Microsoft Teams, BlueJeans and Zoom.
"A lot of the work we were already doing to enhance efficiencies has just been further reinforced by the pandemic," Kirkpatrick says.
SCOTT KIRKPATRICK: FAST FACTS
Is a member of Coca-Cola Canada's executive leadership team and the board of directors
Named a Lexpert Rising Star in 2015
Winner of the Canadian Lawyer InHouse Innovatio award for Law Department Leadership - 2018
Named to the Legal 500 GC Powerlist Canada, 2019
Won Coca-Cola Canada's Business Leadership Award, 2014
Is a mentor at the University of Toronto Faculty of Law