Evans puts the needs of patients first as she manages risk and supports critical initiatives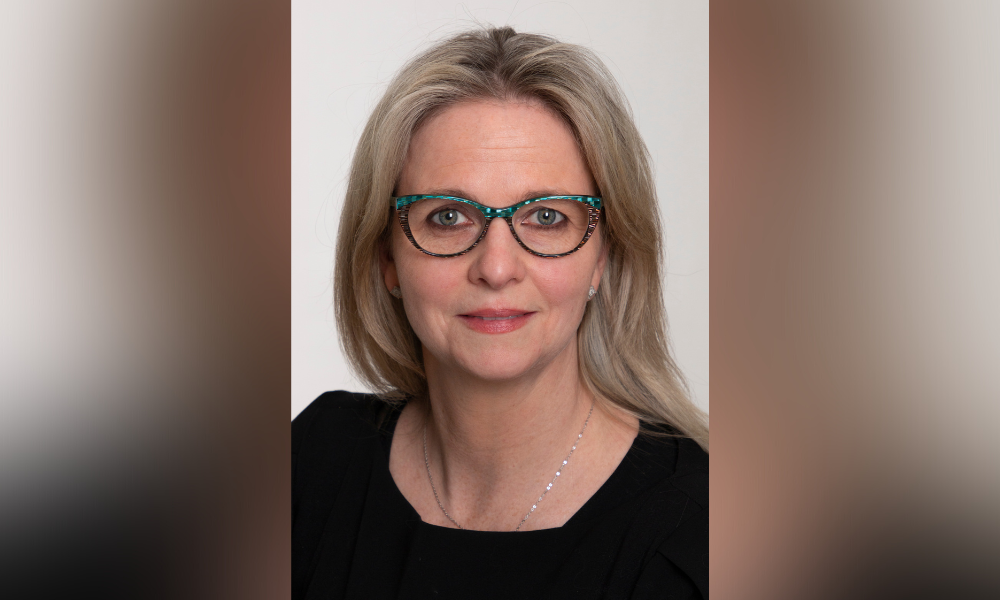 Like many in-house lawyers, Megan Evans started her career in private practice before feeling compelled to move to an in-house position where she could play a closer role in managing the issues at hand. Having worked in an advisory role at a law firm, primarily advising hospitals, pharmaceutical companies and medical device companies on legal, risk and policy issues, Evans felt that an in-house position in the healthcare field was an ideal fit. The Hospital for Sick Children offered her the director of legal services role in 2007.
Evans helped shape the hospital's legal department over time, earning the title of vice president, chief legal and risk officer. Now leading a team of 26 legal professionals, she is a member of the executive team at the Toronto-based hospital – corporately branded as SickKids – with oversight of legal risk management, privacy, conflict of interest management insurance and a range of other matters.
Since the onset of the pandemic in 2020, Evans and her team have been quietly working behind the scenes to support many critical initiatives. Their work has helped the hospital provide the best possible care to patients during the crisis. Staff who did not have to work in the hospital transitioned to working from home.
At one point during the pandemic, the hospital – which normally only treats patients under 18 – opened an intensive care unit for adult patients to help alleviate the pressure on other hospitals, as children were hit less severely by the virus. This pivot required considerable input from the legal team.
"In a very short space of time, we had to figure out our strategies, policies, and procedures in our children's ICU so that those would be workable in the adult environment," says Evans.
When hand sanitizer was in short supply during the early stages of the pandemic, SickKids' research institute retooled to make hand sanitizer. This move helped ensure the hospital had a back-up supply in case it could not source the product from its traditional supply chain locations. Institute members partnered with legal team members to ensure they met all Health Canada and other regulatory requirements.
Risk management is a significant responsibility for Evans and her team as they strive to navigate and prevent risk wherever possible, with the best interest of patients in mind. Flexibility is key. The initial analysis does not always generate the best outcome for the patient, so Evans will go back to the analysis and look for another way of handling the situation.
"It certainly is a team effort. We believe everyone in the organization, beyond even just my department, has a role to play in identifying and managing risk across the organization," says Evans.
Evans spends a lot of time with leaders across the organization to support them in their risk identification and management roles. "We need to be driven by what is best for our patients, and that has become the overall mantra for our department," she adds. "If something is risky and it's not going to be ultimately what's best for our patients, then we need to take a step back and look at how we can manage some of those risks and mitigate them or manage them in a way that makes it tolerable for the organization."
Cybersecurity and privacy are also top of mind for Evans and her team.
"All organizations are concerned about cyber breaches and attacks, but in health care we have the personal information of thousands of people, and we know that information is very sensitive, so we're constantly working with our friends in IT on various strategies to ensure we've done what we can to manage the cyber security risk," she says.
Although the legal department has limited funds for new technology and equipment, Evans anticipates that artificial intelligence use will become more and more critical to the team.
"As our organization matures and grows in its adoption of AI in the clinical and research arenas, there will be opportunities for us in the legal department, the risk department and the privacy department to think about how we can use AI in our portfolio to streamline activities and improve outcomes," she says.
SickKids' legal department frequently relies on the support of external counsel partners, so Evans seeks firms that bring substantive knowledge and expertise to the table and are interested in developing a real partnership with the organization.
Evans notes that SickKids has seen a lot of attrition over the past two years, and the hospital sector is certainly not immune from the 'Great Resignation.' Although it's been challenging to lose valuable team members, this has also offered an opportunity to recruit new talent. Evans makes it a priority to ensure that team members remain engaged and have a sense of pride in their work as they continue to work in a virtual or hybrid environment for the safety of patients. She also encourages her team to maintain a healthy work-life balance by dedicating time to their personal lives.
As the legal team members each support a different hospital area, they have other priorities in their journey to becoming trusted advisors, so Evans supports them in this goal.
"The priority for the team is continuing to be trusted advisors to the incredibly talented team of people that we work with at SickKids to ensure that, as an organization, we are able to live up to our mission of healthier children and a better world," says Evans.
FACT FILE:
Name: Megan Evans
Company name: The Hospital for Sick Children
Title: Vice president, chief legal and risk officer
Years in the industry: 25
Career highlight: The highlight for me has been the opportunity to grow a legal and risk department at SickKids. When I first joined the department, just a few lawyers reviewed contracts. Risk management and privacy were very separate from legal. I have had an amazing time bringing these functions together and demonstrating what we can do when we bring things like internal audit insurance and the privacy and access to information function together with legal and risk, so we can work with leaders across the enterprise to ensure all risks are identified and addressed as best we can in the interest of our patients.
1997: began her career at Goodmans LLP
1999: called to the Ontario Bar
2000‒2007: was a partner/associate at Cassels Brock & Blackwell LLP
2007: Joined the Hospital for Sick Children as director of legal services
2009: promoted to chief legal officer