Hasham supports significant transactions in a period of transition for the railway company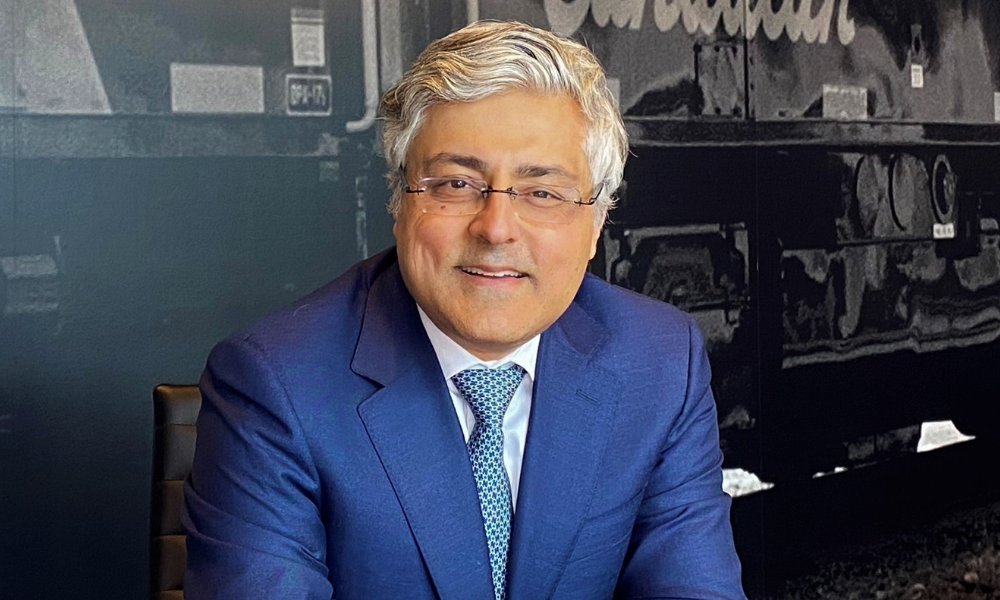 Born in Uganda, Nizam Hasham developed an interest in justice and the law at an early age when he and his family were forced to leave their home country during a coup in 1972, subsequently relocating to Canada.
"Anybody who had brown skin had to leave," says Hasham, who graduated from Western University's law school in 1995. "I always saw the rule of law as being really important, having lived in a country where our property was taken, and everything my family had spent their lives building was taken overnight, so that was a big motivator."
As a high school student, Hasham became very interested in debating and public speaking, which further solidified his interest in the law.
Called to the bar in 1997, Hasham started his career in private practice before moving to his first in-house role in 2000 at Sprint Canada – which Rogers Communications later acquired. Hasham spent six years at the telecom company, doing corporate commercial and employment law work. He then went on to work at railway company CN, where he spent seven years as eastern regional counsel. In 2013, he moved to Canadian Pacific – a railway company founded in 1881 to connect Canadians from coast to coast that has been growing and diversifying ever since.
Hasham progressed from legal counsel in litigation and labour to his current role of general counsel and assistant corporate secretary at CP. His previous responsibilities at CP included advising on employment-related matters such as dismissals, health and safety, HR policies, and employee compensation issues. He has represented CP as counsel at numerous interest and rights arbitrations and at the Canada Industrial Relations Board. He has also worked closely with and advised the company's labour relations team on bargaining, labour negotiations, and mediation-arbitration.
Corporate governance is now a significant part of Hasham's role, which includes advising the board, supporting financial disclosures, and ensuring that shareholder meetings and the annual general meeting run smoothly.
"In the corporate governance space, you get board exposure and executive exposure, and you learn about the business, and you learn about ESG," says Hasham.
"We always work on our management proxy circular that deals with our governance, compensation, and ESG practices, so I'm particularly proud of how the team has brought that together because we improve our product every year."
Compliance is another part of Hasham's remit as one of the general counsel at CP, each of whom has a different area of focus, and all of whom report to the chief legal officer. Hasham manages a team of five staff.
2021 was a busy year for Hasham and his team as they played a significant role in supporting the closing into voting trust Canadian Pacific's merger with Kansas City Southern, and with the proxy circular in respect to the transaction, which closed in December 2021. The widely publicized combination is still subject to regulatory approval by the US Surface Transportation Board, which is expected at the end of 2022 or early 2023. If approved, the combination will create the only single-line railroad that spans Canada, the US, and Mexico, driving economic growth and delivering environmental benefits.
The legal department at CP often serves as a connector between other departments. They work hand in hand with other teams, including investor relations, finance, and HR/compensation, and they share ideas with these departments. Constructive tension among the teams can be beneficial, Hasham says.
"We work collaboratively because we know we're part of a bigger CP family, so we are working for the good of the whole company," says Hasham. "We respectfully push each other on issues, and we challenge each other. We give legal advice, but we're also looking at it through a business lens as well."
During the pandemic, Canadian Pacific transitioned seamlessly to virtual meetings, including the annual general meeting and shareholder voting, and Hasham's team quickly adapted to technology such as Teams and Zoom.
"Prior to 2020, nobody thought we would be able to do these things online, but it actually worked very smoothly and brought people closer together," he says.
Hasham works with external counsel partners to help with some areas, including compliance and corporate governance, and for guidance on public-facing documents such as the annual proxy circular.
"It's important to have the most current advice on continuous disclosures, whether it's on a proxy or an annual report, so those would be some of the times we would be relying on external advisors," says Hasham.
Coaching has been a critical priority at CP for the past few years, so Hasham has focused on developing his leadership skills by coaching and motivating his team.
"One of our philosophies has been empowering the team to do the work – to get the team to make decisions and not to be so directive," says Hasham. "It has been particularly fun and interesting to see how people step up to challenges when you give them greater responsibilities."
For the remainder of 2022, Hasham will focus on staying connected to and supporting the business.
"I'm supporting the business in ongoing matters, including preparing for integration with Kansas City Southern, providing it gets regulatory approval," he says. "In terms of personal goals, I want to continue to grow as a leader, to see my team grow and to continue to support the areas of the business that I work with on a more holistic level. I am excited for the future."
FACT FILE:
Name: Nizam Hasham
Company: Canadian Pacific
Title: General counsel and assistant corporate secretary
Years in industry: 25
Recent achievements: Working on the management proxy circular and successfully transitioning the organization to online annual meetings and shareholder voting
Emigrated from Uganda to Canada as a child
Graduate of Western University's
law school, 1995
Called to the Ontario Bar in 1997
Started his career as an articling student at Heenan Blaikie
Joined Canadian Pacific in 2013
Sessional lecturer for corporate transactions course in Osgoode Hall LLM program, 2021
Member of Canadian Pacific's
racial diversity council