Flexible arrangement allows power couple to manage parenting and running a successful business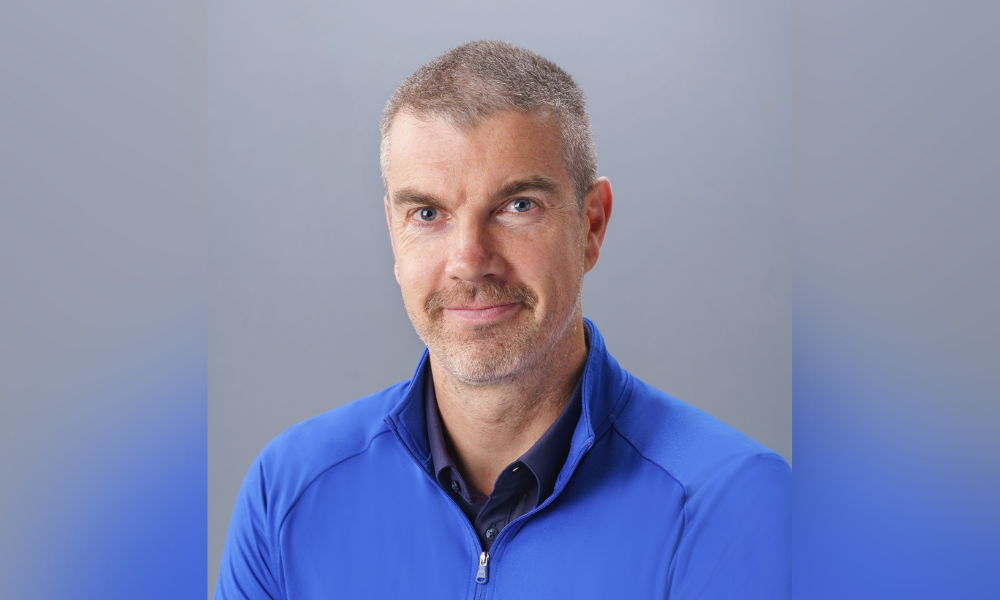 Since joining Baskits Inc. as general counsel in 2018, Sam Johnston has worked in multiple areas of the business, as he supports company president and CEO, Robin Kovitz – who also happens to be his wife.
Kovitz acquired the 36-year-old luxury gift service company in 2014 and has been growing the business ever since. In 2020 and again in 2021, Baskits was recognized as one of the top growing companies in Canada by the Globe and Mail's Report on Business Magazine. The company that designs, manufactures and delivers gift baskets across Canada and the U.S., now boasts over 50,000 customers around the world.
"Baskits was doing really well, and it seemed it probably needed some additional help, especially with legal issues, so Robin and I thought that I could really be useful to the company, and that it would align our family as we'd be working together," says Johnston. The flexibility of the arrangement enables the couple to manage the parenting of their two children while also running the business.
Although he views Baskits as a family business, Johnston credits his wife for its ongoing success, saying that she is "the brains behind the operation."
"In some ways people think we're a two-headed organization, but we're really not. When it comes to decision-making, I defer to Robin 100 per cent of the time," says Johnston. Nonetheless, Johnston plays as essential role as the sole lawyer. He handles all legal matters and provides advice on matters including acquisitions, governance, intellectual property, HR, leasing and commercial agreements, and agreements with suppliers and distributors. Baskits acquired a new facility in 2020 which will serve as the company's flagship operating facility & head office, so he is also handling legal issues relating to the ongoing renovation of the facility.
Prior to joining Baskits, Johnston spent eighteen months as managing director, sports partnerships and general counsel at non-profit, Right To Play. He was also a partner at Gowling WLG for 15 years so he regularly reaches out to the firm if external help is needed for complex legal matters at Baskits.
Keeping on top of health and safety risks and ever-changing regulations was a challenge for Johnston during the pandemic crisis. As a retail business, many employees at Baskits were unable to work remotely, so all health and social distancing rules had to be followed closely in warehouse and production facilities. The company scheduled town halls on a weekly basis to communicate rules and changes with everyone in the company.
Although Baskits has three stores located in Toronto and a call-centre, the company operates primarily through online sales, so it was well positioned to continue operating during the pandemic lockdowns.
"I think one of the things that benefited us was people wanting to stay connected during the pandemic," says Johnston. "Gift baskets were an excellent way for them to do that, so we did see some extra traffic that we weren't expecting. We offered a safe, easy way to stay connected with the online part of the business." The company recently acquired its own fleet of branded vehicles for deliveries within the Greater Toronto Area to further enhance the service as well as courier software for managing the fleet, which allows customers to track deliveries.
"We want the Baskits experience to be great from the moment you log in to our system to the moment it arrives at the recipient's door, so we're trying to do that by controlling all aspects of the process," says Johnston.
As the holiday season approaches, Johnston is focused on HR matters, creating new contracts for seasonal employees and for independent contractors.
"In the last quarter we need all hands on deck so I do whatever I can to help as needed to make sure we have a successful holiday season," he says. "Being successful isn't just about selling lots of baskets. It's also about making sure that we are on top of health and safety, and our COVID protocols are still being followed as we grow in our personnel."
Johnston also looks forward to the completion of the renovations in the new facility so that the team can move in as soon as possible, so he will be focused on achieving that goal in 2022.