Being collaborative and approachable are key qualities for a general counsel, says Wong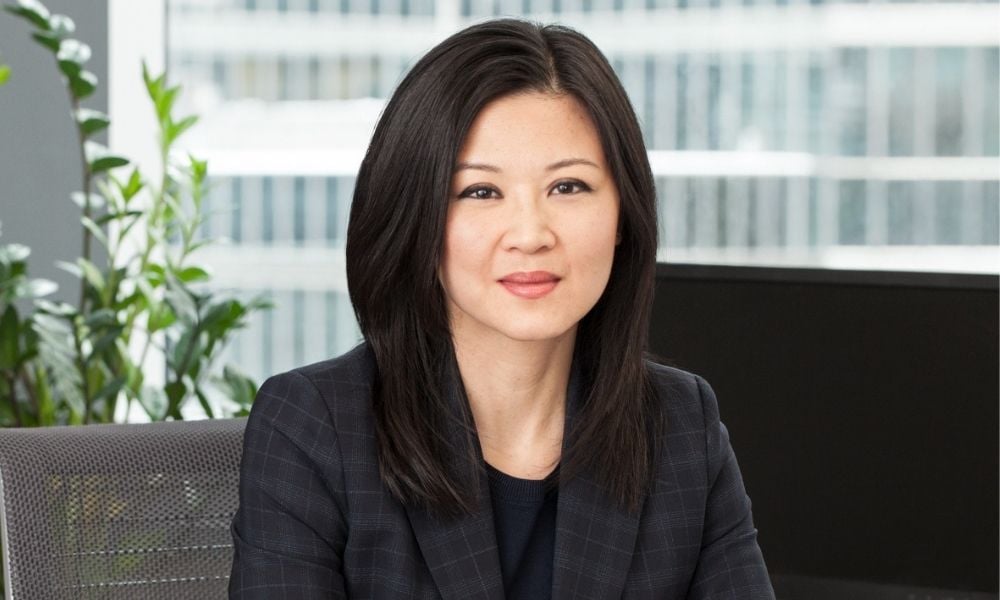 Being approachable and aligned with the business are key attributes for any general counsel, so Hilda Wong works hard to build and maintain strong relationships with her business partners.
As senior vice president and general counsel at First National Financial LP, Wong sits on a number of committees at the Canadian private lending institution, including the Diversity & Inclusion Committee, the Environmental Committee, and the ESG Committee – all of which serve to promote her within the company, and make her more accessible to business partners.
"It's important that people get to know my personality, so they don't just see me as the general counsel," say Wong, who has been at First National for 14 years. "I spend a lot of time trying to ensure that people have the right perception of me and that they see I have an open-door policy so they can come to me, whether it's good or bad, and I'm here to support them."
The legal team at First National maintains business-focused relationships with other departments to support the strategic goals of the organization. Wong says she and her team spend a lot of time understanding the dynamics of the business so that their legal advice is practical and well-received.
"We think of ourselves as collaborators with the business teams," she says. "I want everyone in the company to feel comfortable enough to approach me with any concerns they have, whether its legal or otherwise, so they can look to me for guidance, support, transparency and accountability."
First National's eight-person legal team supported the organization in a recent move to a new head office location in Toronto. The complex move involved many legal and contractual considerations concerning vendors and counterparties, as well as operational difficulties.
"That was a difficult but very rewarding experience, because it reinforced how agile our company is, and how well legal works with the business lines. Even though we're not in the office, we can work very collaboratively together," says Wong.
As a member of the executive team, Wong contributes to corporate and risk management strategies for the company. In her role as general counsel she has a wide range of responsibilities, which include managing the legal function, renegotiating major contracts, and overseeing compliance and mitigation matters. She is also chief privacy officer and chief anti-money laundering officer.
Diversity and inclusion initiatives are particularly important to Wong. The pandemic accelerated the development of First National's existing diversity and inclusion initiatives, so Wong has been deeply involved in these programs. She and her team engaged outside consultants to review existing policies and talk to employees to find out how they feel about the programs in place and where improvements can be made to improve inclusivity. The team at First National also collaborated with consultants including Career Edge to ensure a broader outreach when recruiting for the company's longstanding summer internship program in 2021.
"We ended up hiring 43 summer students, and 55 per cent of those spots went to deserving students in the BIPOC community so we're quite proud of that," says Wong.
Wong also works hard to highlight some of the issues facing women in the mortgage industry by acting as moderator on women's panels for employees at First National.
Like many general counsel, Wong navigated the numerous challenges that came with the pandemic crisis, not least transitioning her team to remote work and electronic signatures for contracts. The eight-person legal team also had to handle disruption in the stock market and uncertainty around the residential mortgage market, which meant reviewing contracts to determine potential vulnerabilities.
"A large part of our business is the origination of residential mortgages so there was a lot of uncertainty that we had to manage through," Wong says. The team was prepared for the possibility of a downturn, although the market ended up booming in 2020 and 2021.
Law firm partners play an important role in assisting Wong with complex legal matters, so she strives to works with firms that view the relationship from a long-term perspective, and offer practical advice in a form that can be easily used, as opposed to a simple memo outlining legal issues without any solutions. She also favours law firms that have a sensitivity towards fees, so that the right person is on the right task.
Wong anticipates ongoing disruption in 2022, as issues such as implementation of vaccination policies continue to challenge other business lines. She also expects to see further changes in the regulatory environment which will create extra work for the legal department at First National.
"The regulations are becoming more onerous, and we have to be agile enough and responsive enough to meet those challenges very quickly," says Wong.
Ensuring that her team is happy during this time of disruption is Wong's top priority for the year ahead, as well as continuing to push forward on diversity and inclusion initiatives. She also plans to continue looking for more efficiencies within the legal and compliance departments, by leveraging software to benefit the teams and the company as a whole.
First National has seen significant growth in recent years so Wong hopes to expand her legal and compliance teams in 2022 to allow for the increased volume of work, so that they can continue to provide top quality service to the business.
"I hope to have the legal team be a steady presence through this time of disruption," says Wong. "If we continue to be creative and responsive and agile, and the business believes that we are collaborative partners, then we will be successful."