Kay kept his hybrid family and commercial litigation practice while leading the full-service firm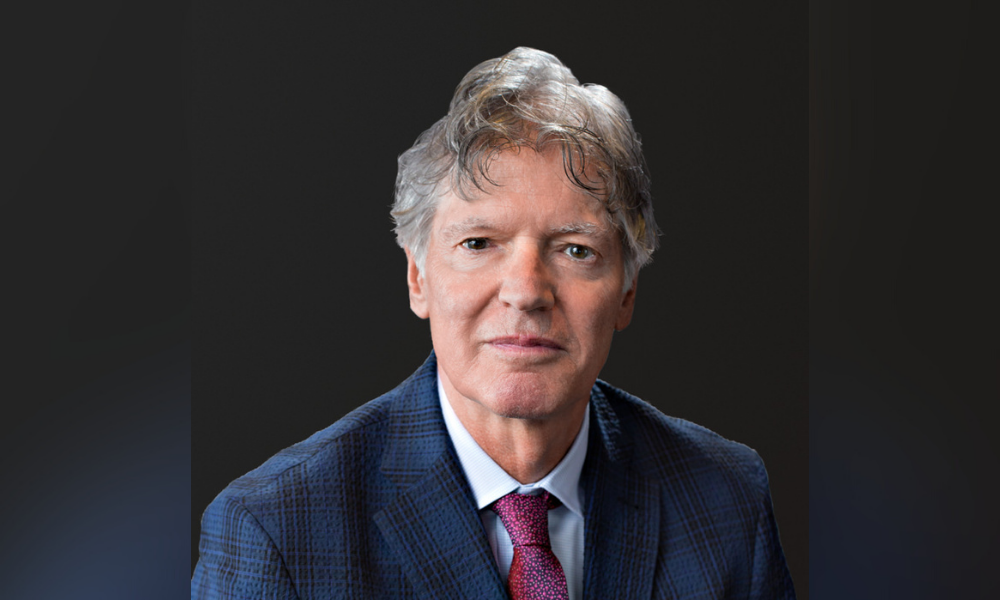 Jeffrey Jay Kay never aspired to be the managing partner of his firm, Farris LLP, and was quite satisfied with his hybrid family and commercial litigation practice. But Kay had been with the British Columbia full-service firm for many decades, so he felt confident to lead when the firm approached him to take on the role in 2017.
"I've been at the firm since I was 25," says Kay. "I knew the culture of the firm, the history of the firm and most importantly, the people in the firm."
Although he didn't know it at the time, he was about to take the helm through a period of significant uncertainty and, ultimately, exponential growth.
Canadian Lawyer recently spoke to Kay about his firm, his career as a litigator and how Farris thrived during the pandemic.
Kay grew up in Winnipeg and studied law at the University of Manitoba and the California Western School of Law in San Diego, California. He jokes that part of what drew him to study in California was to escape the Winnipeg winter, so it is no surprise he decided to settle in Vancouver.
When he came to B.C. in 1979, Kay says, "I didn't have a job, I didn't have articles, and I thought that I wanted to do family law because I wanted to work closely with people, and I didn't want to be surrounded by piles of documents.
"As it turned out," Kay jokes, "I spent my entire family practice surrounded by piles of documents, financial statements, income tax returns, trust agreements and otherwise."
Kay developed a practice in complex asset division, trusts & maintenance issues, and the drafting of asset protection agreements. At the same time, he got involved with tobacco litigation when Farris acted for RJR MacDonald in 1998. Since then, he has advised on health care recovery actions brought against several domestic and international tobacco companies to recover health care costs.
"So, my practice has had two very different components to it," he says.
Kay shifts back and forth between the different areas. Although they are very different in many ways, he says both require him to handle numbers well.
When Kay became managing partner in January 2017, he kept his hybrid practice and continues to work in both areas today. Kay says Farris, which has offices in Vancouver, Kelowna and Victoria, is somewhat unique in that managing partners carry on a full practice.
"We have a fairly basic management structure because we're not a particularly bureaucratic nor management-heavy structured firm. We don't have a lot of committees. We don't have a lot of partners who do anything other than practising law. And that's what [lawyers] like about the firm."
When the pandemic hit in early 2020, Farris closed its doors for a few weeks, but that didn't last very long, unlike firms in other locations.
"For a two-week period in March of 2020, we told people to stay home. But shortly thereafter, people were drifting back into the office. The doors were open. We don't have a lot of common space, we have boardrooms, but most people do their work in their offices," says Kay.
Once the initial uncertainty had passed, Kay says things really started to ramp up.
"People were very focused on work because there wasn't that much else to do for a period of time. People weren't travelling. They were more hunkered down. One of the ways to hunker down was to work. Borrowing money was inexpensive. So, the environment was very fertile for M&A work, securities work, and real estate work. And our firm benefited from that very fertile environment."
Kay says he is proud of how the management, lawyers and staff reacted to and adapted during the pandemic.
"The pandemic created, in an unusual way, significant economic opportunities. I do feel bad, and am keenly aware in saying this, how many other industries and many other segments of the population struggled and suffered as a result of the pandemic."
Farris' clients, many of whom are in the life sciences industry, were also a significant part of the pandemic response, which kept the firm very busy. Kay cites Farris M&A partner Hector MacKay-Dunn as one of the leading life sciences lawyers in the province.
"The clients involved in life sciences are innovative and entrepreneurial," he says. "They're always looking [at] and developing products and ideas that can assist in solving society's health, medical and other problems."
Farris is a full-service firm, so in addition to its corporate department, client demand spiked in litigation, family law, estates, tax, real estate, and labour & employment.
"Over the last couple of years, even though there might be minor ebbs and flows, all parts of the firm have been busy," says Kay.
As it has for many law firms, Kay says associate retention has been a constant challenge. "As best and as reasonably as we can, we pay and bonus our associates at the top end. So, we look at it often and carefully and try to make the right decisions for our associates and for the firm."
Kay says social connectivity has also been a challenge during the pandemic, with a lack of events to get together, celebrate and have fun. "We've had precious little of that over the past two years."
But Kay is optimistic and says British Columbia is an excellent location for many reasons. "We're fortunate to live in a city and in a province where people want to be here. So, there's a lot of movement into the province, a lot of movement into the city, a lot of activity in the city, a lot of wealth in the city, and a lot of opportunity. And, of course, we want to be as much a part of that as we can."
Jeffrey Jay Kay, QC is a judge at this year's Canadian Law Awards, which recognizes the nation's leading law firms, in-house legal teams, individuals, deals and cases over the past year.