First lawyer of South Asian heritage named to Provincial Court of BC on the law and other interests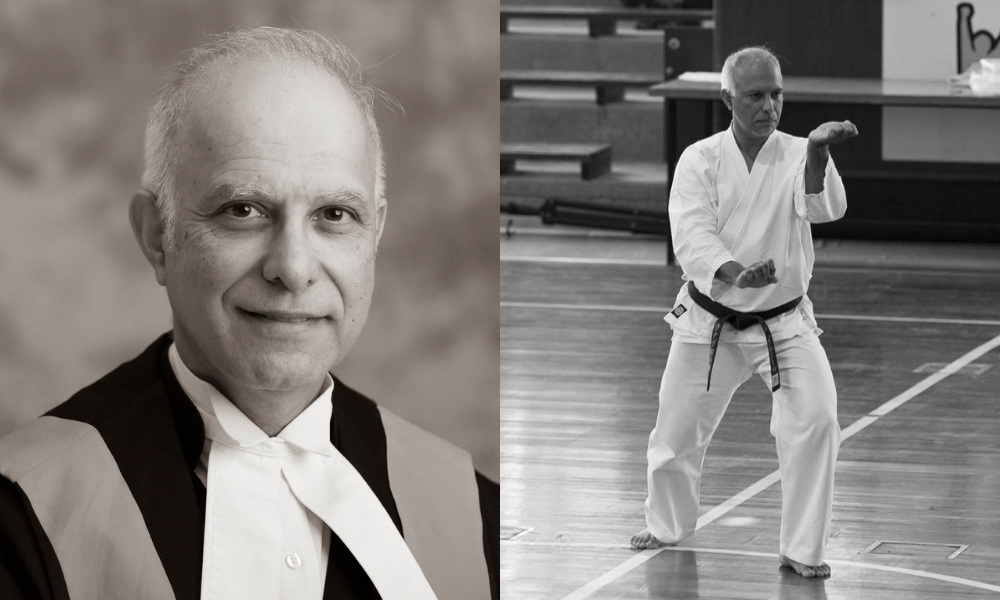 Justice Gurmail Gill, the first person of South Asian heritage appointed to the Provincial Court of BC, fits the description of modern-day "Renaissance Man." Not only has he made significant contributions to the justice system over his 38-year career as a lawyer and judge, but he has also found time to follow his passions for karate (he's a 5th Degree Black Belt), flying (he has a private pilot licence), photography and astronomy.
In this Q and A with Canadian Lawyer, Justice Gill explains how he manages to fit it all in.
Talk about your background and how you ended up a lawyer?
During my childhood years, my father always emphasized the importance of a university education, encouraging my entry into one of the traditional professions. In my high school years, I remember leafing through the UBC calendar of programs, trying to imagine what each would be like. Having had an early affinity for math and science, I decided to pursue a science degree, majoring in biochemistry. While I very much enjoyed that, by the time of its conclusion, my interest in translating that knowledge into a career in health sciences or post-graduate studies had waned, and I was restless to strike out in new directions.
So why law?
I had taken elective classes in law in high school, largely out of curiosity, and then put them out of mind, but . . . some years later, those memories re-emerged as the perfect career choice. While I found the subsequent study of law fascinating, I have to say the shift from long metabolic pathways to long sentences was, in my first few weeks of law school, quite an adjustment.
What was the appeal of the law, given your other options?
I think it's healthy to have a broad range of interests, as it makes us better at whatever we do. I have to admit my choice to enter law came after much reflection via a process better described as rational than passionate.
It's important to set goals and then navigate them with good effort and devotion. The interesting thing is that whatever goals we choose and pursue, even successfully, we never really know where they might ultimately lead us, as success takes many forms. By way of my own example, I had absolutely no thought or idea that my undergrad in science would lead me to a career choice in law that would eventually segue to an intense interest in a career on the bench.
Tell me about the appeal of our extracurricular interests – photography, astronomy, flying, Karate.
In the late 1950s and the 1960s, my dad had an Argus rangefinder film camera he used a lot. I remember as a kid posing in family photos for what then felt like an eternity, as he composed a perfect focus. I think I inherited a love of photography from him, and those experiences, and I still have his vintage camera.
Also, for as long back as I can remember, I was entranced by the night sky, I don't really know why, but getting a telescope became an early and natural reflection of that. Merging photography and astronomy into taking photos of the heavens just seemed a great combination of two things I already enjoyed doing separately.
Flying? Aviation and astronautics were one of my early childhood ambitions, connected to watching the US space program place astronauts into orbit and on the Moon in the late 1960s. In the early '70s, I joined the Air Cadets, and our squadron had the best sponsor you could ask for, an airline - Air Canada! We would meet and march around in that huge 747 hanger at YVR, at times in the presence of planes brought in for maintenance. It was pretty cool. So, getting a private pilot license in my later years was something akin to a bucket list item – I just had to do it and really enjoyed it.
Karate is something I came across purely by chance, during what used to be called "Clubs Day" at the UBC Student Union Building back in 1977. The people at the karate booth were nice, friendly people, and they persuaded me hey, why not give it a try? So, I did and soon discovered that under the right guidance, the physical self defence aspect was just the tip of a much larger iceberg that one could study for a lifetime.
Do these interests help with the stress of having a high-pressure job?
The common theme to all these interests is really – nothing. But they do each connect to the importance of having non-work interests. Work-related stress is ubiquitous in the legal profession, as well as in judging, and I think many of us to some extent even rely on it, which is not necessarily a bad thing. But a lot of that stress is invisible to us, and left unaddressed, it's just a matter of time before it emerges as bad health in one form or another.
Initially thinking I had to cut back on my extra-curricular activities, I eventually discovered they not only helped with the stress, but they also increased productivity and generated new directions of personal growth. I think this probably applies to any form of exercise or interest that takes our mind off work. I recommend [everyone] pursue something that you like, for you, and then make time for it, even if at first it seems like you can't afford the time. We need healthy outlets.
Tell me about the changes you've seen as a judge – especially on diversity and inclusion.
The administration of justice has changed a lot over the last 30 years to improve justice delivery, both as to diversity and in our understanding the root causes of offending behaviour. Regarding diversity, it is simply that the judiciary should, to a fair degree, and on a merit-based selection process, reflect the diversity of the population it serves. This is important for the credibility of the Court and for promoting inclusion and support for the rule of law.
In 2012, the Judicial Council determined a need to further encourage a broader range of applicants for appointment to the bench and requested the assistance of the Canadian Bar Association (BC Branch), and the Law Society of British Columbia. To that end, Judges of our Court have given many presentations within the legal community providing information to demystify the application process. And to measure actual progress, Judicial Council has undertaken to publish the different dimensions of judicial diversity, including gender and culture or ethnicity, in its Judicial Council Annual Reports that are available for anyone to view on the Provincial Court of British Columbia homepage.
To provide just one example, the 1996-1998 Judicial Council Annual Report noted that out of 140 judges, 38 of them, or just over 25 percent, were women. By contrast, the 2021-2022 Provincial Court Annual Report shows in that year that 52.7 percent of full-time judges are female. Diversity has also been improved in other important dimensions, including ethnicity and sexual orientation.
I'm happy to say that while there is still work to do, the outreach efforts have made a difference and we have made progress. The result is a Court that is stronger and better informed than before, about the population it serves.
What are other areas are impacting the administration of justice?
On the administration of justice front, we have for some time now been in the age of data gathering, sorting and analyzing and as we do that, we have come to better understand that justice outcomes do not exist in a vacuum, that they connect to other areas of social policy and wellness, with root causes that include physical and mental health, addictions, poverty, housing, and more.
We have also discovered that left unaddressed, these root causes, or their consequences, are often then expressed in re-offending, or they appear in other segments of society, and at times even inter-generationally.
To address that, much of our work in criminal justice is now "front-end loaded", in the sense that rather than waiting until the end of a criminal case, often measured months or sometimes even years later, in appropriate cases we apply a lot of our resources at the very beginning of the case, in the exploration of therapeutic and indigenous or restorative justice approaches pursuant to Court Orders delivered through or coordinated by Community Corrections, but in a way that still respects choices relating to personal autonomy and the presumption of innocence.
We have made similar advances in family, child protection, and civil law disputes by encouraging alternatives to courtroom adjudication that did not exist before.
How has COVID-19 impacted the legal system?
The arrival of the Covid-19 pandemic was like an earthquake on the justice landscape! It took the technology changes that had already been in progress for some years and accelerated them in a way that not only addressed the exigent public health need, but also improved justice delivery for the longer term.
Even before the pandemic, our Court used technology for bail hearings conducted by Judicial Justices, and for some types of witness testimony. Judges would also routinely appear remotely, from court locations other than where the case was being called.
On the heels of the pandemic, which arrived very quickly, the Chief Judge immediately approved development and adoption of the expanded use of remote, virtual appearances by litigants and their counsel for additional types of hearings where a personal attendance was not critical to the process. The primary uses were in matters involving civil, family, and criminal case conferences and for certain stages of criminal proceedings, including bail hearings conducted by Judges.
This was later expanded to also allow judges to preside remotely for a broader range of proceedings, including those where the judge needed electronic access to certain documents, such as for some sentencing cases. This involved a tremendous amount of fast-paced work to develop and integrate the policies and software programs that would support that.
What have been the benefits of the courts going more virtual and will these changes last?
The public health benefits aside, these changes also greatly helped litigants who formerly had to deal with disruptions in their childcare or employment arrangements to travel sometimes long distances for relatively brief court appearances.
These benefits are significant, both in terms of parties' convenience as well as in cost and efficiency and will therefore likely continue even after expiry of the underlying pandemic imperative. It should not go unsaid that despite these advances, the court is always open to and mindful of situations requiring in-person attendance. This would include, for example, cases from remote locations or persons who may not have reliable access to the internet or its related technology. It may also relate to the nature of the case itself.
That said, the Court will continue to monitor, assess, and adjust ways in which technology can be better used to enhance the public's access to justice.
Justice Gurmail Gill, Provincial Court of British Columbia, at a glance
Grew up in BC's Lower Mainland
Married to Govinder Gill; has raised three children, now adults
Father came to Canada in 1950 and was among an early generation of South Asian students at UBC
Obtained Bachelor of Science degree in biochemistry from UBC in 1979
After taking year off, went to law school at UBC, graduated in 1983
Practiced law for 10 years, primarily in criminal defence, family and civil litigation in Abbotsford and Vancouver
Appointed Provincial Court judge in 1994
Chaired 4th Royal Commission on Workers' Compensation in BC
Became a Senior Judge in 2018