The top firms in the Prairies are evolving to keep up with a shifting economic and social landscape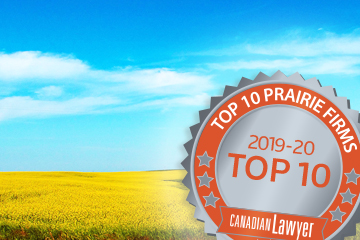 Canadian Lawyer has released the results of the top prairie regional firm survey. Click here to find out who the winners are.
Canadian Lawyer solicited nominations from our readers and legal professionals across the country to come up with a long list of the most highly respected law firms in Saskatchewan and Manitoba. Survey respondents voted for their picks among 29 contenders, in a month-long poll.
Those at the helm of the top firms in Saskatchewan talked about the economic difficulty caused by the oil downturn but McKercher LLP partner David Stack said business is being driven by renewable energy, Indigenous law and – now, as the baby-boomers approach retirement – estate litigation. Manitoba firms are insulated from the boom-and-bust cycle because of their diversified economy. Natural resources, agriculture, transportation and the public sector remain reliable in 2019, said Thompson Dorfman Sweatman managing partner Keith LaBossiere.
Leaders at the top firms also talked about the shifting role law firms play in their relationships with clients. Firms are expected to develop a more business-focused perspective, "more project management and less traditional lawyering," said Stack.
Canadian Lawyer's top Prairie regional firms were chosen by hundreds of voters across Canada.