The political tides are always shifting — but the Minister of Environment and Climate Change has her own flow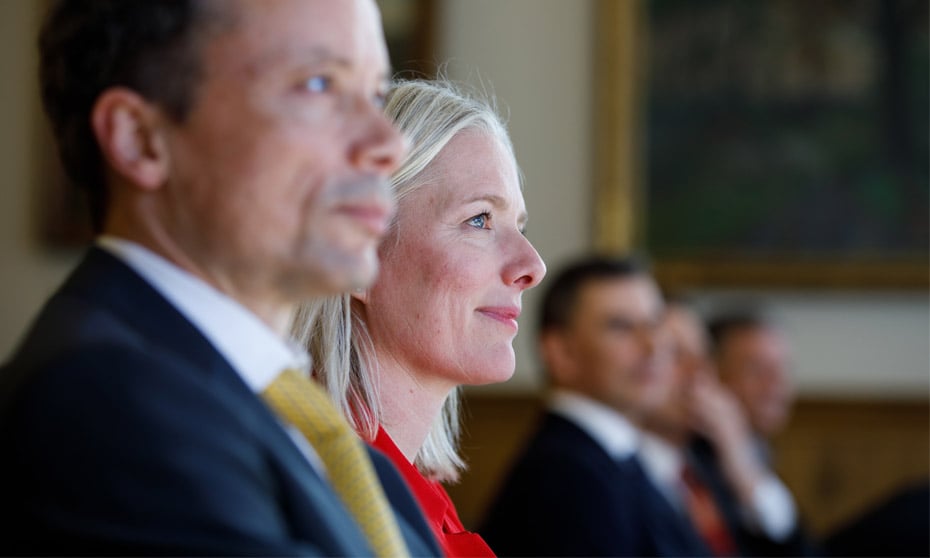 When Catherine McKenna needs to find her focus, the former competitive swimmer goes back to the water.
Growing up, two-a-day swim practices taught her the gratification of putting in long hours.
"Swimming — it's not that different from law. It taught me to focus on a goal. It taught me discipline," she says. "I learned that sometimes you will lose, and that makes you stronger. Probably the most important lesson is that you have got to work as part of a team if you are going to be able to deliver on big things."
As the second-longest serving Minister of Environment and Climate Change, McKenna is now governing the world's largest coastline. A job roaming the nation's natural landscape means being underwater has become both a way to survey the seascape and a kind of mediation, she says.
"I think now I love it because it's very quiet," she says. "I find putting my head down and swimming is something where I can relax and think about broader things."
Back on land, McKenna's life has been anything but quiet.
The Ontario government has joined with Saskatchewan, Alberta and other provinces to mount a legal challenge to the federal government's carbon tax. The Trans Mountain pipeline project has been scrutinized both in court and by the punditocracy.
It all comes as a looming election has onlookers dissecting the Liberal party's approach on everything from legal ethics to plastic pollution and climate change.
What's next?
While McKenna, a liberal minister representing Ottawa Centre, was disappointed that provinces would "rather fight us in court than fight for climate action," she says the conflict has shown the power of knowing how to negotiate and what legal tools are available.
"It's amazing to be part of the most important environment constitutional case in a decade," she says. "Why is law useful in this job? You have rigour and discipline, and you can be really focused on outcomes and have a path to get there."
Although McKenna says she uses her law background daily, her goal is often to get out from behind a desk. It's knowing that people face "existential" decisions in extreme heat or wildfires that stresses the importance of environmental policies, she says, recalling placing sandbags this spring as the Ottawa river swelled 11 centimetres past 2017 highs.
"It's important that lawyers get out of the comfort zone, outside of the office and go talk to people and be with people. You can see the very real impacts climate change is having on people," she says. "We can't just talk about abstract concepts and agreements. We need to talk about people's houses, their livelihoods and how they are being impacted."
She credits her beginnings in Hamilton, Ont. for fortifying her get-it-done mentality — even if it meant she grew up with wanderlust, buoyed by her father's experiences immigrating from Ireland.
"I want to see things through," she says. "I try to be a practical person. I'm originally from Hamilton, and if you're from Hamilton, you have to be practical. That's a lesson I've had to learn. Law teaches you to talk in really fancy ways that are inaccessible to people. But politics is about people. You have to talk like a real person and you have to explain why what you are doing matters. . . . And also, try to make it kind of fun."
Although she didn't have any lawyers in the family, her high school hobby of following international policy drew her toward the legal profession. (She studied international policy at the London School of Economics before making her way to law school.) When she took a job at Stikeman Elliott LLP, she says she landed in competition law because of its impact on public policy. Then, she took a bit of a detour.
"I worked in Indonesia as a lawyer. East Timor voted for independence. Unfortunately, the militias that were funded by Indonesia went and kind of burned down the country. They were on the offensive, and the UN came in," she says. "I got a job renegotiating the Timor Sea treaty, which was a treaty governing offshore petroleum development in a disputed area."
The experience — which scored her a meeting with the world's top maritime lawyer early in her career — drove home the value of public service and rule of law, as did her other travelling, she says. Working in one of the world's poorest regions exposed the lack of legal capacity in areas like East Timor. She strayed again from the straight-and-narrow legal partnership stream, this time starting a non-profit for Canadian lawyers to work abroad.
"Every young lawyer I knew at that time felt like leaving the practice of law was such a big deal. Could you go back into law? If you were working as a lawyer, this was who you were. . . . Lots of people stayed in the practice of law even if maybe they were interested in doing something else," she says. "I didn't article in Canada. I wrote my New York bar, I worked in corporate law in Indonesia, I worked with the UN, I worked in corporate law here. I started a charity. I had kids, I took time off, I went in-house."
McKenna, who was also executive director of the Banff Forum, a public policy organization for young leaders, says she is sometimes asked how she ended up where she did.
The surprising thing? There was no grand strategy, she says.
"I really care about the next generation of lawyers," she says.
Her advice: "Life is going to take different turns. Sometimes in law, you see it as a very straight path you have to take — and that's not my experience."
Fast facts
Catherine McKenna
Minister of Environment and Climate Change
LLB, McGill University 1999
MSc, international relations, London School of Economics, 1996
BA, University of Toronto, international relations and French, 1994
Called to the bars of Ontario and New York State Master of her domain
Riding population
118,038 people in Ottawa Centre, McKenna's riding (2016, Statistics Canada)
Paris Agreement
195 Countries, McKenna helped negotiate for Canada in 2015**
Ottawa flood
1.5 million Sandbags placed by volunteers***