Ontario litigator says closures could be avoided by modernizing court systems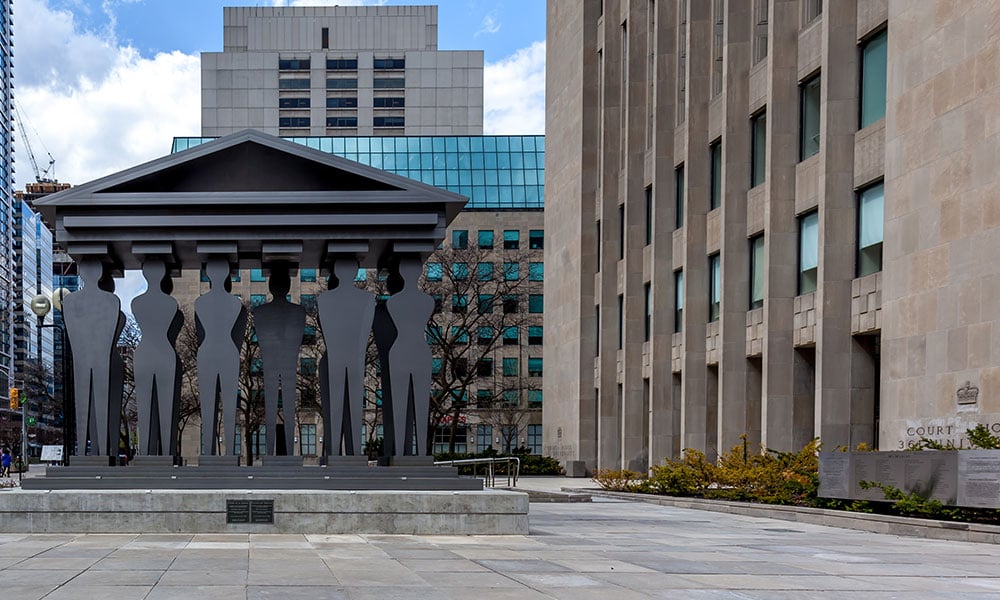 In the wake of the COVID-19 outbreak, which last week the World Health Organisation declared to be a global pandemic, courts across Canada have been closing their doors. To some, this indicates a failure of the court system to bring the courts into the 21st century.
Courtroom closures in the wake of the virus's spread indicate "the utter failures of the bar and the government to adapt our court systems to the modern world," says Michael Lesage, a litigator based in Virgil, Ont.
Although it doesn't make sense to bring a lot of people to courthouses to sit and wait in motion rooms during a pandemic or infectious disease outbreak, "it doesn't follow that because you can't sit a whole bunch of people in rooms like you've been doing for the last thousand years, you just turn off the system," he says. "Hearings can be held by phone; they can be done online via Zoom."
The closures "will have an impact on law firms, and lawyers, in terms of the revenues they are able to generate, and the taxes they pay."
The closed courthouses will make it more difficult for lawyers to file motion records, for example, or, get signatures. ""There are technological solutions to every part of this problem that are already implemented across most of the U.S., for instance, such as full electronic filing and viewing of documents. And then when you add to that telephonic or online hearings, essentially, you can still continue to run most of the court system remotely … if you so wanted to."
On Friday, the Federal Court and the Supreme Court of Canada both announced they would be closing their doors to the public.
In a statement, the Federal Court announced that all general sittings of the court are cancelled for cases that had been scheduled between March 16 and 27. Hearings, special sittings and case conferences already scheduled to be held by telephone conference will proceed, unless a request is made to adjourn. The court will remain open for urgent case-related matters, and will try to accommodate all requests for a teleconference hearing in other cases as well.
Across the country, provincial courts are also shuttering their doors. The Ontario Superior Court announced on Sunday that it would suspend all operations amid the COVID-19 pandemic, effective Tuesday, March 17, and until further notice. This includes civil and family operations, and criminal operations, except for "urgent and emergency" matters including those related to COVID-19. For criminal matters, the hearings of accused persons are adjourned ten weeks, until the first week in June.
Lesage expects the volume of matters to be much higher in the Ontario Superior Court than in the Federal Court, for example.
On the same day the Ontario Court of Justice announced it would adjourn all Provincial Offences Act matters scheduled for Monday, March 16 through Friday, April 3, 2020. This would include offences under the Highway Traffic Act and municipal by-law charges.
Effective Tuesday, March 17, the Ontario Court of Appeal will suspend all scheduled appeals for a period of three weeks, also until April 3. Urgent appeals will be heard based on either the written materials or remotely, and parties on non-urgent appeals that were scheduled between March 17 and April 3 may request that their appeal be heard in writing.
The British Columbia Provincial Court is reducing court operations, The Alberta Court of Queen's Bench is limiting hearings to emergency or urgent matters only. Saskatchewan's Court of Queen's Bench is keeping its courthouses open, but cancelling court visits by school and other groups, and encouraging parties with scheduled matters to adjourn to a later date. Manitoba has likewise restricted courthouse access and is excluding public groups indefinitely.
Quebec's Superior Court on Friday took a similarly aggressive position to Ontario's, announcing that it was suspending its activities until further notice.
Nova Scotia courthouses have stopped holding civil weddings until further notice. Courts are continuing to sit, though all upcoming jury trials in the Nova Scotia Supreme Court, and in New Brunswick's Court of Queen's Bench, have been suspended for 60 days. The Newfoundland and Labrador Supreme Court, meanwhile, has postponed all jury trials set to begin between now and May 31.
The federal prison system will also shut down all visits to inmates indefinitely, with contact to be maintained by video or telephone only.