Former litigator becomes first person of colour nominated to highest court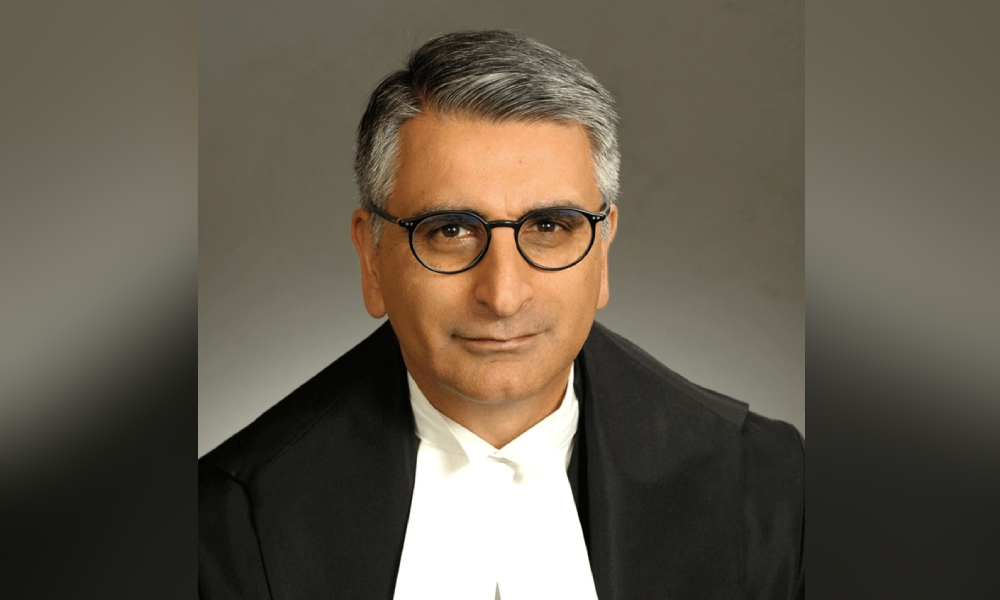 With his nomination on Thursday by Prime Minister Justice Trudeau to fill a vacancy on the Supreme Court of Canada, Ontario Court of Appeal Justice Mahmud Jamal will become the first person of colour to be appointed to the high court.
"It's high time that this occurred," Canadian Bar Association President Brad Regehr says. "I have advocated during my presidency, and the CBA has also advocated that our judiciary needs to reflect the makeup of Canada. And at this point in time, … it's lacking in diversity in terms of Indigenous people, Black people, people of colour. … Justice Jamal's nomination is a significant stride" forward.
He is also "an excellent candidate" who has represented the CBA before the Supreme Court on the issue of protecting solicitor-client privilege and is "super smart," says Regehr.
A former litigator with Osler, Hoskin & Harcourt LLP, Justice Jamal was a long-time member of the Canadian and Ontario Bar Associations, among other organizations, and represented the CBA on a pro bono basis. The CBA press release commenting on Jamal's nomination described him as "intelligent, thoughtful and charming." Regehr describes him as well-spoken and personable, who will be good at interacting with the public when the Supreme Court sits outside of Ottawa, as it did last year when it sat for the first time outside Ottawa, in Winnipeg.
"He's going to be like a beacon for so many people who haven't seen this kind of representation on the Supreme Court," says Regehr, who is the CBA's first Indigenous president. "For the community that he comes from and other communities, they're going to see it is possible for someone who is not Caucasian to be able to attain this."
Justice Jamal — a native of Kenya from an Indian Muslim family of Ismailis, who settled in Edmonton in 1981 — also brings a perspective on racism and discrimination to the Supreme Court bench, Regehr adds. "In terms of a person of colour, that perspective has never been on the court before."
A graduate of McGill University with a Bachelor of Civil Law and a Bachelor of Laws, following a Bachelor of Arts from the University of Toronto, Justice Jamal would later receive a Master of Laws from Yale Law School, where he was a Fulbright Scholar. He went on to clerk for the Honourable Charles Gonthier of the Supreme Court of Canada, and in 1996 he was called to the bar in Ontario.
Justice Jamal joined Osler as a litigator that same year (becoming a partner in 2001), where he had expertise in class actions and competition/antitrust law. He also performed pro bono work for the Canadian Civil Liberties Association and the CBA before his appointment to the Court of Appeal for Ontario in 2019. He also taught constitutional law at McGill University and administrative law at Osgoode Hall Law School and is bilingual in English and French.
Jamal has "a rare intellect, an exceptional legal mind and an incomparable work ethic," says Sonia Bjorkquist, national chair of Osler's Litigation group. "But, equally important, his personal history deeply entrenched in him the challenges of immigrants, religious minorities and racialized persons.
"When you combine this experience with his legal scholarship on the constitution and Charter of Rights and Freedoms, I know he will make remarkable contributions to the thoughtful development of the law in this country," Bjorkquist says. "He is an excellent legal writer, and the clarity with which he articulates difficult issues is ultimately owed to his clarity of thought.
Throughout Jamal's 23 years practising at Osler, "we were all inspired by his passion for the law and his dedication to excellence in everything he did," she adds. "He is … an intellectual who translates complex issues into practical outcomes, and he was an excellent advocate in any forum. His commitment to public service was always evident. He gave back to the firm and the community even when he did not have time to spare. That ethos was deep within him."
According to Prime Minister Trudeau's announcement of the nomination, Justice Jamal appeared in 35 appeals before the Supreme Court of Canada on civil, constitutional, criminal, and regulatory issues.
When Jamal was at Osler, "he was regularly retained on the nation's most challenging and complex litigation, in courts and tribunals across the country," Bjorkquist says of her former colleague. "He brought his best to every single case, whether it was a constitutional case headed for the Supreme Court of Canada or thorny commercial litigation based on complex contracts."
But he also distinguished himself through his deep commitment to legal scholarship and pro bono work, she adds, "through which he regularly engaged with important issues of civil liberties, access to justice, aboriginal law and freedom of religion. He had seemingly endless bandwidth for thought leadership on the most difficult issues."
The nomination will fill the vacancy created by the upcoming retirement of Justice Rosalie Abella on July 1. It is the fourth nomination under the Supreme Court appointment process launched by the federal government in 2016, intended to promote greater openness, transparency and accountability.
The following steps in the process are for Minister of Justice and Attorney General of Canada David Lametti, and Chairperson of the Independent Advisory Board for Supreme Court of Canada Judicial Appointments Kim Campbell to appear before a special hearing of the House of Commons Standing Committee on Justice and Human Rights, where they will discuss the selection process and reasons for the nomination.
Members of the House of Commons Standing Committee will then participate in a question-and-answer session with Justice Jamal, joined by the Standing Senate Committee on Legal and Constitutional Affairs and a member of the Green Party of Canada. Marie-Eve Sylvestre, dean of the civil law section at the University of Ottawa's Faculty of Law, will moderate the session.