Clients' courage, perseverance after injuries stands out most over career that spans two decades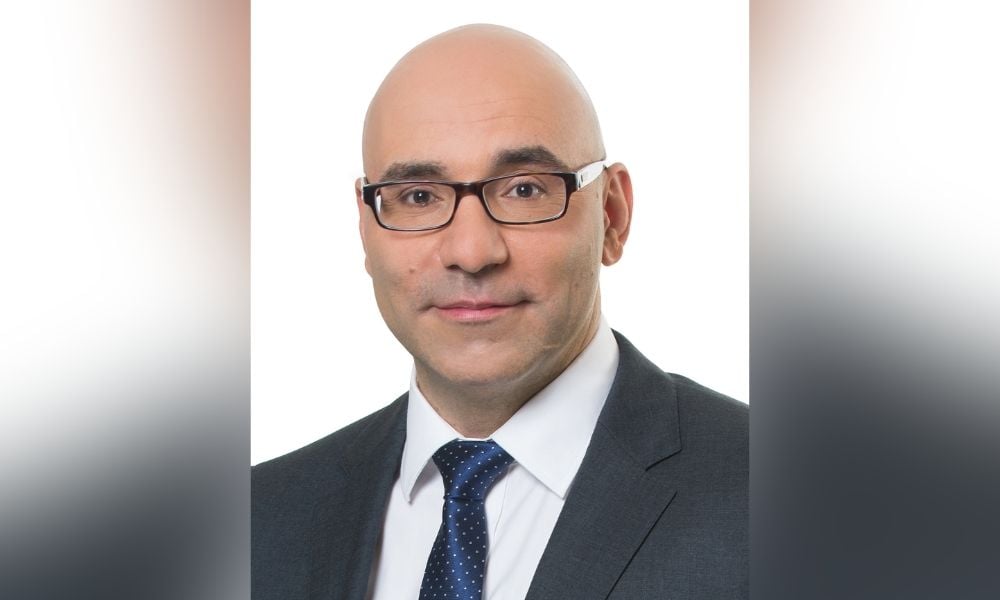 This article was produced in partnership with McLeish Orlando LLP.
Salvatore Shaw has always liked the idea of helping people. From the red fire truck that was his prized possession in childhood, to the multiple lifesaving, first responder, and river rescue courses he pursued throughout his teens and early 20s, using his skills to help others has always been something near and dear to his heart. In fact, while at Western University, Shaw rescued two drowning men who fell into the icy waters of the Thames River. The effort resulted in Shaw being nominated by London Police for the Carnegie Hero Award, an award to individuals in US and Canada who risk their lives to an extraordinary degree saving the lives of others.
Shaw was driven from an early age to succeed— it was his grandmother who gave him two options for his future. It was become a lawyer or become the prime minister, and "it was a little bit easier" to become the former, he laughs.
Shaw articled with John McLeish and Dale Orlando in 1998 and was immediately captured by personal injury litigation and the skill, dedication and work ethics of McLeish and Orlando. "I basically found my calling, as I was able to use the law to help people following injury," Shaw, now a partner at McLeish Orlando LLP, says. "It's been a great fit — while I don't get to use my life saving skills, to some extent that's what I'm doing when I handle a client's personal injury claim. I'm helping them get their life back."
After being called to the bar in 2000, he was named partner at McLeish Orlando in 2011. Shaw enjoys the camaraderie and the high expectations placed on the staff and lawyers at McLeish Orlando to do their utmost on behalf of clients. The fact that the firm continues to push itself by taking on challenging cases, making new law, and striving for the best results in each case, is something Shaw enjoys being a part of. Consistent with this approach, the firm continues to be recognized as one of the top personal injury firms in the county.
"I've had the benefit of working closely with leaders in the personal injury field for over a two decade now and understand the firm methodology of hard work, attention to detail and treating every case as if it's the only one."
It doesn't often escape his clients' notice that Salvatore is an Italian name meaning saviour, and every time they share that fact with him, he's reminded of how clients view him and what is expected of him. As a personal injury lawyer, Shaw sees every file an education in and of itself, because in order to help someone, you need to understand the client: their life, their background and the things that makes their story unique. Throughout that process, you learn from everyone you interact with, Shaw says, whether it be about business, family, cultures— it spans the gamut.
But what always strikes him most is the courage his clients exhibit in dealing with the challenges they face. "It makes you reflect on your own life and how you can apply some of those lessons in the way you handle or look at things," Shaw says. He recalls a young client, a girl the same age as one of his children, who was paralyzed from the waist down. Seeing her adapt following her injury, return to school and excel in a number of adaptive sports at a high level was uplifting for Shaw, and while he may have played a small part in that, he says he can't take any credit: it's the client's story of success.
The legal system is set up to compensate individuals monetarily, but at the end of the day there's no real way to compensate someone for the loss of a family member or for experiencing a serious injury — you're limited to what the law provides. Shaw has found a way to give back to individuals outside of his role as advocate through his volunteer work with not-for-profit adaptive paddling group, Abilities in Motion (AIM), where he helps individuals who have physical, cognitive or other issues that prevent them from participating in activities like kayaking without significant assistance. The organization believes everyone should have the opportunity to enjoy paddling and strives to break barriers of accessibility through use of adaptive equipment, training and community involvement.
Shaw is a "outdoors guy" who enjoys adventures like rock and ice climbing, skiing and wilderness trips in canoes or kayaks. He has hiked, paddled rivers and summited mountains throughout north, central and south America. He once had a job escorting commercial rafts down the rapids of the Ottawa River in his kayak, tasked with rescuing guests that were thrown into the river. While his role at Abilities in Motion makes different use of his skills, Shaw appreciates the opportunity to give back to people in a way that includes his long-standing passion for the outdoors.
"Getting people into a boat and onto the water for the first time is something I take a lot of pleasure in," Shaw says. "It's great to see someone's face light up when they're in a new environment and doing something that they never had the opportunity to do before."
Looking back over the course of his career, memories tend to blur together but Shaw is quick to identify that feeling he gets every time a client gives him a hug, sends a thank-you note or tells him how he's made a difference in their life, as the true highlight of his time in the field.
"I've been lucky enough to be doing this for over 20 years: those moments are quite plentiful and they all stand out," he says. "You lose perspective sometimes during the daily grind, but it's a reminder of what it is that we're doing — making a difference in people's lives."