In 2022, organization intervened in cases and advocated law reform on several human rights issues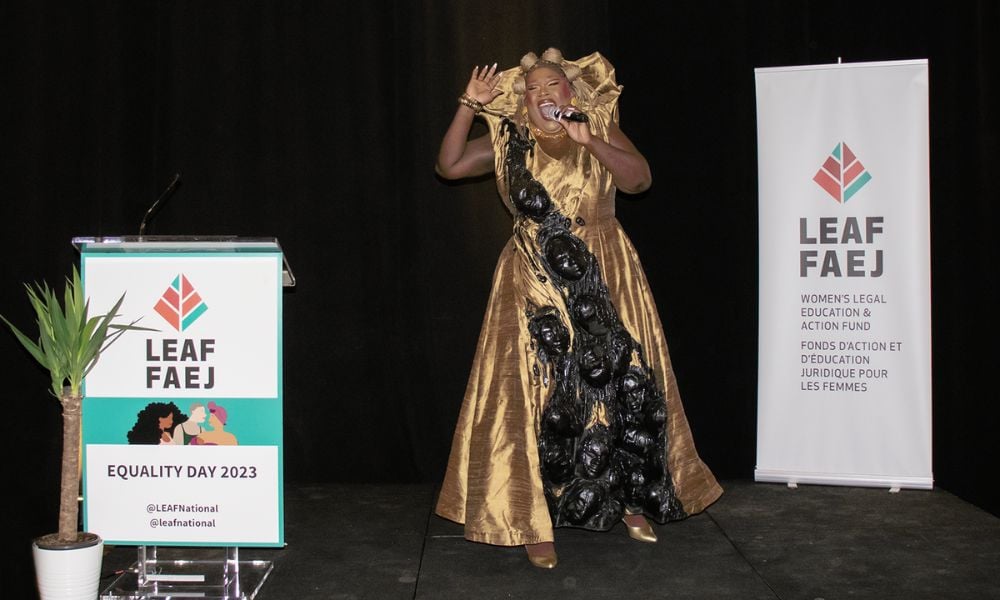 At its Evening for Equality last Tuesday night, the Women's Legal Education and Action Fund (LEAF) celebrated 38 years of working to advance gender equality and highlighted the growing threats facing that work.
In her remarks before the crowd of hundreds of LEAF's supporters, Pam Hrick said that as they watch the political climate in the US, Canadians cannot become complacent at home when it comes to safeguarding the rights of women, trans and non-binary people.
"We see that south of the border, the rolling back of the right to abortion," says Hrick, LEAF's executive director and general counsel. "We see the awful and discriminatory state laws that are being passed to try to eradicate trans people."
While in Canada, the right to abortion is not under attack, she says; access to that right depends on where one lives and whether they are white, Black, Indigenous, or racialized.
"We still see government-sanctioned attacks on women in the workplace."
Quebec's Bill 21, which prohibits the wearing of religious symbols in the workplace, means Muslim women who wear the hijab or niqab cannot work as teachers in the province, she says. Hrick also cited the recent vote by the York Catholic District School Board not to fly the Pride flag in June and New Brunswick's recent review of its Sexual Orientation and Gender Identity policy as evidence of LEAF's need to keep its foot on the gas.
"These are all things that are happening in Canada, and that demonstrates the extent to which this work is as important as ever."
LEAF is using litigation, law reform, and public legal education to confront the mounting threats to equality, says Hrick.
In 2022, LEAF intervened in six Supreme Court of Canada cases, one Quebec Court of Appeal case, and another in the Ontario Superior Court, and was granted leave to intervene in an abortion case before the New Brunswick Court of King's bench.
On Quebec's Bill 21, LEAF has intervened in the constitutional challenge arguing that the law infringes on the fundamental right to gender equality under s. 28 of the Charter. LEAF and the Fédération des Femmes du Québec have submitted that the law disproportionately impacts Muslim women who wear a hijab or niqab with intersecting grounds of discrimination: sex and religion.
LEAF also intervened in R. v. Sharma. The SCC case dealt with Criminal Code provisions prohibiting conditional sentences for offences with a maximum sentence of at least 14 years or which involve the import, export, trafficking, or production of illegal drugs. In a 5-4 ruling, the court found that the provisions did not violate an Indigenous woman's right to equality under s. 15 of the Charter. The decision reversed the Ontario Court of Appeal ruling, which had struck down the provisions. LEAF argued at the SCC that increasing access to conditional sentences could combat the mass incarceration of Indigenous women. Parliament ultimately removed the provisions restricting conditional sentences, and LEAF made a submission to the Parliamentary committee supporting that legislation.
In May of 2022, LEAF announced a mandate update. Rather than advocating only for the equality of cis women, trans women, and girls, LEAF has expanded its approach to gender equality to include all trans and non-binary people. Then in April, LEAF adopted its first-ever position on sex work, which is to advocate for its decriminalization. In October 2022, LEAF intervened in a constitutional challenge to Canada's sex work laws before the Ontario Superior Court.
LEAF recently launched a reproductive justice project examining issues around access to abortion and sexual and reproductive health, focusing on law reform advocacy, says Hrick.
In 2022, LEAF also launched a five-year feminist strategic litigation plan. It set out five key priorities for 2022 to 2026, including "prioritizing reconciliation, decolonization of legal and social systems, and harm reduction, as well as better centring the needs and expertise of those who experience gender-based discrimination."
Ms. Jada Shada Hudson, known as "Toronto's Turn Up Queen," hosted the Evening for Equality. The recurring panellist on 1 Queen, 5 Queers, and former Drag Race Canada Contestant also gave a special musical performance.
The Women's Legal Education and Action Fund won the LexisNexis Canada Award for Canadian Law Department of the Year at this year's Canadian Law Awards.