A aspiring Quebec law student who took both a university and the provincial universities' forum to court after he was refused admission to a law faculty has lost his case.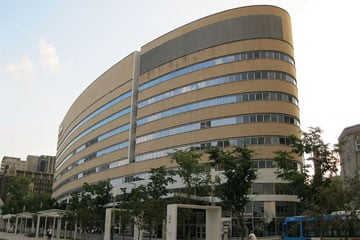 An aspiring Quebec law student who took both a university and the provincial universities' forum to court after he was refused admission to a law faculty has lost his case.
But the 23-year-old says last Thursday's judgment could end up saving him much time and money because it soured him — at least for now — on the workings of the justice system.
"The judge said I should continue with my career plans," says Anton Zelenkin. "But it seems paradoxical for me to do that because I couldn't get justice for the injustice I suffered."
The case began in June when Zelenkin filed a request with the Superior Court of Quebec asking for both interlocutory and permanent injunctions to force the co-defendants — the Université du Québec à Montréal and the non-profit Office of Interuniversity Cooperation — to enrol him in the UQAM's law faculty in downtown Montreal.

In his petition, Zelenkin claimed that recent changes in the province's R-score system "artificially raised" admission standards to Quebec law schools, effectively killing his chances of landing a first-year seat at UQAM.
Unlike other Canadian provinces, which require law school applicants to write the LSAT, Quebec uses a statistical method called the R score to weigh and compare the academic performances of students from Cegeps (technical colleges) that apply to university.

Quebec's five law faculties set their own admission criteria in regards to R scores and the number of first-year seats they have available.

After a years-long review, however, Quebec's R-score system was overhauled in early 2018, with retroactive calculations of students' academic results dating back as far as 2014.

Zelenkin, who emigrated from Russia to Canada five years ago with his family, graduated this year from a three-year legal studies program at the francophone Ahuntsic Cegep in Montreal.

In both his legal claim and a phone interview this week with Legal Feeds, he said he aimed for and achieved the 29-30 R score that has been required to gain admission to the UQAM law faculty over the past several years.

But he says the reform pushed the threshold for admissibility up over 31 for the upcoming academic year, leaving him out in the cold.

"For years I studied hard and knew what I needed to achieve my goal," says Zelenkin. "But that changed dramatically this year due to the reform."

In addition to using statistics from past and present admission results to demonstrate the rise in R-score performances required for admission to UQAM's law school, Zelenkin argued that the speed with which the reforms were enacted prevented him from exploring alternative educational avenues.

He represented himself in the case, which was heard last Thursday, against two seasoned law firm lawyers for the defendants — Fasken's Antoine Aylwin (for UQAM) and Lavery's Justin Gravel (OIC).

In an oral judgment, Superior Court of Quebec Justice David Collier concluded that other elements of proof needed to determine Zelenkin's admissibility to UQAM's law school were missing, such as the comparative force of the cohort in previous years.

The judge also rejected Zelenkin's claim that the speed of the reforms was prejudicial to him.

"The judge basically said that from moment the reform was put in place it put all students on an equal footing in regards to admission applications," says Justin Gravel, a member of Lavery's litigation group.

In addition to being happy with the verdict, Gravel praised Zelenkin's performance in the courtroom.

"He did a good job, he can't be embarrassed," says Gravel. "Even the judge congratulated him for his perseverance and said he hoped to see him back in court again some day wearing a toga."

Though thankful for what he calls the "very noble gesture" by the co-defendants to waive their claim for court fees in the judgment, Zelenkin says he is disappointed with the ruling and is considering an appeal.
Editor's Note: Story updated Aug, 29, 2018