In-house counsel pursue arbitration to avoid significant delays in court proceedings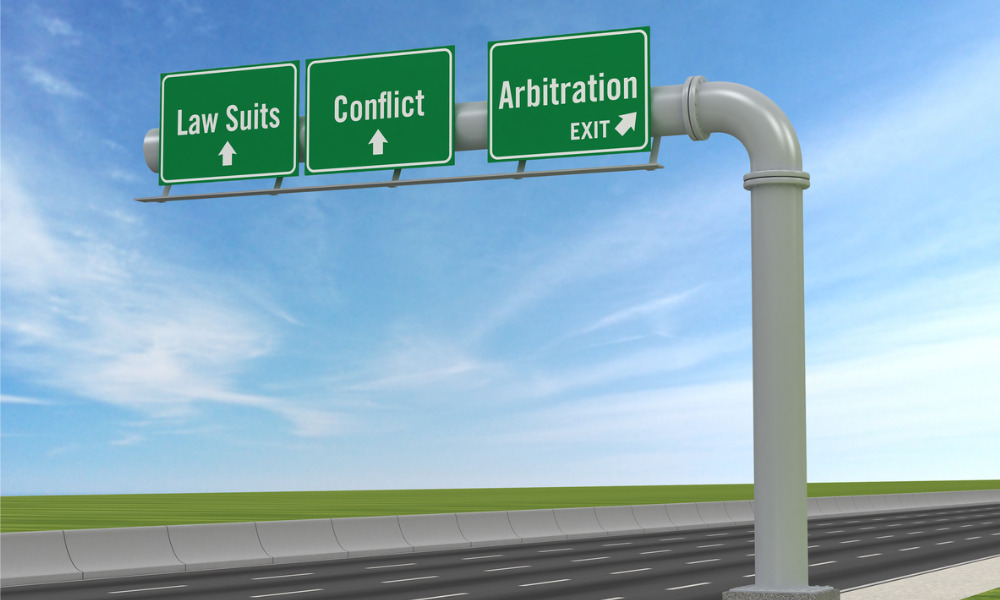 As the judicial system faces long-term uncertainty due to the COVID-19 pandemic, many organizations are turning to arbitration as a faster, more efficient route than traditional courts for resolving disputes. Many firms among Canadian Lawyer's Top 10 Arbitration Chambers continue to see a demand for their services, despite the economic downturn.
"There is a definite opportunity for the expanded use of arbitration during this difficult time," says Barry Penner, managing director at British Columbia International Commercial Arbitration Centre — one of the top 10 arbitration chambers. "Courts across Canada have severely curtailed operations, yet at least some business is still proceeding, and that means there are occasionally disagreements about how to interpret contracts, so resolution is required." BCICA, which will soon be rebranded as the Vancouver International Arbitration Centre, notified the legal profession that business will continue during the pandemic, so cases continue to roll in. The arbitration chamber recently established a new division that specializes in internet domain name disputes.
In addition to speed, arbitration also offers the advantage of privacy because court proceedings are often open for the public and journalists to witness.
"Many businesspeople and lawyers don't want their internal matters aired for public consumption, and arbitration brings a privacy component," says Penner.
Even when social distancing measures are relaxed, arbitration may still be a more favourable option for the foreseeable future, according to Joel Richler, arbitrator and mediator at Arbitration Place and Bay Street Chambers, which are both among the top 10.
"When courts do re-open, they will be very congested, so I think that will inevitably result in lawyers recommending clients try to get their cases resolved more efficiently," says Richler. He says the standard commercial case wait list will likely increase to five or six years from three years as courts scramble to clear the post-pandemic backlog.
Virtual hearings are becoming increasingly popular as they allow parties from different geographical areas to meet while adhering to social distancing requirements. Like many firms, Arbitration Place has been exploring virtual proceedings, and several online
cases are planned for the summer months. Working with technology has presented challenges, including difficulties sharing spreadsheets, internet disruptions due to the pressure on the bandwidth and ensuring that that all participants have access to broadband and adequate technology. However, Richler says, the process is working well overall and may be extended for the long term.
"Even if we are not in total lockdown in the fall, there may be witnesses who don't want to travel or are nervous to stay in hotels, so we will probably maintain proceedings that are partly, if not entirely, virtual," he says. One international case planned at Arbitration Place involves witnesses from South America who are unable to travel to Canada, so virtual proceedings are ideal.
Also on the top 10 list, ADR Chambers has moved arbitration proceedings online using video conferencing, although ADR had not seen an increase in the volume of arbitration cases at the time of interview.
"The major thing people are looking to do is figure out ways to make the process streamlined, less expensive, faster and more expediated," says Allan Stitt, president and CEO at ADR Chambers.
Avoiding unnecessary process is Stitt's recommendation for in-house lawyers.
"As in-house counsel know, there is a tremendous demand from their bosses to reduce the costs of getting disputes resolved," says Stitt. "They should find ways to cut back on due process and make sure arbitration is fast and inexpensive, and the crucial thing is to design the process before disputes arise." As the largest private alternative dispute resolution company in the world, ADR Chambers has administered more than 55,000 arbitrations and mediations over the last seven years. Stitt is also a member of the United Nations Commission on International Trade Law, which is working on developing a model for expedited arbitration rules.
Penner recommends that in-house counsel pay careful attention to dispute resolutions when a contract is initially drawn up.
"It's often the last clause in an agreement because attention is turned to what party will sell to another and at what price, but it's also important to give adequate consideration to how to resolve a dispute in the event that a dispute does occur," says Penner.
Colin Campbell, a mediator, arbitrator and complex case manager at Amicus Chambers, has observed that many in-house counsel clients are quite well prepared for arbitration matters because they have often come from a litigation background. He notes that in-house counsel tend to work in partnership with external counsel partners on the arbitration cases that he sees at Amicus Chambers, a collaborative group of retired judges of the Ontario Superior Court.
"I think one of the reasons that people turn to arbitration is to get people with a specific background to help deal with disputes, and there are a lot of lawyers who have specialized in fields like construction, patents and other areas of law that people turn to for arbitration," says Campbell.
"Some of the cases I get — and I think other retired judges get — are things that started in the court system and people have come to us because the process was too slow or someone is using delay tactics that are inherent in the court process to delay it," says Campbell. "People want the management that comes from judges that are used to managing cases."
Since joining Amicus Chambers in 2013, Campbell has presided over more than 100 arbitration disputes, principally as a sole arbitrator in domestic issues.
As the pandemic evolves, arbitrators anticipate a continued demand for their services.
"Everybody wants the cash flow to be ongoing," says Richler. "Nobody wants to put their pencil down and do nothing for six months. Human activity will get back to where it was, and arbitration will be busy because of the overloaded court system."
Top 10 arbitration chambers
(listed alphabetically)
ADR Chambers
Toronto
adrchambers.com
ADR Chambers was founded in 1994. It is the largest private alternative dispute resolution company in the world, having administered more than 55,000 arbitrations and mediations over the last seven years. ADR Chambers has more than 55 neutrals who conduct arbitrations and mediations across Canada and internationally. It has regular arbitration rules and expedited arbitration rules for faster and less expensive arbitration. On top of arbitration and mediation, ADR Chambers offers construction adjudication, ADR systems design, coaching, fairness monitoring, ombuds, neutral evaluation, training, workplace investigation and other services.
Alternative Resolution Group
Toronto
argroupinc.com
AR Group was formed in 2000 as a boutique arbitration and mediation firm providing dispute resolution services in the personal injury field. Its initial areas of focus included tort, accident benefits and LTD claims. When Shari Novick joined founding member Guy Jones in 2001, the firm expanded its focus to include similar services in the field of labour and employment law. Jones and Novick have each conducted thousands of mediations throughout Ontario. They are both actively involved in conducting private arbitrations between insurers in priority disputes and loss transfer cases. Novick also conducts grievance arbitrations under collective agreements, adjudications under the Canada Labour Code and workplace investigations.
Amicus Chambers
Toronto
amicuschambers.com
Amicus Chambers is a collaborative group of retired judges of the Ontario Superior Court. Extensive judicial experience leads it to independent practices that create distinctive and innovative dispute resolutions. Amicus members manage complex matters efficiently and effectively through all levels of the process, from evaluative and interest-based neutral mediation to adjudicative arbitration. Its offices are located at Neesons Court Reporting in Toronto. As a collaborative group of retired judges, its services cover arbitration, mediation and complete case management with superior bench strength.
Arbitration Place
Toronto, Ottawa
arbitrationplace.com
Arbitration Place is an arbitration hearing centre and arbitrators chambers in Toronto and Ottawa and globally through Arbitration Place Virtual. Featuring a roster of internationally renowned resident and member arbitrators, Arbitration Place offers an "all-encompassing approach:" state-of-the-art hearing rooms, a full suite of administrative services including court reporting and transcription, an on-site commercial kitchen staffed by a team of chefs and in-house legal counsel to act as tribunal secretary. Arbitration Place also serves as a hub of Toronto's and Ottawa's litigation and arbitration communities, and it frequently runs educational programs on domestic and international topics of interest.
Bay Street Chambers
Toronto, London (U.K.)
baystreetchambers.com  
Founded in 2012, Bay Street Chambers consists of senior barristers practising exclusively as arbitrators and mediators in international and domestic commercial disputes, both ad hoc and administered under the auspices of the leading international arbitration institutions. Bay Street Chambers has three active members, all with more than 40 years of experience as commercial litigators: Brian Casey, former international partner at Baker McKenzie; Joel Richler, former senior litigator and partner with Blake Cassels & Graydon LLP; and Martin Sclisizzi, former senior counsel and partner at Borden Ladner Gervais LLP. The group specializes in infrastructure, energy and complex corporate and commercial disputes.
British Columbia International Commercial Arbitration Centre
Vancouver
bcicac.com  
The B.C. International Commercial Arbitration Centre is a non-profit organization committed to offering businesses and individuals alternatives to resorting to court for resolving disputes. An initiative of the province of British Columbia in 1986, with the active support of the Canadian federal government, BCICAC guarantees complete neutrality and confidentiality to all parties in the arbitral proceedings. Almost half of BCICAC's 114 panelists serve on its international panel. Domestic commercial arbitrations, internet domain name disputes and underinsured motorist protection disputes involving the Insurance Corporation of British Columbia are the major sources of cases for BCICAC. In February, the B.C. government introduced legislation to modernize the Arbitration Act, which governs commercial arbitration proceedings within British Columbia. The government confirmed BCICAC's "unique and prominent position in the act" as the "designated appointing authority" for various matters relating to the conduct of arbitrations. At the same time, BCICAC announced that it will be re-branded as the Vancouver International Arbitration Centre when the new legislation comes into force later this year.

Canadian Commercial Arbitration Centre
Montreal, Quebec City
ccac-adr.org
A non-profit organization and recognized leader since 1986 in alternative dispute resolution services, Canadian Commercial Arbitration Centre acts as representative and independent manager of private, public and para-public arbitration programs. CCAC ensures (via the centre's clerk office) that procedural acts, proceedings and choice of arbitrators, in view of costs and time, are proportionate to the nature and purpose of the claim and the level of complexity of the litigation. Because it is a non-profit organization, there is no charge for services related to the opening of the file and associated services, particularly those relating to the study, evaluation and material organization of the file, including the preliminary discussions with the parties as well as registry, filing and treasury services.
Global Resolutions Inc.
Toronto
globalresolutions.com
Global Resolutions is a provider of mediation and arbitration services. Its expert panel members are all seasoned counsel retained to resolve complex, commercial, insurance and estate matters, mass torts and class actions. Global Resolutions, with clients in Canada and the U.S., continues to grow and expand its panel to service its clients in all regions of the country. The firm practises in the areas of agriculture, class actions, municipal, police and government liability, sports and entertainment, corporate and commercial, health care, insurance, personal injury, real estate and construction, wills and estates and workplace disputes.
Ottawa Dispute Resolution Group Inc.
Ottawa
odrg.net
Ottawa Dispute Resolution Group Inc. was founded in 2004 by James Chadwick, former Superior Court regional senior justice for the east region, and two long-time colleagues of the Ottawa Civil Bar, Brian Parnega and Walter Langley. They were joined in 2014 by Albert Roy, former Superior Court justice for the East Region, who for 20 years presided over a wide variety of cases in both official languages. Together, the firm offers extensive judicial and civil litigation counsel experience in mediation, arbitration, settlement conferences and private trials, and individually, the members of ODRG work with all parties to resolve complex civil matters.
Taylor & Martyn Mediators
Toronto
taylormediations.com
Since 2001, Taylor & Martyn Mediators has been providing mediation and negotiating services, conflict system designs and in-house training for negotiation, mediation and conflict resolution skills. The firm's three dispute resolution experts — Pamela Taylor, Barbara Martyn and Albert Suissa — meditate short-term and long-term disability, creditor, life and personal injury litigated claims as well as employment claims.
How we did it
Last year, Canadian Lawyer asked lawyers, in-house counsel and clients from across Canada to vote on the top arbitration chambers. They were asked to rank their top firms from a preliminary list, with a chance to nominate a firm that was not included on the list. To be considered in the vote, firms were required to have at least 80 per cent of their business come from arbitration. The final rankings were determined through a points system, in which firms were rewarded on a sliding scale for the number of first to 10th-place votes received. The quantitative results are combined with feedback from respected senior members of the bar and in-house counsel when applicable. 
For a full description of our methodology, visit canadianlawyermag.com/survey/method