Mining lawyers say gold price, auto electrification provides spark for deals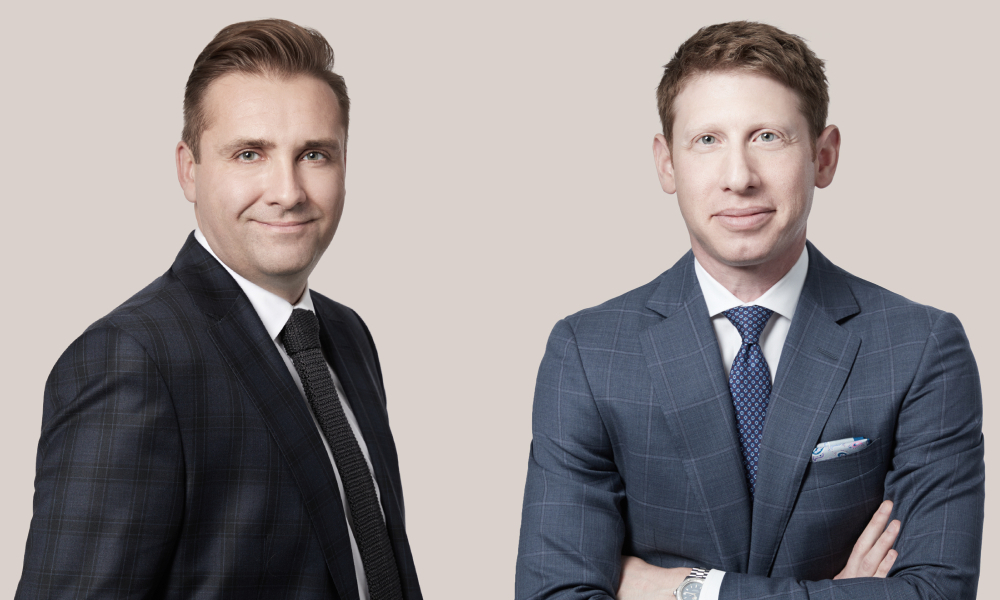 The global mining sector has been hit by the Covid-19 pandemic, like many other sectors, but Canadian mergers and acquisitions have soldiered on this year as the price of gold and other metals have climbed since the beginning of the year, say Fasken Martineau DuMoulin LLP partners Brad Freelan and Krisztian Toth.
With offices in Canada, London, and Johannesburg, Fasken has advised on more than 30 capital markets, asset sales, and M&A transactions worldwide so far this year, putting the firm at the forefront of Canadian legal advisors for transactions in the mining sector. The firm regularly is ranked top among natural resource law firms of the year and global mining law firm lists.
Fasken's M&A group ranks #1 in the Canadian Mid-Year 2020 league tables, and the firm topped Mergermarket and Refinitiv (formerly Thomson Reuters) M&A lists by deal count.
"It's quite an exciting time in the mining sector," says Toth. "Given the current market sentiment, we see M&A continuing at a faster pace."
Freelan adds: "We're still watching this play out, but I think we'll see more M&A activity going forward."
Both lawyers say the skills the firm has gained from being at the forefront of mining M&A in Canada, and the world, translate into other sectors.
"We're proud of our background in mining, but we're much more than that when it comes to deal-making," says Freelan.
Toth says the juniors and the intermediates are currently driving M&A in Canada's mining sector. Uncertainty over the pandemic and its impact on the global economy has pushed up the price of gold, given its historic role as a store of value. He also points out that the interest in alternative energy and "green" metals such as lithium and nickel (used in electric cars) has also created more interest in the mining sector.
Freelan notes gold climbed from about US$1,500 an ounce at the beginning of the year to more than US$2,100 in the summer. It now trades above US$1,900 an ounce.
Freelan says that from about 2013 to mid-2019, gold hovered in the US$1,200 to US$1,300 range. With higher prices, gold projects that were not viable before are much more attractive. He says the sector sees activity increasing as financing has become more accessible for those who want to continue developing projects. And those who are looking to sell are finding potential buyers.
Toth adds: "We're also seeing clients who have had assets that they haven't paid much attention to now looking in their cupboard and realizing there's something of value there." The deal activity is being driven by owners trying to spin out assets or de-risk their exposure, Toth says, so "we're seeing a lot of spin-outs, options and partial sales as well."
According to research firm GlobalData, US$8.86 billion worth of M&A deals were struck in the metals and mining industry globally during the second quarter of 2020. That is up 29 per cent over the previous quarter, but still down 14.4 per cent compared to the four-quarter average of US$10.25 billion.
Comparing deal values across different regions of the world, Asia-Pacific held the top position with total reported deals in the period worth $4.27 billion. But at the country level, Canada topped the list with $2.92 billion worth of M&A deals announced.
The top country for M&A activity in Q2 2020, by deal count, was Canada, with 151 deals, followed by Australia with 80 and the United States, with 42.
As a recent example of a deal done during the pandemic, Freelan points to Guyana Goldfields' acquisition by Zijin Mining Group Co., Ltd. for $323 million. Silvercorp had made an offer of 60 cents a share for Guyana Goldfields, which was represented by Fasken, but an auction ensued, and the final price was an offer by Zijin for $1.85 a share. That's a 425 per cent premium to where Guyana Goldfields' stock had been trading before it was put into play.
"That's not necessarily the norm, this massive premium, but it's an interesting example of the impact of the price of gold and people's willingness to pay," says Freelan.
Other deals Fasken has advised on this year include:
• Thor Explorations getting financing of US$104.5 million to fund the Segilola Gold Project in Osun state, Nigeria
• SolGold's royalty financing package of US$100 million, with potential Upscale to US$150 million, from Franco-Nevada for the Alpala Project in Ecuador
• Monarch Gold's sale of Canadian property Fayolle To IAMGOLD for $11.5 million
• Kirungu Corporation's acquisition of American Pacific Honduras from Ascendant Resources Inc. in a transaction valued at up to US$26.1 million
As for metals such as nickel, cobalt, and copper, Toth says these commodities have become part of the auto industry's electrification strategy. "For a while, it was the lesser known metals, the rare earth metals, that were popular, but people are now looking at these ordinary old economy metals." Copper now trades at more than US$3 a pound, a price not seen since the summer of 2018, while nickel is trading at more than $15 a metric tonne, the highest since November 2019.
Both Toth and Freelan say that while Fasken has gained a reputation as being among the top M&A firms in the mining sector, it shouldn't be pigeon-holed as only being associated with mining. Freelan says working on so many mining deals at an international level has meant the firm has gained a lot of experience in putting together acquisitions, developing a skill set for mergers and acquisitions that applies to any sector.
"We've developed a team that has the creativity and ability to problem solve and make things happen even when we're talking about foreign jurisdictions that have a different legal and regulatory system," says Toth. The firm has also had to develop creative ways to carve out assets to make valuations work so that a deal can go through.
The result is that Fasken is outgrowing its reputation as a mining M&A firm to take on different types of dealing. For example, it was involved in Air Canada's acquisition of the Aeroplan program and is now representing Air Transat in an amended deal to be taken over by Air Canada.
Fasken is also involved in the cannabis space. It was Aphria Inc.'s legal adviser in the company's successful defence of a hostile takeover bid by U.S.-based Green Growth brands. "That was a huge success for us," says Freelan.
Fasken's work in mining is what the firm is known for, "but that experience translates extremely well across all sectors. And we're proud of that."