We should treat our internal clients as if we were in private practice, says James Petrie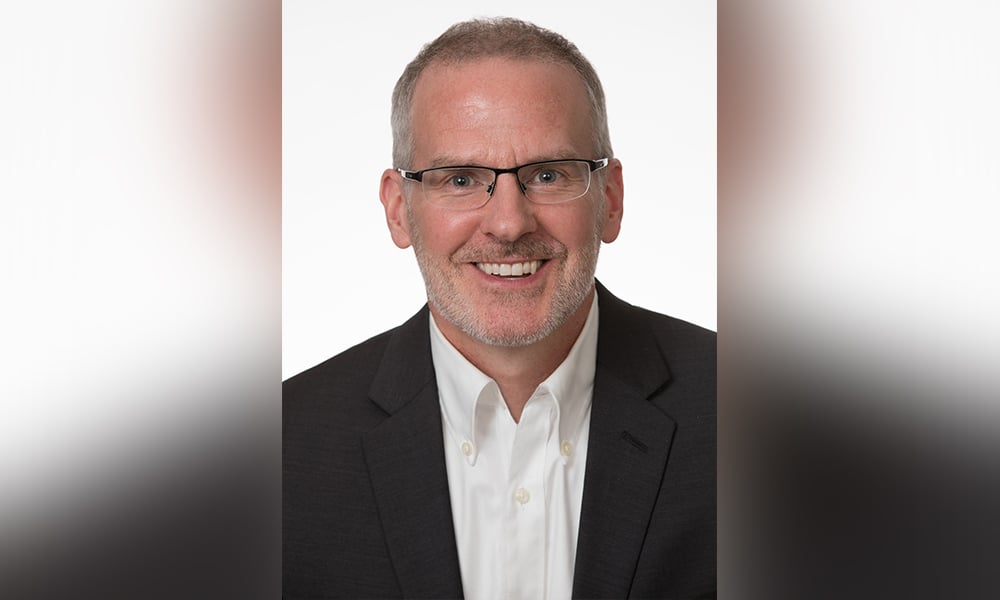 Moving to a new role at a different company in the height of a pandemic was no easy feat for James Petrie who joined NB Power as chief legal officer in November, 2020. Bringing 17 years of experience from Plaza REIT where he held the titles of general counsel and chief operating officer, Petrie has continued his focus on protecting the organization while striving to move the business forward.
"I've always been a big believer in client service, whether you're in a pandemic or not," says Petrie, who also helps to oversee the organization as a member of NB Power's eight-person executive team. "I've always believed that we should treat our internal clients as if we were in private practice. I've really tried to stress to the team the importance of providing practical, business-minded, timely advice."
Continuing to learn the business is a key goal for Petrie as the year progresses, so that he and his department can continue to support the executive team and aim to exceed the expectations of their internal clients. As part of the learning process, Petrie has arranged for various speakers to present on different aspect of the company's business such as IT and general technological innovations.
"NB Power is definitely one of the leaders in New Brunswick for technology and we are really on the cutting edge of so much, so I want to give the legal team an overview of where we are headed as we are looking at all sorts of hardware and licensing agreements," says Petrie. Upcoming speaker sessions are also planned on topics including energy marketing, the sale of electricity and new corporate strategies.
"I think it's really important to make sure lawyers understand the bigger picture of the company instead of staying in silos, so they don't just get trapped into reviewing things in isolation," says Petrie.
In addition to overseeing the nine-person legal department at NB Power – consisting of seven lawyers and two legal assistants – Petrie is also in charge of non-power generating assets across New Brunswick, which includes the head office as well as other buildings. Managing real estate matters for the Fredericton, NB-based electric power utility is second nature to Petrie following his vast experience at Plaza REIT.
"I've been surprised with the level of activity that we have in real estate – in terms of leasing, sales and purchases," says Petrie. "I'm very comfortable in that area so that has been a nice surprise."
In order to enhance efficiencies within his team, Petrie created a legal online server that enabled the whole legal department to share documents through a common server. He is also working with other departments to create a single electronic document database which will allow the company to shift away from paper documents. As a 100-year-old public entity, NB Power is impacted by archive legislations that must be carefully navigated so the project is complex, Petrie says.
"With the quantity of contracts and legal documents that are created here every single day, I think it's critical that we have an online system," he says.
While learning the details of the complex business and connecting with his team in a virtual environment have been major undertakings for Petrie since he joined NB Power, he has also found time to work with the procurement department on a legal procurement initiative.
"We are owned by the province of New Brunswick, so we obviously have a lot of eyeballs on our spending," says Petrie. Together with the procurement team, Petrie is examining the tender processes and seeking ways to make improvements and efficiencies in contracts. "We're a big organization with so many different contractual relationships that we're entering into every day, and there are always ways to improve and provide efficiencies," he says.
Petrie has introduced weekly meetings for his legal department to keep the team connected while working remotely during the ongoing pandemic. He also endeavours to schedule one-on-one meetings with team members each week.
"That has been wonderful for me to get to know them and for them to get to know me and to better understand what they are working on and what they are doing," says Petrie. "I have inherited an outstanding team," he adds.
Petrie has also been heavily involved in planning the company's post-COVID response, with safety for the company's 2700 employees being his top priority. He is working with the executive team and HR department with regard to employment and labour laws as the COVID vaccine rolls out. Petrie hopes for clearer direction from the government regarding the rights and obligations of employers and employees in a post-vaccine world.
"We've been so focused on keeping everyone safe, but I think there's going to be some real world issues every employer is going to be facing, particularly if there is a reluctance to be vaccinated or maybe the vaccines won't be the panacea that we think they will be. I would really prefer a legislative solution than years of costly litigation and arbitration," he says.