Boucratie helped negotiate an agreement for the use of medication to treat COVID-19 in Canada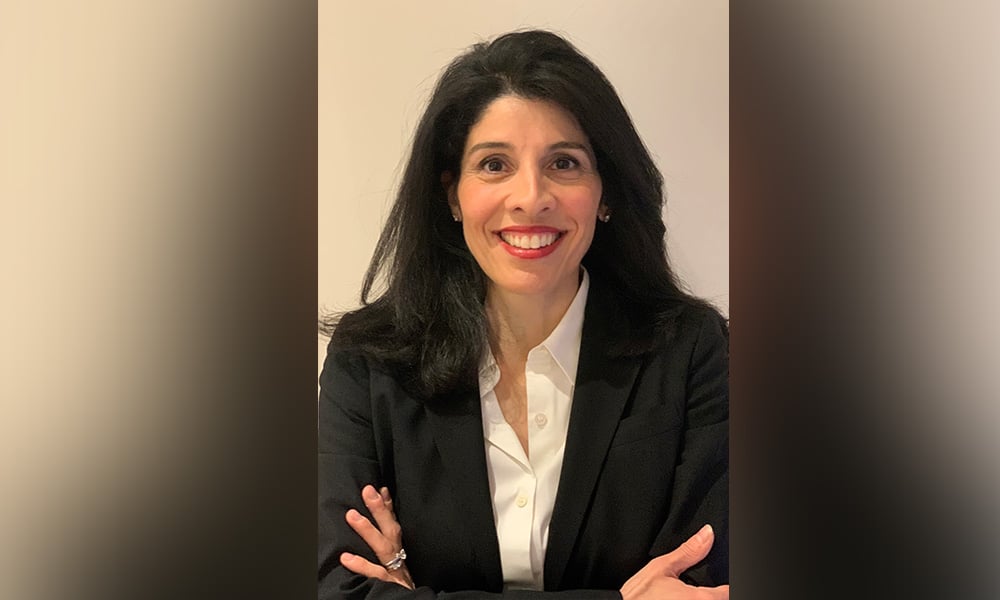 The life sciences industry has been at the forefront of the global fight against COVID-19 for the past eighteen months, and Gilead Sciences is no exception. The research-based biopharmaceutical company that discovers, develops and commercializes innovative biopharmaceuticals in areas of unmet medical need has continued to grow and expand its services during the pandemic crisis. The global company now has close to 13,500 employees across 38 countries and six continents. Gilead Canada expanded from just over 100 to around 150 employees in the past 18 months, which includes a new lawyer joining the legal team.
"It's really impressive to see how much we've grown, even during the pandemic," says Natalie Boucratie, director of legal affairs at Mississauga, Ont.-based Gilead Canada. "We remain focused and really still capable of moving with agility, even though we've grown so much."
Boucratie supports her internal business partners by managing all legal and compliance matters for three specific therapeutic areas – HIV, oncology and COVID-19. She identifies legal risks and provides solutions and recommendations for balancing legal issues with business objectives within these areas, and she also stays abreast of changes in the law at a provincial and federal level to keep the leadership team informed. Her remit also includes handling HR and employment matters as well as supporting medical affairs and providing training to employees on compliance matters.
Among the highlights of her work at Gilead, Boucratie was involved in negotiating with the Government of Canada regarding the use of Veklury (remdesivir) when the medication was first granted approval from Health Canada in July, 2020, as a treatment for SARS-CoV-2 infection – the virus that causes COVID-19.
"The opportunity to be front and centre in negotiating that agreement was a highlight for me," says Boucratie, who has been at Gilead for six years. "As with all our actions, Gilead approached the development of remdesivir with the aim of helping as many patients as possible, as quickly as possible, and in the most responsible way. We recognized the need to do things differently to reflect the exceptional circumstances of the pandemic." Finding solutions safely through collaboration has always been a priority at Gilead, she says.
The organization is also known for advancing innovative medicines to prevent and treat life-threatening diseases including HIV, viral hepatitis and cancer.
Boucratie is part of a five-person legal team in Canada, consisting of three lawyers who each support different therapeutic areas, one compliance manager, and team leader and mentor, associate general counsel, Cinda Serianni.
"What has been really important is the close collaboration and trust between the legal department and the rest of the organization as we tackle all the legal and compliance matters that come our way through the pandemic," says Boucratie. This has included developing policies and procedures and giving training on compliance interactions with healthcare providers, as well as supporting the launch of new products and onboarding new employees. The self-service contract management tool, Apttus, and electronic signatures have helped the legal team to empower the business throughout the pandemic by streamlining contracting and reducing legal bottlenecks.
Privacy is top of mind for Boucratie this year in anticipation of an expected overhaul to privacy legislations at a federal and provincial level. She is also keeping a close eye on compliance with regard to the Patented Medicine Prices Review Board.
In-house counsel must know the internal client and understand their objectives, in Boucratie's opinion, so with this in mind she sets up weekly touchpoint meetings with key people in the organization.
"It's important to come to the table knowing the business and to bring a solution-oriented mindset," she says. "The business needs to know that you are on their side and you want the same thing as them, so you can analyze it from a business perspective and look at the risk," says Boucratie.