The pandemic has made Grant's work even more meaningful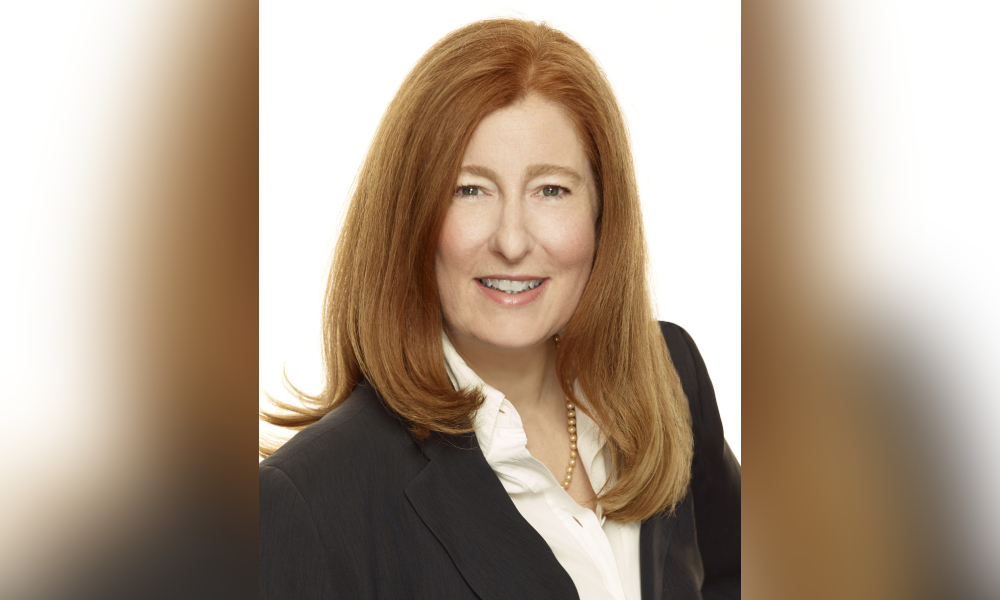 It is no surprise that Vanessa Grant is passionate about her work. As a corporate lawyer advising the technology and life sciences industries, her areas of focus are having a moment.
While some of her biotech clients are supporting vaccine development and her tech clients are helping with the shift to working from home, it is when Grant talks about the intersection of tech and health that she really gets animated.
"In the past five to 10 years, I have now seen the convergence of those two," Grant says. They "used to be separate industries, one not talking to the other, but [there is] but now an intimate convergence."
Grant cites the example of companies that now specialize in developing and curating sets of anonymized patient data for use in drug discovery.
Technology has also been a key driver in the rapid development of COVID vaccines. "What's really great about Canada in particular," she says "is that we provide the support and guidance to researchers to enable them to be world leaders in this type of technology. Some of our clients with whom we work, you won't necessarily see it in the headlines, but they are in the vanguard of vaccine research."
Vaccine development is not just about the vaccine itself, Grant points out. "There's a whole set of technologies surrounding the research, development and delivery of vaccines."
Grant's enthusiasm comes naturally and infuses everything she talks about, which is also evident in another of her passions: the arts. As a trained mezzo soprano opera singer, a mother of a ballet dancer and the wife of an animator, she surrounds herself with creativity. In fact, Grant says, in addition to fostering her son's career in ballet, she has had ballet students living in her house and ballet classes will sometimes be happening in the background as she works.
Grant aspired to a career as a singer when she was studying music for her undergraduate degree. But she shifted to the law when she realized that, unlike some of her classmates, a career in opera was not in the cards.
While Grant continued to sing, the drive she had to succeed in music quickly shifted to her new chosen vocation. When talking about the law, Grant speaks in grand statements, not so much in legalese or industry jargon.
"I think most people go to law school because they're idealists and because they believe that, in some small measure, the practice of law and the understanding of the way law and legal systems works will help them change the world."
While Grant can sound a bit more starry eyed than the average M&A lawyer, she cites an experience she had with a mentor early in her career that taught her some of the more practical lessons about excelling in the law.
As a as a second-year lawyer at Torys, Grant ran into a senior partner's office in a panic that she had made a major error on a deal by not properly following her client's instructions.
When you are a young lawyer, Grant says, you are never quite sure if your error is "catastrophic and the entire deal will fail or whether this is something that's quite straightforward." By making a quick call, though, the partner she went to solved the problem on the spot.
Since the partner knew that a phone call could fix it, this taught Grant the importance of experience. But the manner in which he did it — calmly and methodically — also taught her "the value of a measured response. Just pause, stop and think it through."
The fact that he knew who to call also taught Grant that "there is no substitute for creating relationships."
When Grant talks about her tech and health industry expertise, she also comes back to the importance of relationships.
In other words, it is the people she works with — and not just their work product — that most impresses her.
"I work with some of the finest minds in the world [in the] technology and life sciences spaces. And that is not something that an opera singer ever could have [imagined saying] 25 years ago."
Grant says she connects with her tech and life sciences clients on a personal level by sharing an idealism and a drive to "change the world." Some of her life science clients are "literally trying to come up with a cure for cancer," and her tech clients "genuinely believe that they can provide a technological solution to some of the most pressing problems that we have."
While the pandemic has clearly accelerated the market for both health and tech, she cites improved client relationships as the key "silver lining" of COVID to her practice.
"Now, we're on Zoom calls and I say, 'I'm really sorry, I'm going to have to take you off of video because I've got a ballet class going on behind me.' . . . I'm literally seeing people in their bedrooms, I'm seeing people in their dining rooms, I'm seeing people in their home offices, I'm hearing their dogs."
Grant says that those conversations, even though they are personal, do result in her delivering better legal advice. This is because it opens up conversations about the broader context of her client's challenges beyond the specific legal question she is helping them to navigate.
"It does mean that it makes me better able to provide tailored, more focused advice. . . . I'm now on the phone with a full human being. And that enables us to deepen our relationship."
It's a deeper relationship, no doubt, that will keep her enthusiastic about the work she is doing even after the pandemic spotlight moves away from her clients.
Name: Vanessa Grant
Current position: partner, Norton Rose Fulbright Canada LLP
Key dates:
2016: joined Norton Rose
2012: joined partnership of Gowling WLG Canada
2004: joined partnership of McCarthy Tétrault
1994: started as student at Torys
1995: completed LL.B. at Queen's University
1991: completed B.A. in vocal performance at University of Toronto
Health and technology work
Vanessa Grant has provided advice and representation to:
A pre-clinical pharmaceutical company in its 2020 convertible note financing where it raised more than US$3.9M
A global pharmaceutical company on the Canada aspect of the global reorganization of its innovative
medicines and established medicines businesses
Entos Pharmaceuticals Inc. on its collaboration agreement with a clinical stage biopharmaceutical company
A global pharmaceutical company on the implementation of its joint venture to create a global consumer health-care company
A venture capital investor on its investment in a dental company, as well as its participation in a pharma-
ceutical company's public offering
FACIT, together with the University of Toronto, regarding the announced creation of Ontario-based Cellular Analytics
Metabolomic Technologies Inc., a Canadian-based company developing metabolomics-based in vitro
diagnostics on completion of $4.2M Series A raise
A plant-based nanotechnology company as it developed a worldwide patent and branding strategy, including licensing ventures and funding initiatives
A pharmaceutical client in relation to its creation of Canadian subsidiary and seeking market approval for
new drug in Canada