Chief Legal Officer at tech firm gives career tips at Canadian Corporate Counsel Association retreat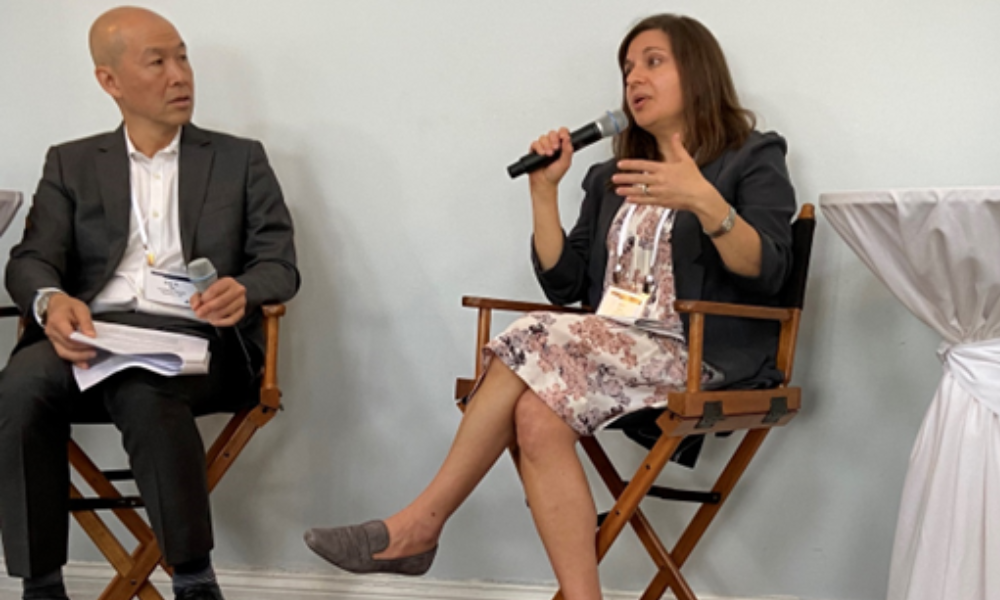 Working as an in-house lawyer at Shopify from just before its successful IPO in 2015 until 2021, Erin Zipes found the experience "amazing," but it also took her "too long to learn the lesson" that she "couldn't scale herself back without building a team."
Zipes, now the Chief Legal Officer at password manager 1Password, told attendees at the Canadian Corporate Counsel Association annual retreat Friday that it was a "privilege to work at Shopify," which was in a huge growth phase during her seven years there. It was also at Shopify where she came to learn that having the right team of in-house staff is vital in keeping things on track.
Zipes said during a fireside chat moderated by LexisNexis director of client relations Eric Wai that she is focused on building a legal team for the long-term at 1Password – "making sure we're hiring the right people for the right roles at the right time." That means assessing the skill set of new and potential hires and being frank about what roles she wants them to focus on, whether it's operations, procurement, HR, privacy, or IP.
However, at the same time, Zipes said she is looking for "hidden superpowers" that can help develop and round out their careers while benefitting the company.
"If you want to learn more, if you want to grow, if you want to develop your skills, that is a luxury," a luxury Zipes said she benefited from at Shopify – "what I was doing on my last day there was not the same as what I was doing on my first day there."
"When I think about hiring, it's an imperfect science," she said, but "It's about thinking what skill sets are needed.
"You step back and look at the puzzle you're building and think, okay, what is the next piece?" And it's also about recognizing the unexpected skills you find in your hires almost by accident, she said.
Building a legal team at 1Password
Since Zipes arrived at 1Password, the legal team has grown from three to nine, "about the right footprint" for a company of more than 900 employees.
Zipes said that building a legal team today requires being sensitive to diversity and inclusion, but if you are recruiting correctly, "it is easier than one might think." She noted that there are "tremendous amounts" of diverse talent already working in the legal world, many of whom feel they are not being allowed to advance by their current employers and are looking for a change.
"I feel that if we don't have a diverse slate of candidates we are interviewing, we haven't run a good process."
After her seven-plus years at Shopify, Zipes said she needed to step back to see what she wanted to do next. It took a break of five months for Zipes to decide that 1Password would be her next move. She already knew a bit about the company, having used 1Password as a consumer.
She even made a small investment in the password manager, trusted by more than 100,000 businesses, including IBM, Slack, Snowflake, Shopify and Under Armour, and millions of individuals and families across the globe.
The leadership and team are "incredible," she said, but Zipes admitted that perhaps among the reasons to take the position was for personal growth and the chance to become a general counsel.
"I wondered, if I was the one making the calls, can I do this? Could I be a GC?" There was also the opportunity to be on the ground floor of building a team. And working at 1Password feeds her growing "addiction" to the tech world.
Supporting start-up tech entrepreneurs as angel investor
That interest is also why she is an "angel investor" and a founding partner at Backbone Angels, an investing collective focused on empowering women and non-binary tech entrepreneurs who are often overlooked and underrepresented in that industry. Since 2021, the club members have invested in 42 companies and deployed over US$2.3 million in capital through Backbone Angels.
The investments made by Zipes and nine of her former colleagues at Shopify are relatively small, Zipes said, and while it's too early to tell how these investments will ultimately fare, she thinks of it as a way of "paying forward" the financial success she had at her time at Shopify.
One example of a startup she and others in her group have invested in is Haloo, the operator of a trademark search tool with the vision of making it affordable for entrepreneurs to protect trademarks.
Backbone Angels "is very informal, but it works well for us," Zipes told delegates. "And we're only accountable to ourselves because we haven't taken outside capital," which she says keeps her investing horizon long.
"It's not charity. We're not trying to lose money, but in a way, it's me trying to send to the elevator back down and help others," Zipes said.