Lynn Korbak brings a legal lens to business expansions and transformations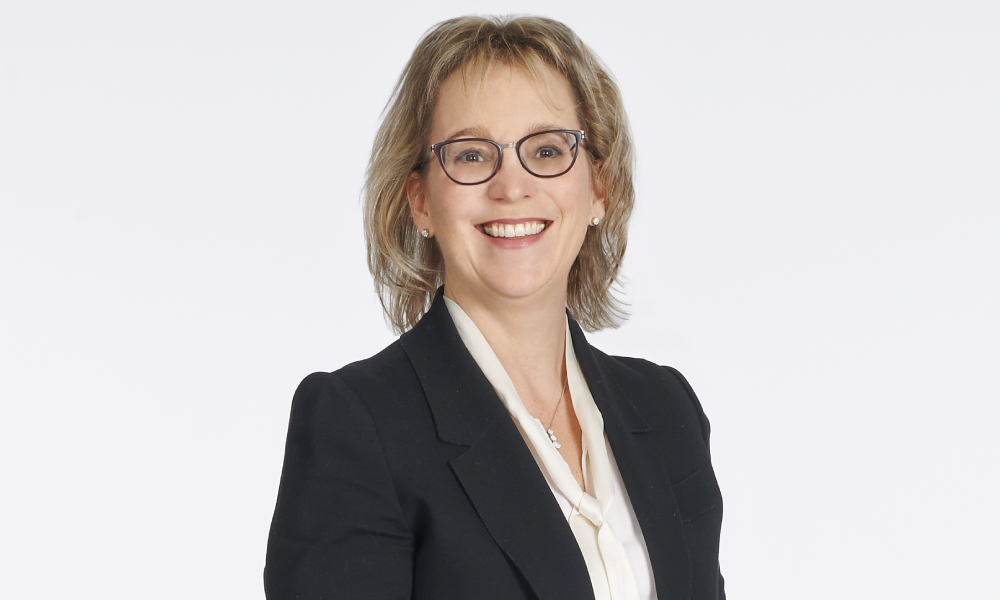 When Lynn Korbak joined Toromont Industries as general counsel in 2018, the organization had just been through a significant growth phase — almost doubling its size through acquisitions of the Hewitt Group of companies— so the opportunities were tremendous.
Joining Toromont shortly after its expansion presented Korbak with the opportunity to bring a legal lens to the integration of the new operations and the different cultures that were subsequently incorporated. She and her team were integral in assembling new practices for the entire organization, to accommodate the expanded business and aid the transformation.
"It was the perfect fit for me to join Toromont at the cusp of its next stage, and to be working with a company that had such great prospects for the future," says Korbak, who had a brief stint as general counsel at Toyota Canada prior to her current role. Through the deal, Toromont acquired Hewitt's 45 Caterpillar dealerships in Quebec, the Maritimes, Labrador West and Ontario, increasing the number of Toromont's heavy equipment dealerships to 120. The Concord, Ont.-based organization provides specialized capital equipment in Canada, the U.S., and internationally, operating in two segments — Equipment Group and CIMCO.
No stranger to rapid expansions and transformations, Korbak oversaw a tremendous growth phase during her first in-house role at financial services giant Merrill Lynch, (previously Midland Walwyn) where she spent six years following the start of her career at various private practice firms. In 2003, she also went on to spend 13 years at Morneau Shepell as the company's first general counsel, chief risk officer and corporate secretary, when the human resources giant grew five-fold and transitioned to a pubic from a private company.
"That was an amazing opportunity and a really fun challenge, experiencing years of fantastic growth and the transformation of a company," says Korbak of her time at Morneau Shepell. As corporate secretary to the board of directors at Morneau Shepell, she was responsible for providing corporate governance, legal and securities regulatory advice, leadership and education to the board and senior management, from the time of taking the company public, and throughout five-fold revenue growth, during a period of significant corporate governance change.
As general counsel and corporate secretary at Toromont, Korbak is responsible for all legal matters and board governance at the public company as well as managing the risk portfolio, litigation management and insurance contracts. As Toromont operates throughout eastern Canada, the legal team also manages jurisdictional issues.
"I focus on proactively anticipating and responding to issues and ensuring that our legal risk is well in -hand to enable business and operational success," says Korbak.
Dealing with the COVID-19 pandemic presented Korbak with the opportunity to reflect on the different ways in which she has developed responses to crises throughout her career, and to build on that foundation in order to manage the current crisis.
"There is no playbook," she says. "Sometimes, lawyers are slaves to precedents, so how do you deal with the unknown? One of the things that was clear to me when I came to Toromont was that I needed to make sure I really had a deep understanding of the business, and I still see it as my primary goal to keep developing that understanding because that's how I'm able to respond to what's most critical. Any crisis that we encounter — but particularly this pandemic — tests our perceptions of what's most important and takes it back to our disciplines and our core functions that make a company successful."
Another bright spot amid the pandemic crisis has been the simplicity of focus and the removal of external distractions, says Korbak, while the ambiguity of the situation has been more challenging.
"When announcements are being made every single day and things are changing on a dime, how do you interpret that and then cascade it down through your business and collaborate and respond to the critical facts?" she says.
As an essential service provider, Toromont stayed in operation during the pandemic that paralyzed many industries, so ensuring the safety of employees was a critical role for the legal team.
"That has been one of the very significant challenges; navigating how we operate the business through the pandemic and keep everyone safe, engaged and secure," says Korbak.
Another challenge was maintaining strong communication channels throughout the crisis, with many employees working remotely — both in terms of personal interaction and organizational communication.
"It's relatively straightforward to communicate out, but ensuring that you're getting the inputs and reactions from the business operations is much more challenging. When you are scheduling calls and video conferences all the time, you miss the nuances," says Korbak.
Disclosures are critical for a public company such as Toromont, so Korbak continues to focus on quarterly reporting throughout the crisis and regularly engages local external counsel to assist in interpreting and correctly applying laws in disclosures. The team also works with a network of trusted law firm partners when specific expertise is needed, and in assisting with transactional work such as small claims and general liability.
"That's where I find law firms can be very valuable in helping us come up with efficient solutions between internal and external counsel to deal with the churn of transactional things that constantly come up," says Korbak.
In the months ahead, Korbak plans to continue reflecting on the opportunities presented to her and her team as they gradually move back to an office-based environment.
"I want to hold on to that new understanding and clarity, and make sure we don't lose that focus," she says.
Name: Lynn Korbak
Company: Toromont Industries Ltd
Title: General counsel, corporate secretary
Years in the industry: 27
Career highlights: I absolutely loved my time at Morneau Shepell, and being involved in the growth of that organization. It grew five-fold while I was there. Coming into a completely different environment here at Toromont has also been a lot of fun for me. My greatest accomplishment is making an impact and working with great people.
Career lowlights: My transition from law firms to in-house roles was a bit of an adjustment because of the shift from being a revenue producer. It's very important to understand the business and focus on adding value in an in-house role.
FACT FILE
Attended York University Osgoode Hall Law School
Diversity 50 candidate, 2017
Women of Influence Canadian Diversity champion, 2012
Featured in the book, Breaking Through: - Tales from the Top Canadian Women General Counsel by Kirby Chown and Carrie Mandel, 2013
Member of Legal Leaders for Diversity and Inclusion