Legal team helps launch projects to support sustainability, driver safety and COVID relief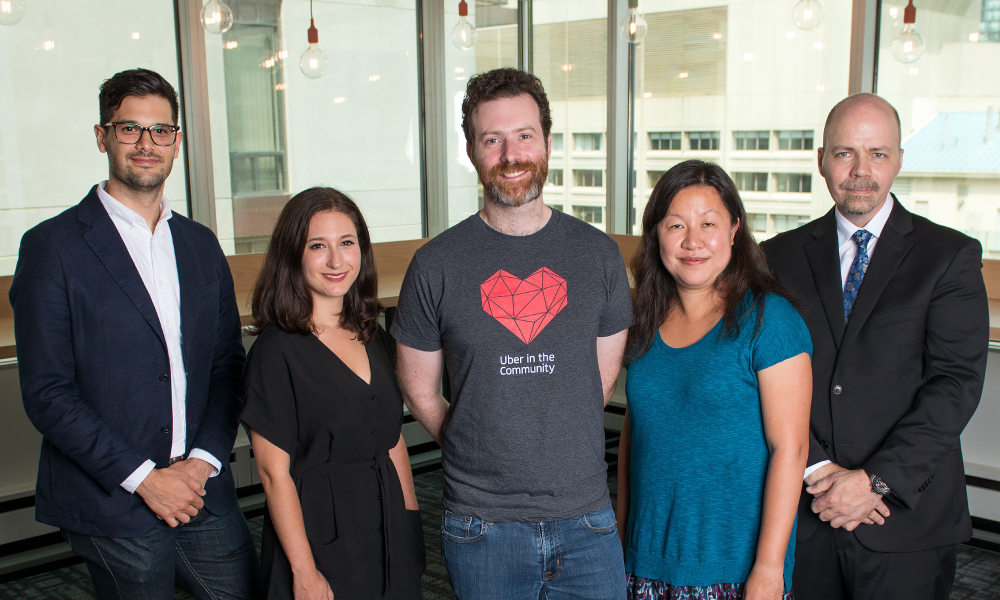 Uber's canadian legal department is an essential partner to the organization as it rolls out and operates numerous initiatives to grow the app-based business, including several programs and partnerships to support the global fight against COVID-19.
"We're a partner to the business and our skillset is the law, but we're not just here to vet a product when it's fully formed but to be involved throughout the development process," says Jeremy Millard, legal director at Uber Canada. "When we think about supporting the organization, we really think about Uber's full ecosystem of stakeholders including drivers, delivery people, riders and restaurant partners."
With his five-person Canadian team, Millard handles the legal side of Uber's recent partnership with Switch Health, a Toronto-based health-care company that operates a mobile COVID-19 testing facility. In support of the federal government's testing program for international passengers arriving in Canada, Switch Health and Uber launched Uber Connect to transport test kits to a laboratory to speed up the rate of testing.
In another partnership, Uber Canada joined forces with the City of Toronto and various transit companies to help launch the city's Vaccine Equity Transportation Plan, which helps reduce barriers for people who may otherwise not have the means to get to a vaccination centre.
Millard's team works closely with the ride-hailing and delivery giant's international headquarters in San Francisco, Calif., and with global teams around the world as it navigates nearly all areas of the law. They also regularly participate in cross-functional meetings within the Canadian business to evaluate how projects affect different departments and update co-workers on progress.
Canada often serves as the testing ground for Uber's new initiatives, such as Uber Eats, which launched in Toronto in 2015 and is now available in 6,000 cities in 45 countries.
The team is currently focusing on navigating all legal matters surrounding Uber's "Flexible Work +" initiative, which the company unveiled recently. The initiative involves a proposal to governments to change labour laws to provide benefits and safety protections to all drivers and delivery people who earn through app-based work.
"It was an issue that really came from the ground up, from the input of our drivers and delivery people who told us that they greatly value the flexibility of the work they do, but they are also looking for additional protections that aren't currently available under the law," says Millard.
Supporting sustainability is another crucial goal for the legal department this year through strategies such as incentivizing trips in hybrid electric cars and improving technology to make drivers more aware of green travel options. Riders choosing Uber Green pay a $1 fee. Half of that fee will go to the driver to support their use of a hybrid or electric vehicle. The other half will go toward Uber's Green Future program, which will help hundreds of thousands of other drivers transition to battery electric vehicles by 2025. Journey planning is another green travel option that allows people to plan a journey on public transport using the Uber app. Uber has declared a commitment to becoming a fully electric, zero-emission platform by 2040, with 100 per cent of rides taking place in zero-emission vehicles, on public transit or with bike and scooter rentals.
Enhancing efficiency within his department is a priority for Millard. His team has almost achieved a paperless environment, and he hopes to continue his goal to transition any remaining paper correspondence to the digital world.
Managing as much work as possible in-house allows the team to stay closely connected to the business. However, the team does use external counsel partners in certain circumstances.
"We use external counsel generally for larger battles where we need greater resources, but, even then, our approach is to embed ourselves within the external team, so we'll be drafting materials for the next strategy alongside outside counsel," says Millard.
FAST FACTS:
Uber employs more than 22,000 people around the world
Uber drivers have completed more than 10 billion trips worldwide
Uber operates in 63 countries and 700+ cities
Uber Eats partners with more than 400,000 restaurants in more than 6,000 cities across 45 countries
EV and hybrid ride option Uber Green is expanding to 1,400+ new North American cities and towns in 2021