Poonam Puri will be a speaker in the Women in Law Leadership Forum on Sept. 9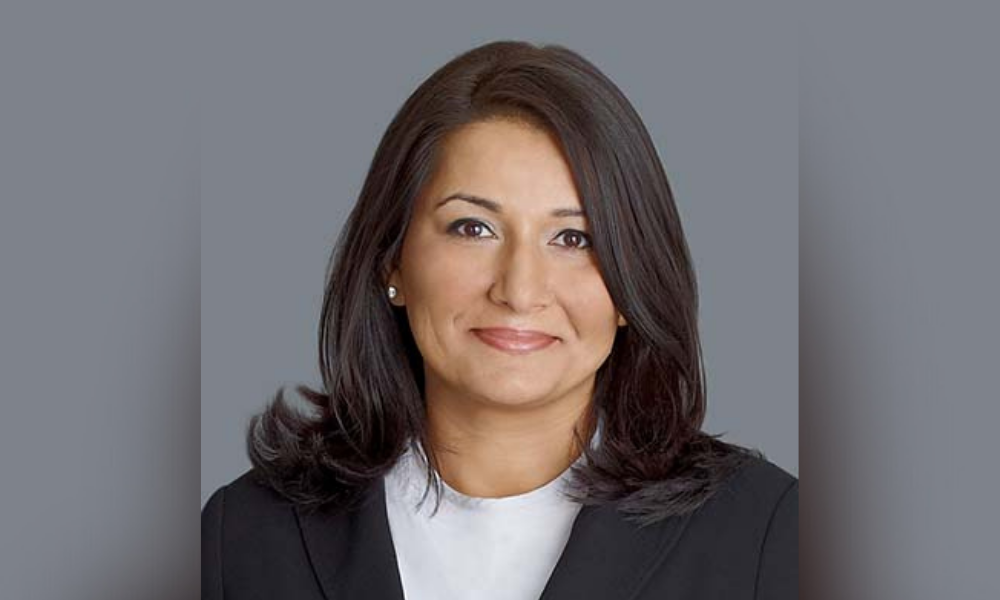 Poonam Puri grew up in a small family business, with parents who were land title searchers. She worked in registry offices with them on summer holidays and during the school year, and spent "many summers" searching with them at the Toronto land registry office, as well as driving around with her father to all parts of southern Ontario, conducting title searches in registry offices before those systems were computerized.
"That was really my first introduction to the law," says Puri, who today is a tenured professor of business law at Osgoode Hall Law School in Toronto, and a recognized leader in corporate governance, corporate law and securities law. "I've always been interested in the accountability of business to stakeholders."
Puri will be a speaker at Key Media's Women in Law Leadership Forum on Sept. 9, where she'll give tips and discuss how women might best navigate their legal careers. She has twice been recognized by Canadian Lawyer as one of Canada's 25 Most Influential Lawyers (2015 and 2017), was awarded the 2021 Law Society Medal in Ontario, and has been recognized as one of Canada's 100 Most Powerful Women and a Top 40 Under 40 leader.
Poonam has become recognized for her expertise in strategic planning, financial oversight, M&A and complex governance matters, advising and serving on numerous public and private company boards as well as Crown corporation boards in a range of industries including real estate, financial services, infrastructure, transportation, engineering, and mining.
Asked about the biggest changes in corporate law and governance over the years, Puri points to the "heightened expectation for corporations to be accountable to shareholders and other stakeholders" in the context of greater transparency, accountability in executive compensation, and greater expectations for environmental, social and governance (ESG) issues, "and in diversity in leadership and throughout the organization."
At the University of Toronto Faculty of Law – from which she graduated with the silver medal in 1995 -- both corporate law and criminal law spoke to her, she says. Puri went on to article at Torys LLP for a year before earning an LL.M. from Harvard Law School in 1997, where she studied the various approaches to legal aid in Canada, South Africa and the United States.
Joining the faculty of Osgoode Hall Law School in 1997, Puri eventually became director and founder of the Business Law LL.M. program, whose students include practised lawyers as well as business professionals "who would benefit from a deep dive into business law issues," she says. She also teaches part-time at the Rotman School of Management's Institute of Corporate Directors, on directors' duties, liabilities and governance.
Puri's career has led her down many paths, including advising on financial regulation for governments and regulators in Canada and internationally. In the early 2000s she and a colleague, on behalf of the International Finance Corporation of the World Bank, advised Nigeria on establishing a government bond market; their recommendations were successfully implemented soon after.
In 2016, she co-founded Osgoode's Investor Protection Clinic, of which she serves as director. This came out of her research in securities regulation and investor protection, she says; "I saw a need for better mechanisms for investor recovery, and a need for assisting ordinary investors with navigating the landscape when they have a complaint or concern." Osgoode Hall law students, who are paired with supervising lawyers from Ontario firms, also get the opportunity to draft claims and demand letters, negotiate settlements and help investors receive compensation or recourse.
More recently, she worked on creating a model for a sovereign digital currency. The team from the University of Toronto and York University (where Osgoode Hall is situated) responded to a challenge from the Bank of Canada in 2020 to create such a currency, and the Digital Loonie Project was born.
"We're seeing all sorts of private digital currencies, whether Bitcoin or cryptocurrency," and companies such as Facebook have announced plans to launch their own digital currencies, Puri says. That creates a concern from a public policy perspective, she adds; what happens to sovereign currencies? What if other jurisdictions, such as the United States or China, create a private digital currencies first, that Canadians end up holding? Will they be "effectively locked, or stuck in that system?" COVID-19 has also accelerated the use of digital currency, she says.
"From the perspective of Canada, which is a smaller economy, we need to be thinking seriously about this."
(The Bank of Canada currently has no plans to introduce a central bank digital currency, according to its website, but "will build the capacity to issue a general purpose, cash-like CBDC should the need to implement one arise.")
Professional challenges and rewards
Puri is the mother of three teenagers, and says that when they were younger it was complicated and difficult to juggle the demands of career and home life; "I hauled my kids around to various conferences around the world when I needed or wanted to."
Institutionally, she says, it's important for law firms or employers to think smart, in the medium- and long-term, about how to retain their best talent. "COVID has shown lawyers can work very productively from home, and that flexibility and time away from the office isn't necessarily detrimental to the bottom line."
She loves everything she does in her career, she adds: teaching students and engaging in academic research on "where the law should be, how the law can be improved," as well as working with boards of directors, and brings her research to her appointments. She currently serves as a director of the Canada Infrastructure Bank and of real estate trust company CAPREIT, among others, and is a former director of the Greater Toronto Airports Authority and Women's College Hospital. Last year she completed a two-year term as a commissioner of the Ontario Securities Commission.
"All of these different components feed off and benefit from each other."
For other women in the legal profession, Puri advises taking advantage of opportunities that present themselves, even if they are not part of an initial plan. And seize the opportunity "even if you don't think you have 100 per cent of the skills needed to do the job. You can't always wait for the best opportunity to arise."
Second, she says, it's important to broaden your network and "look outside the box." In her many board directorships, she has interacted with many people she would not have ordinarily interacted with, she says, "which has enriched me personally and professionally and led to all sorts of other interesting opportunities.
"Broadening networks is really important, so that you've got context and a broader lens."