In-house counsel must consider obstacles before planning a virtual AGM, say lawyers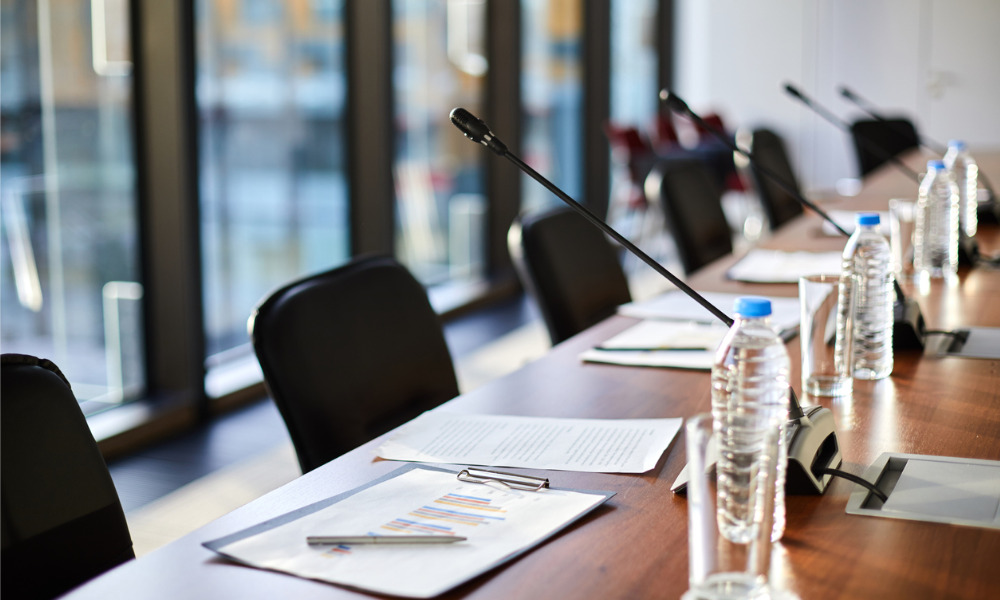 With proxy season rapidly approaching, many issuers are contemplating the best way to hold their annual shareholder meetings. Social distancing measures prohibit large gatherings while COVID-19 continues to ravage communities around the world so virtual meetings are becoming a popular alternative.
General counsel considering holding an annual general meeting in a virtual environment must consider a number of obstacles, including statutory barriers, technology risks and the implications of an improperly called meeting.
"In-house counsel need to be aware of restrictions in their incorporating statutes and articles as well as the by-laws," says Eric Morgan, partner and corporate governance expert at Hansell McLaughlin Advisory Group. "It's a double question of legally can people hold virtual AGMs and are there limitations on technology?"
Morneau Shepell was fortunate to have no legal restrictions to overcome in order to plan for its virtual annual shareholder meeting which is scheduled to take place on May 8. Having explored the possibility of holding a virtual shareholder meeting a few years ago, the human resources company was well prepared to start planning.
"Having bylaws permit us to go virtual, it has been fairly seamless," says Susan Marsh, general counsel and corporate secretary at Morneau Shepell. "We were lucky that we made the decision to go virtual before we filed our circular in March so we were able to include all relevant details about the annual shareholder meeting in the circular."
Morneau Shepell will be using Broadridge Financial Solutions' Virtual Shareholder Meeting platform to facilitate an audio webcast. In preparation, Marsh has attended a number of different webinars with Broadridge to learn how the technology works and she is planning to participate in a few dry runs together with others who will also be speaking at the meeting - the chair of the board, the company CEO, CFO and facilitators.
Marsh is not concerned about privacy issues as information disclosed in audio and on slides will not be confidential. Shareholders and proxyholders will be provided with a 16-digit code that is used to vote and ask questions. Guests including non-registered shareholders who do not appoint themselves as proxyholder can log in to the meeting to listen.
One advantage of holding an online meeting is that shareholders from different geographical regions can more easily attend. In fact, Marsh anticipates a higher level of attendance than previous years.
"I think the chair will be more likely to communicate with shareholders by way of a webcast because there is a little bit of a filter between the chair and board so it will facilitate Q&A," she adds. In order to prevent technological issues that could crop up during the meeting, Marsh has put contingency plans in place. For example, if one speaker is unable to connect through a mobile phone, another person will be on the line who can complete a presentation on their behalf.
A financial saving is another potential advantage for companies considering holding an online meeting. Whether virtual AGMs become the norm post-pandemic remains to be seen.
"What will be interesting to see as we go forward is what investors think about the AGMs that have been put together in a slapdash way in the face of the emergency," says Harlan Tufford, senior governance consultant at Hansell McLaughlin. "I expect that next year, a few companies at least will want to keep going in this direction and there will probably be a dialogue between those companies and the institutions that hold them about what the institutions liked and didn't like so as we iterate through this we will end up with a best practice check-list for a virtual AGM."
Marsh may consider continuing with the virtual format for future shareholder meetings at Morneau Shepell if the first one is successful, although she wants to be mindful of the views of all stakeholders.
"We have some shareholders who feel a virtual meeting doesn't facilitate a true dialogue between shareholders and the board of a company so I want to make sure I balance the approach for all stakeholders and consider their position," says Marsh.
Hansell McLaughlin has identified more than 14 platforms that companies are using for virtual meetings, ranging from a simple teleconference to more sophisticated platforms like Broadridge. In-house counsel should be aware that many statutes require that participants be able to communicate fully with one another so if technology does not support or enable sufficient interactions, there could be a challenge to whether the meeting was duly held, Morgan says. The majority of issuers are planning audio meetings to avoid complexities which could arise with video.
Hybrid meetings - consisting of a mix of in-person and online attendance – are another option for companies to consider. Where statues require a physical location, companies may set up a physical meeting while the majority of participants join online.
Some issuers in Ontario have turned to the courts to obtain an order which permits them to hold an annual meeting electronically where it is not permitted under the statute.
The government of Ontario has also issued a separate order easing certain restrictions.
"In our view issuers should be careful about relying on that order," says Morgan. "It's not clear that the government had the authority to issue the order so that's a legal issue that in-house counsel should be aware of."
In light of the current pandemic, the TSX has extended the six-month window within which issuers must hold an annual shareholder meeting, so some issuers are simply postponing shareholder meetings in preference to going virtual.