Online practical course attracted one-third of the law school's graduating class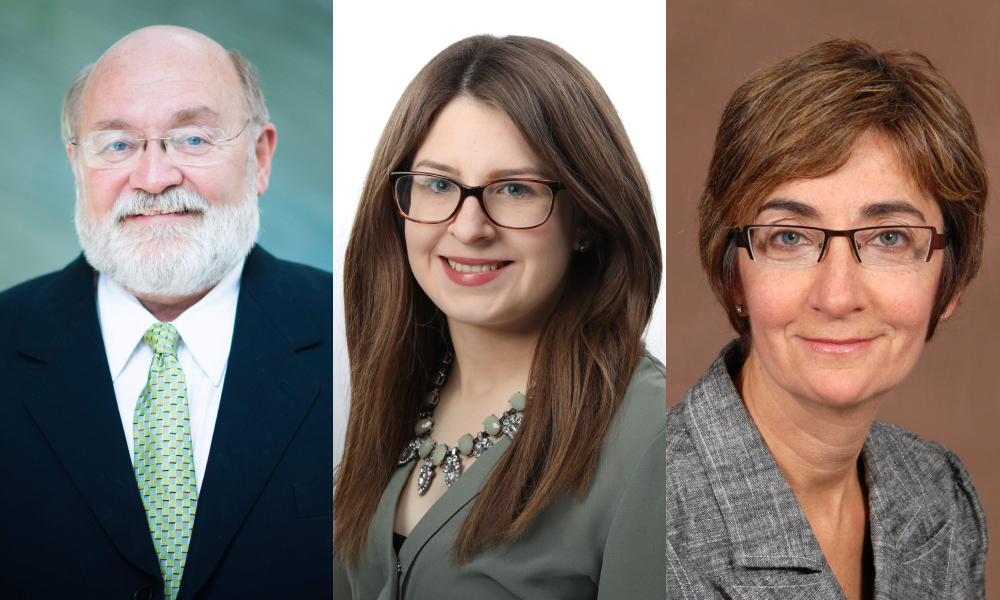 With the Covid-19 pandemic putting a stop to in-class teaching and in-office practice with law firms, students and professors at the University of Manitoba law school knew this year's version of the L. Kerry Vickar Business Law Clinic was going to be different. What they didn't bargain on is the popularity of a virtual, online interpretation of the clinic.
"We received an overwhelming interest from the students," says lawyer Nick Slonosky, one of the revamped clinic's organizers. He adds that in previous years when it was an "in-person" law clinic at firms, it was limited to just 12 third-year students. "Students, especially those interested in business law, were telling us, 'Look, we want that that experience, we want that course'. "
So, the law school decided to open a virtual, online version of the course to as many students as possible. The result of that was that 31 students or about one-third of this year's graduating class at the law school joined the course, making it one of the largest university-based business law clinics in Canada, helping others on a pro-bono basis.
"Now was the perfect time to do this," Slonosky says. "We realized that because of the pandemic, many small businesses, arts organizations and start-ups are hurting, and probably need help. Many of them likely can't afford legal services. We said, okay folks, if you are in this category, we're happy to talk to you." It also has been a valuable learning experience for the students.
Third-year law student Alexandra Philippot says she was "very excited to learn that this clinic was going to be offered, It is an opportunity to apply the skills and knowledge that I've gained in law school, and to assist clients and help and help them improve their lives."
Named for its benefactor, alumnus L. Kerry Vickar, the clinic has, since 2014, offered numerous University of Manitoba law students the chance to get hands-on, practical experience in business law.
Slonosky says students learn skills including client, risk, and transaction management, entity choice and formation, drafting techniques, legal research, regulatory compliance, good governance, stakeholder activism, and social responsibility. The clinic's goal is to expose students to the practical aspects of corporate and commercial law carried out with professional responsibility and a sense of public obligation, Slonosky says.
Lisa Fainstein, who was associate dean of the law faculty for eight years at the law school until she retired, says she has returned for special projects. As she had some curriculum planning experience, Fainstein was asked to help design the revamped business law clinic course. While the school has operated criminal and family law clinics for many years, those interested in business law typically were attached to law firms, where students could shadow and gain practical experience.
"What's different about this that this clinic is our own entity," Fainstein says. At the same time, the Stu Clark Centre for Entrepreneurship at the university's Asper School of Business and other organizations play a vital role in the clinic. Taylor McCaffrey LLP continues as the course's educational partner, with its lawyers sharing their professional experience with students through a series of presentations and discussions focusing on a small business's life cycle.
The North Forge Technology Exchange, a hybrid incubator and accelerator that partners with the Province of Manitoba, supports the clinic's real-world educational experiences. And the faculty is still looking for business law mentors from the broader legal community — including law firms and in-house legal departments — to participate.
To run the clinic on a completely virtual basis, it is using an online practice management and client-intake system that Clio, a cloud-based provider of such systems, is providing for free under its academic access program.
Fainstein says that the clinic also has a website with content created in part by the students. The idea is for it to operate like a modern law firm "where everything is done virtually." She adds that one of the more challenging tasks in designing the clinic was to deal with the larger number of students.
"It's a really intense scenario where you want to mentor students, and I wanted to make sure they got the best experience possible," she says. But by having the students work in pairs with business clients and then having the entire class share experiences in a large class done weekly through Zoom, Fainstein says she feels the students are getting the practical knowledge they will need for the working world.
Student and law clinic participant Philippot says that she is particularly interested in practising corporate law when she graduates and passes the bar and appreciates the chance to deal with "real people who really need assistance, especially during a pandemic."
Philippot adds this type of experience is particularly valuable to students like her, as Covid-19 has prevented many students from getting jobs and volunteering positions.
As for the business clients that have used the clinic, Slonosky says "they are grateful that during a pandemic, when money is tight, that there's a service like ours offering to help small businesses and entrepreneurs."