Manitoba family accused of staging anti-Semitic vandalism denied virtual trial from L.A.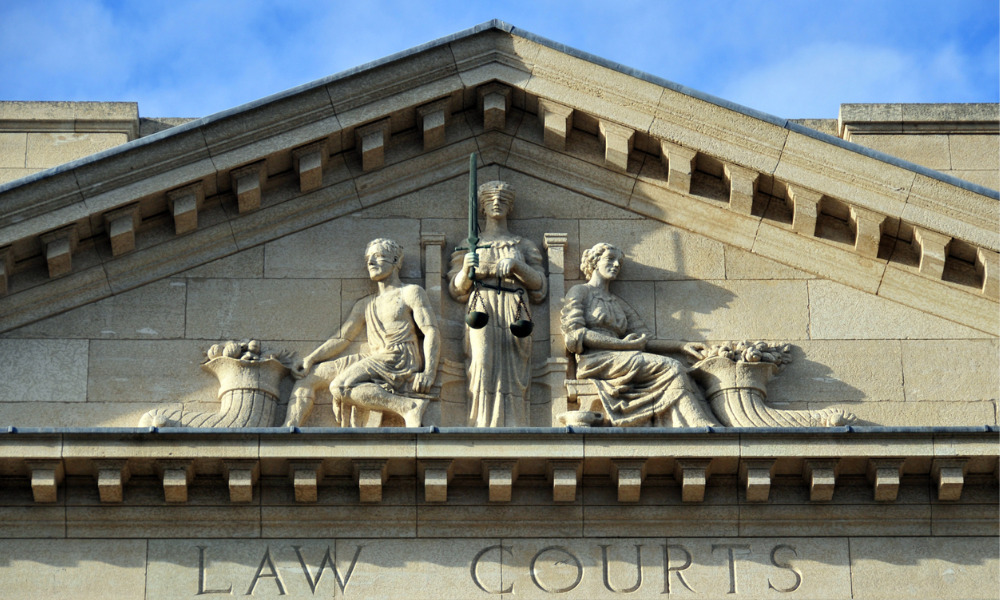 A Manitoba Provincial Court judge has expressed concern about an "increasing number" of situations where defence counsel, on short notice, are asking courts to authorize "some form of virtual trial" without presenting a full plan as to how this can be done adequately.
"These requests are coming without a full consideration of how this will be accomplished, what the technological requirements are, or how the evidence will be presented," wrote Anne Krahn, Associate Chief Judge of the Manitoba Provincial Court in a recent judgement, R. v Berent.
Krahn was dealing with the trial of three Winnipeg residents, now living in Los Angeles, charged with public mischief by staging acts of vandalism to make it look as if they had been the victims of anti-Semitic attacks.
Oxana Berent, her husband Maxim and her son Maxim were charged after alleging their café, BerMax Caffé + Bistro in Winnipeg, had been the target of four anti-Semitic attacks in 2019. The restaurant was vandalized and spray-painted with anti-Semitic graffiti.
However, cameras mounted on transit buses and streetlights, as well as at Home Depot, led police to look at the Berents as the perpetrators of the vandalism, and not the victims, as they had claimed.
Defence lawyers had filed a motion asking that the trial proceed via video from Los Angeles, but it was dismissed. It was set to begin Oct. 13 and last over three non-sequential weeks until Dec. 23.
"A trial by videoconference is still a rare proceeding," Krahn wrote in her ruling, though adding that she is satisfied the provisions of the Criminal Code permits the accused to appear by video for a trial in some cases.
"It requires a concrete and functional plan for how such a proceeding will be conducted to ensure trial fairness is not compromised. I was not presented with such a concrete plan."
Each request for a video trial should be "assessed on its own facts and will require an individualized assessment," Krahn wrote. A "solid starting position" for how to approach a request for a video trial should include: cooperation and collaboration between all participants, evidence of proper technological infrastructure, assurances all participants can see and hear each other, and that the accused can communicate in private with counsel throughout the trial.
As well, it should require "an informed, clear and unequivocal waiver from the accused to proceed with a video appearance for trial."
The judge pointed to two decisions where video trials were allowed, In Re: Court File No. 19/578 2020 and R. v Singh, 2020, both involving sexual assaults. In both cases, the court concluded the necessity of the trials proceeding in the face of pandemic restrictions and the ability to do so in a way that did not compromise trial fairness allowed for the accused to appear by video conference.
After the Berents' motion for a video trial was dismissed, the defence then filed a motion to adjourn the trial, but that also was rejected because no fixed date could be assigned.
After this second rejection, the Crown and defence lawyers agreed to cancel the trial and issue the arrest warrants for the Berents. The Crown also agreed the three accused would not be charged with failing to appear in court upon their return to Winnipeg.
Phillip Cramer, the lawyer for Maxim Berent, says this means the Berents will turn themselves in to police once they return to Winnipeg, then be released on a promise to appear in court. This public interest warrant allows the Crown to maintain jurisdiction, Cramer says. The trial would be rescheduled at that time.
"This was done with the agreement with the Crown," Cramer adds, noting that the Berents have been playing an active role in their defence while living in California.
"They of course have every intention of returning to Winnipeg" once the pandemic is over. "But right now, it is not safe for them. This way, there is no risk of physical harm coming to them because of Covid."
Manitoba is currently one of the hardest hit provinces, on a per-capita basis, when it comes to Covid-19. Last week, it had a weekly average hovering around 30 new cases per hundred thousand. That compares with Ontario, which had around 10 new cases per 100,000.
The three accused relocated to Los Angeles in January, when the pandemic was in its initial stages. They argued that they had no financial support in Winnipeg and were being ostracized by the Jewish religious community in the city.
During an earlier hearing, the Berents said the consequences of the negative publicity surrounding their case led to losing their business and home. They also said the loss of support of Winnipeg's Jewish community necessitated their move to the United States. They were then offered support, including food and lodging, through the Chabad community in Los Angeles. Other than the Chabad help, the three accused say they are "unemployed and impoverished."
The Crown opposed the idea of a virtual trial in this case on several grounds. They included:
No evidence that there would be a courtroom capable of video link technology that would work for this trial. While one courtroom in Winnipeg can have one person appear by video, the courtroom is set up with a camera on the judge, a camera on the Crown, a camera on the defence. There is no camera on the witness.
The complexity of the case. The Crown intends to call 20 witnesses, rely on surveillance video evidence, tender still photographs, have witnesses comment on these pieces of evidence and point out things in this evidence. It intended to play 911 calls. There is no explanation of how the Berents would be able to see this evidence.
Zoom video technology. The more participants on a Zoom call, the smaller the headshot image becomes on the screen. While there is a Zoom function that fills the screen with only the presentation by a presenter, this would not work in a criminal trial where the participants always need to be visible to each other. "There is a real concern the Berents would not be able to effectively see and appreciate the evidence that was being led against them," Krahn said.
The possibility that the three accused, sitting together in the Chabad office, could signal or communicate with each other during testimony, which would not be captured on camera. "I accept this as a valid concern," Krahn wrote. "Significant communication can take place through body language."
The lack of assurance that, if convicted while they were in the United States, the Berents would return to Winnipeg to be sentenced.
In order to come to Winnipeg for the trial, the three accused told court they would have to quarantine for 14-days prior to the court date, as federal law says anyone arriving from the United States must do. As well, because the three-week trial was to have been spread over October, November and December, the Berent family would have to either stay in a hotel at great expense, or with friends, and perhaps become a burden.
Krahn wrote that she has sympathy for the Berents because of the added burdens that Covid-19 has imposed on the family. "However, that alone cannot be the basis for embarking on a video trial process."
There may well be cases where a virtual trial would work, Krahn concluded, but this is not one of them. "I am not satisfied a fair trial, for both the Berents and the public, could be held with the Berents appearing by video."