Palma Paciocco hopes to offer guidance to lawyers and jurists on best practices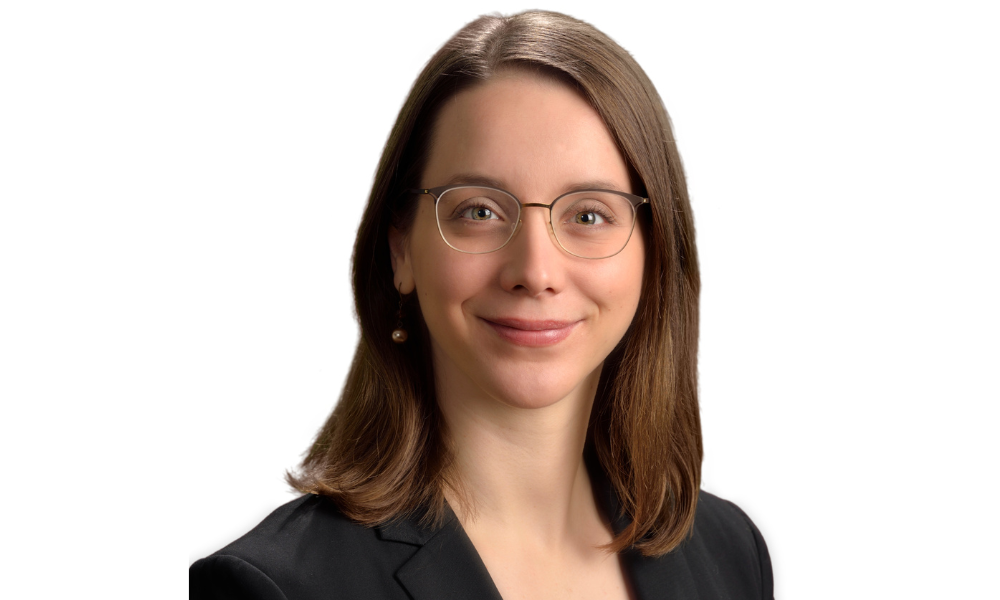 Fast and efficient versus thorough and accurate: it's a common conflict in all areas of life which typically results in people making trade-offs, favouring one side or the other. It also strains Canada's court systems, a place where making a trade-off can result in serious harm.
And it is a problem that Palma Paciocco will study for the next three years.
Paciocco is an associate professor at Osgoode Hall. She is also a recipient of a $51,777 Social Sciences and Humanities Research Council (SSHRC) Insight Grant, which will allow her to investigate the problems that exist when courts, in a post-Jordan era, must keep efficiency in mind while at the same time making room for a thorough investigation into expert-based evidence.
The title of her research project is "The Gatekeeper and The Timekeeper: Regulating Expert Evidence and Trial Delay in Criminal Courts," which she says describes two judicial functions.
"The gatekeeping role refers to the judges' role in applying the laws of evidence and making sure that only admissible evidence is coming into the trial. I'm focusing in particular on gatekeeping in relation to expert evidence… The timekeeping role is the label that I've applied to the judges' duty to try to avoid delay and make sure that the trial is moving along efficiently," she explains.
"I've observed that there's not a lot of guidance currently available to judges as to how to balance these two imperatives, these two roles, in situations where careful gatekeeping may cause delay or may lengthen a trial. The project is trying to look at that dynamic and that challenge."
As part of her study, Paciocco will examine transcripts of specifically chosen trials from across Canada to gain a granular understanding of how they progressed to see if they can be used to illustrate broader trends or concerns. She also intends to look at specific doctrinal or procedural issues that might arise with expert evidence when delay might be considered. Additionally, Paciocco will study best practices that have been put forward by various commissions, inquiries or bodies addressing how to handle expert evidence. This includes the Senate Justice Committee report on avoiding trial delays and the Goudge Report. She also intends to review scholarly writings reflecting how courts should balance efficiency and accuracy.
"I am looking, in a very systematic way, at recommended best practices to see how they align and how they cluster," she says.
"I don't think we can expect judges themselves to be going back to more philosophical literature about first-order principles of efficiency versus accuracy. That kind of thinking has to get distilled into more easily accessible and sometimes more authoritative guidance. Part of what I'm trying to do is bridge that space between the more theoretical literature and the discrete practice scenarios where this can arise, in hopes that I can provide some more accessible suggestions that could then be adopted in arguments by counsel or perhaps by judges directly," she explains.
Getting her findings in front of the legal community is a priority for Paciocco. Even before the final report is ready, she hopes to invite scholars and legal practitioners to a workshop to explain her research and get feedback.
Once her study has been concluded, Paciocco hopes to produce scholarly articles, write a practitioner-oriented work for a trade magazine, and prepare a PowerPoint slide deck and plain-language brief to be housed on the website of the Nathanson Centre on Transnational Human Rights (a research hub affiliated with Osgoode).
She is undertaking this work with the support of research assistants and expects to employ two or three juris doctoral students per year throughout the project.
While there are many reasons for delay in the court system, Paciocco believes it is worth focusing on delays involving the admission of expert testimony because the situation is often complicated and because of the consequences when junk science is admitted or when experts are wrong.
"As we know, expert evidence doesn't come up all the time in every case, but it is particularly important and more likely to come up in higher stakes cases much of the time. It involves more time-consuming and challenging processes in terms of the procedures and the applicable rules of evidence. And precisely because it's very high stakes, it can often exert a really strong gravitational pull on the fact-finding. It is well documented that bad expert evidence can be hard to detect and can be an important cause of wrongful convictions… It therefore throws into particularly sharp relief some of these dynamics around gatekeeping in relation to efficiency."