The US firm recently opened a Toronto office, and it has big growth plans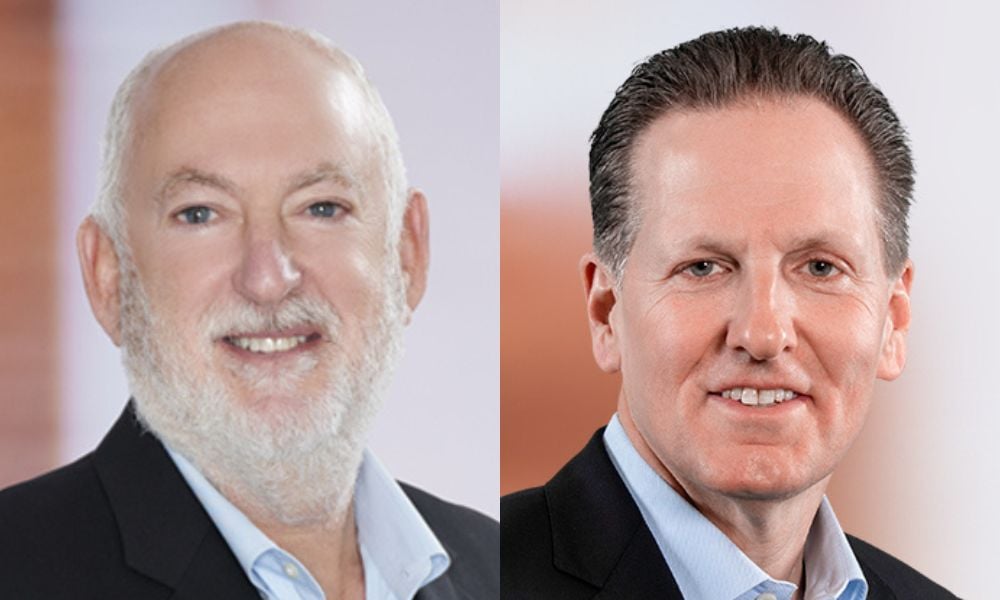 Mintz, Canada's newest international law firm entrant, says it has ambitious growth plans for its Toronto office. While it is not the first foreign firm to stake a claim in the country, managing partner Robert Bodian says it offers something different than other global firms.
Unlike other firms that entered Canada, Mintz does not use the Swiss Verein model, which allows for separate regional profit pools and accounting while sharing strategy, branding, and other core functions.
Mintz partners, on the other hand, share profits across the firm. In addition to Toronto, Mintz has offices in Boston, Los Angeles, New York, San Diego, San Francisco, and Washington, DC.
"It was critical to me that it just be one firm that we don't have a Verein-type structure," says Bodian.
He says one of the innovations he championed at his firm is revamping lawyers' origination credits, which he says "for most law firms is a big deal."
"I spoke with two managing partners yesterday, one of whom was the managing partner of a US firm, and one was someone on the executive committee of a Canadian firm, both of whom wanted to spend half an hour with me just trying to figure out how they might be able to implement a similar type of system. Because it's been very effective," says Bodian.
Mintz will not award an entire origination credit to a single partner, which Bodian says is often drawn from "a small group of essentially older white guys."
The firm instead caps the credit at 75 percent per partner, which is done by matter, he says.
"It gets a lot of buy-in from especially younger, more diverse partners. They're helping to build up the clients that we have and getting origination credit for it. And that's worked out really well."
Bodian says expanding to Toronto seemed like a natural evolution for the firm, which specializes in life sciences, tech, energy, private equity, capital markets, and pensions and employment. He says since Toronto is the fourth biggest city in North America and the third biggest tech hub, an office with local legal talent there made sense.
The Toronto office is "definitely going to grow," says Bodian. "It's been growing on a weekly basis."
Mitch Frazer, the managing partner of the Toronto office, says he and his local team did speak with other foreign firms about setting up shop in Canada.
"The one thing you always hear from Canadians is 'those US law firms, they'll run roughshod over you, they're aggressive.'" Frazer says. Mintz "stood out singularly in terms of playing as a team."
Frazer says the Toronto office has seen Mintz's cooperative approach from the outset.
"The entire Mintz management team have been hands-on with us since day one, not micromanaging but letting us build something a Canadian way," says Frazer. "If you look at the way Mintz is set up, we're one profit pool, but we also collaborate on credit for everything. So, you have an incentive to work together."
Frazer describes the Canadian legal market as "pretty static" and has said he wants to "change the face of law" in Canada.
"You could actually have a Canadian client, grow it in Canada, maintain it in Canada, where it can go down south, directed by lawyers that the clients feel comfortable with. We can make sure they're getting continued great service; there isn't any gap in terms of their growth. And you can see great Canadian companies become great North American companies, not just great US ones."
Frazer says the goal for the Toronto office is to have 20 lawyers in the first few months, 50 at the end of 18 months, and 75 within three years.
"Mintz is really the firm that has come and is starting to revolutionize how everyone does things," he says.
Bodian is a New York-based litigator who joined the firm when it expanded from Boston to New York in 2000. In 2009, he became the firm's managing partner. He still maintains an active general litigation practice.
He sums up his management style as "not being afraid to make mistakes," saying, "I'd rather be driving 70 miles per hour in the wrong direction than sitting still in my driveway."
Bodian says he became the managing partner in "the teeth of the [2008] recession" when almost every law firm cut any budget that wasn't tied directly to revenue.
"Marketing was one of the things that was hit pretty significantly. And one of the first things I did when I became managing partner was increase our marketing budget by 25 percent. My thinking was that my partners needed more help, not less, in a soft market. And so instead of cutting their legs out from under [them by cutting] their marketing budget, I would increase it to help them get more work."
Unlike many Canadian law firm leaders, Bodian is happy to share financial performance, saying the firm has been 130 percent more profitable in the last eight years. He says that in that time, "our revenues have doubled, and we only have about 7 percent more partners."
As for growth, Bodian says the firm has no current plans to open more offices in Canada, with Miami as their next new office location.