Vancouver-based lawyer saw the need for environmental specialization 30 years ago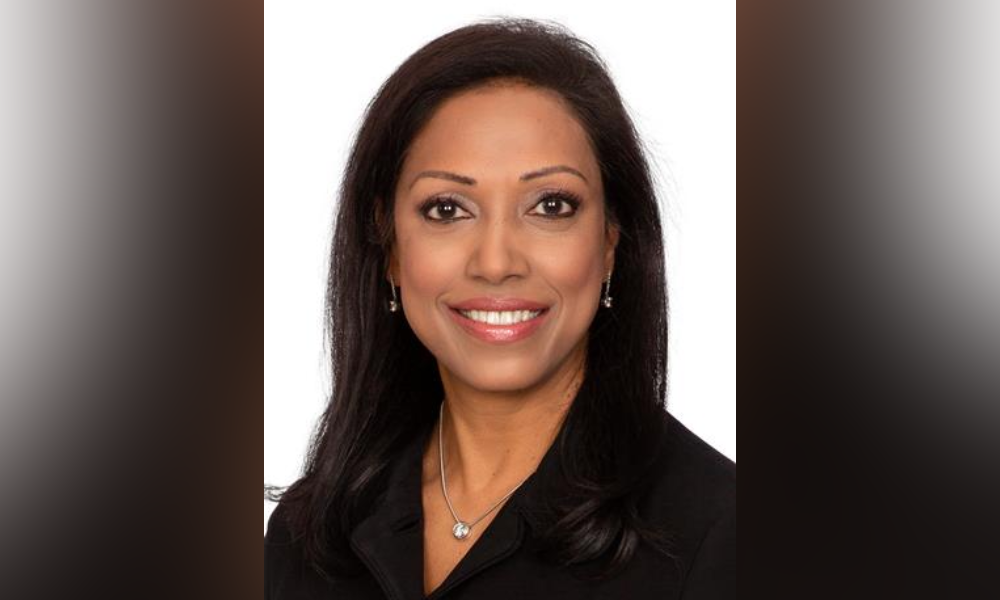 As a young lawyer working in Winnipeg in the latter half of the 1980s, Radha Curpen knew she wanted to distinguish herself in a particular practice area. She decided that her specialty would be environmental law.
Her next step was to convince her seniors that there was both a business case and a legal need for environmental law that would only continue to grow. "I was interested in servicing the clients of the firm and getting new clients to the firm in an important and emerging area that could have impact."
It's an area where various interests intersect, Curpen adds. "There's public policy, there's Indigenous issues, there's public perception, there's the environment, there's business, there's litigation, and there are constitutional law issues."
Today, she is the managing partner of Bennett Jones LLP's Vancouver office. She is also a co-head of the firm's Environmental and Aboriginal Law practice groups and leads the Environmental Social and Governance and has been called to the Bar in Manitoba, Ontario, New York, and British Columbia.
Curpen is among the lawyers working today who, in 1997, appeared in the very first edition of Canadian Legal Lexpert® Directory; A 25th-anniversary edition was published in April.
"There wasn't a lot being done in this area back when I decided on this plan," says Curpen, who was a junior lawyer at Thompson Dorfman Sweatman LLP at the time. She went to her mentor at the firm, Alan MacInnes (who left in 1992 to become a Justice of the Manitoba Court of Queen's Bench and Manitoba Court of Appeal before retiring in 2018) to make the case. He told her to "go for it," even though corporate clients at the time weren't necessarily ringing the phones off the hook asking for advice in this area.
"I said 'Well, I'll have to go educate the client, get in front of them to explain,'" Curpen says. "And when I did get a chance to make my case to clients, they [clients] would say, 'Yeah, we actually do have these issues." Often there was a pressing need to negotiate with Indigenous communities about the environmental impacts of infrastructure projects on communities and mitigate them while contributing towards creating essential infrastructure for the community and the province as a whole.
Curpen went on to educate herself in this area, learning alongside lawyers in Toronto who specialized in this area, often acting as local counsel. "Then I started getting work in Manitoba, from clients of the firms – like utilities and mining companies." Curpen was also involved in the creation of the contaminated sites legislation in Manitoba.
She eventually started to teach environmental law to make a name for herself within the practice area, as a sessional lecturer at the University of Manitoba's Robson Hall Faculty of Law and as an adjunct professor at the University of Toronto Faculty of Law.
By the late 1990s, Curpen moved to Osler, Hoskin & Harcourt LLP in Toronto and expanded her practice into Quebec and eventually New York. "I was involved in key cases and really given a lot of support by colleagues and clients," she says, adding that as a native French speaker who moved with her family to Winnipeg from Mauritius when she was 16, her language skills and understanding of environmental law became a huge asset.
As a francophone speaker, Curpen says it was important to pursue an education in French, so she obtained her BA at Collège Universitaire de Saint Boniface at the University of Manitoba and her law degree from L'Université de Moncton in New Brunswick.
Among the changes in environmental law issues, Curpen says it is a far cry from the days she first paved her way through this area of practice. "Back then, a lot of the discussion was focused on director liabilities, minimizing impact and compensation," she says. "Today, it is more about sustainability and working with various communities and stakeholders to align interests and work out solutions."
Curpen notes that at Bennett Jones she has the support of Chairman and CEO Hugh MacKinnon on focussing on environmental, social and corporate governance issues.
"This is very different when I started practicing environmental and aboriginal law in the 1990s, trying to convince people that these are areas of law we should spend time on." She also points out that stakeholders evaluate many organizations on their ESG performance, and demand for transparency on such issues is growing.
She adds: "I think climate change has been a driver of this, but not the only thing. There's biodiversity, there's water usage, there's waste, there's product stewardship, there's all these issues are coming together."
On Indigenous issues, Curpen says that while there has always been recognition that engaging with First Nations communities is crucial, "what is changing is that there is a willingness to be more creative about what that engagement looks like – greater collaboration, more partnerships."
She adds Indigenous communities are now more likely to be proponents of infrastructure projects that could provide economic benefits, but they also need to be built sustainably.
Today, with more than 30 years of legal and advisory experience, Curpen specializes in providing strategic counsel to clients related to the environment, First Nations, broader ESG matters, gender equity issues, and the handling, transportation, and remediation of hazardous materials.
Her areas of focus include regulatory compliance, integration of an ESG framework into corporate strategy and benchmarking, proactive assessment and management of environmental and other risks, avoidance and defence of environmental litigation, carbon taxes and emissions standards, crisis prevention and management, corporate social responsibility, mitigation of business disruptions, and reputation management.
"I've had to build a practice back up each time I've changed cities," says Curpen, who moved to Vancouver in 2016 to take on her current role at Bennett Jones after being with the firm for six years. "It's been a new challenge each time, but I love it."