The law firm represented the AFN in a class action while Bellegarde headed the umbrella group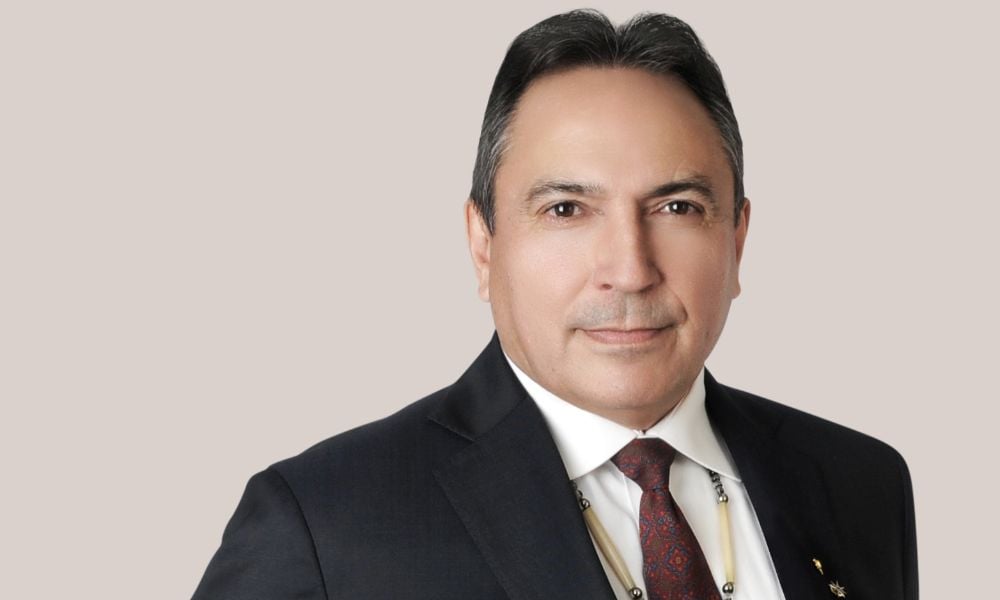 Perry Bellegarde, the former national chief of Canada's Assembly of First Nations, has joined Fasken as special advisor in the firm's Ottawa office.
Bellegarde served as national chief of the umbrella group representing more than 600 First Nations across Canada from 2014 to 2021. Before that, he served as chief of the Little Black Bear First Nation, the Federation of Saskatchewan Indian Nations, and as the Saskatchewan regional chief of the Assembly of First Nations.
Bellegarde says he chose Fasken because of their breadth of files "that impact things in Canada and globally. I've worked with them at AFN on a number of files historically, so [I] built up a rapport and relationship with some of their lawyers here in Ottawa. And they've been very clear that they want me to help them better understand First Nations and [their] issues and people. So, I think it's a great opportunity to work closely with some of their senior lawyers."
Fasken represented the AFN when Bellegarde was national chief in a class action against the Canadian government. The case was regarding the removal of Indigenous children from their homes and subsequent placement into the child welfare system, also known as the Millennial Scoop.
Martin Denyes, regional managing partner, Ontario region at Fasken, says that although Bellegarde is based in Ottawa, he will be involved with files across the country. "We've got clients who are dealing with Indigenous issues and Indigenous groups from Vancouver through to Quebec City and even abroad. And so, we want Perry to be involved across the board and available to clients."
The firm says Bellegarde will advise Fasken lawyers and clients on Indigenous matters and culture with the "goal of creating a better understanding when engaging in important conversations and working with Indigenous peoples." Bellegarde will also work with the firm's members to advance its reconciliation plan's goals and actions.
"I believe in processes that unite rather than divide, bringing people together," says Bellegarde. "I think the legislative landscape has changed in Canada with some passing of key legislation. That should guide not only Fasken but a lot of other major law firms in Canada and how they deal with Indigenous peoples."
Bellegarde says the legal community can help drive meaningful conversations for reconciliation. "Clients are going to be dealing with things like ESG, climate change, net zero by 2050, energy issues and jurisdictional issues. In terms of reconciliation, you can speak about economic reconciliation, education reconciliation, constitutional. It all depends. I think the legal community as a whole has a huge role to play in providing guidance to the clients that they serve when it comes to embracing some of the new frameworks."
Bellegarde cites the Implementing the United Nations Declaration on the Rights of Indigenous Peoples Act in Canada as a critical development. That Act came into force in June 2021, providing a legislative framework to advance the implementation of UNDRIP at a federal level.
"What does that mean? And how are we going to use that to help guide our work and relationship with clients, going forward, when you start talking about the duty to consult and accommodate and free prior informed consent?" asks Bellegarde.
Denyes says one of Bellegarde's roles will be to help companies across the table from Indigenous organizations better understand the issues they face. "We think it's important for corporations and businesses and partnerships to go into these conversations as well informed as they can."
Denyes also says there are many internal conversations at the firm and with clients about reconciliation. "We look at the [Truth and Reconciliation Commission of Canada's] call to action number 92, which is about business and reconciliation. And we're going through our own exercise on that front. And so, we're looking for support and help with that. But we're also looking to help support our clients as they go through that."
"Chief Bellegarde's deep experience, understanding and knowledge of Indigenous peoples, issues and opportunities will be invaluable to our clients and governments in advancing projects and business objectives, as well as to the firm in developing our own expertise and advancing our own reconciliation plans," said Peter Feldberg, the firm managing partner at Fasken, in a press release.