Addition of Rana Ghanem and Omar Abdulhak an important step in firm's growth plan: managing partner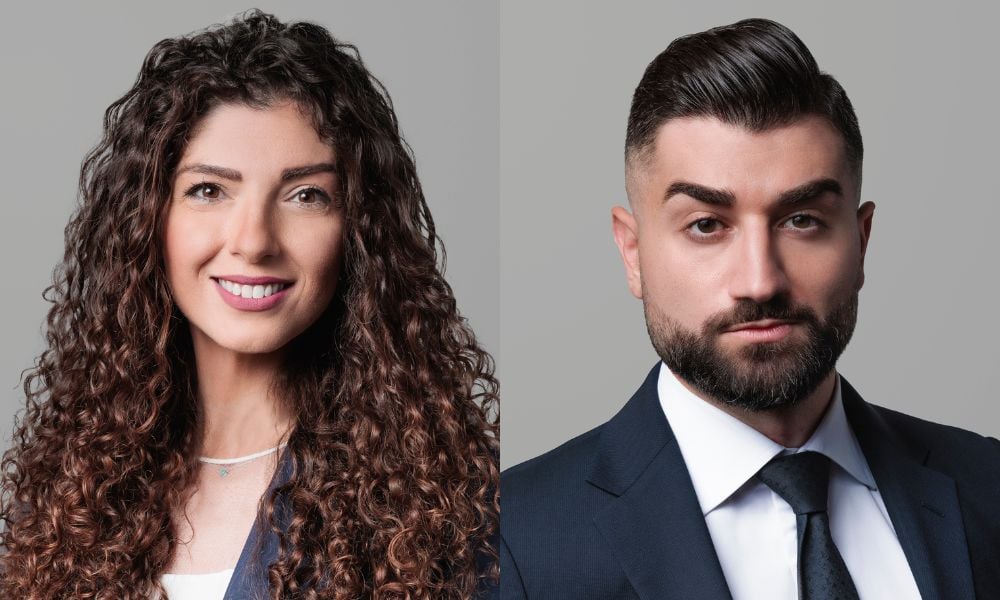 The COVID-19 pandemic has substantially impacted some law practice areas more than others, with family law as one of the more obvious examples. And full-service law firm Ogilvie LLP in Edmonton is now meeting that growing demand by adding family law to its services.
With the addition of the new practice group Ogilvie has also welcomed two new lawyers, Rana Ghanem and Omar Abdulhak, as part of an "important step forward" in the firm's growth strategy for Alberta.
"Ogilvie is proud to deliver a diverse collaborative and knowledgeable practice to clients," says Ogilvie managing partner Trevor Reddekopp. The firm has previously represented clients in this area, but officially endorsing and expanding the family law practice group recognizes the firm's "trust and commitment" to clients. Adding family law to the roster complements the areas of law that Ogilvie, founded in 1920, has practiced for years. These include corporate and commercial law, real estate, wills, estates and trusts; administrative law; litigation and dispute resolution; and insolvency and restructuring.
"We are research driven and we use our internal knowledge base to boost productivity and drive efficiencies for our clients," Reddekopp says. Indeed, on January 1, lawyers at Masuch Law LLP joined Ogilive, adding to its real estate and commercial services, along with foreclosures, civil litigation, tax law and wills and estates.
Five partners from Masuch have joined Ogilvie: Anton Suberlak, David Sheckter, Mary Jayne Assaly, Michelle Bullas, and Angela Yee-Hamshawl. Suberlak also becomes a member of Ogilvie's management committee.
In announcing the new family law practice, the firm says that adding Ghanem and Abdulhak as senior associates will bring a "deep understanding" of family law. This includes division of assets and separation agreements; prenuptial, postnuptial and cohabitation agreements; separation and divorce; child support and spousal support; parenting time and decision making. Ghanem and Abdulhak also practice civil litigation law.
Ghanem says that adding family law to the list of services Ogilvie provides "makes sense," not only from a business perspective but from a client perspective, as it allows for the ability to refer a family law client to other legal services internally and vice versa.
"For my own clients, it's really hard for them accept they may have to go to a different firm to deal with a different issue," she says. "And with Ogilvie's existing clients, it enhances the relationship and trust, so that, say, a real estate client can be them referred internally on family law, and kind of maintain that client's comfort level."
Abdulhak agrees, noting that Ogilvie identified the opportunities in the market and demand for family law services very well." It has developed a growth plan that "identifies the firm's goals, the culture of the firm, its challenges and opportunities and is now executing on that plan."
He also points out that family law matters can impact a client's other legal considerations. "For example, there may be issues that stem from the separation of partners in a business venture and the potential impact on marital assets."
On family law issues related to the pandemic, Abdulhak says that COVID-19 brought dysfunction in some families to a head. "They were isolated for such an extended period, working and living at home together, and the dynamic of the household and family relationships changed, which in some cases now require the legal services of family law practitioners.
Abdulhak also notes that there are more "triggering factors" in families, such as mental health. "Depression and anxiety have been skyrocketing, affecting the family dynamic."
Ghanem says the pandemic brought up family conflict issues not seen as much before lockdowns, vaccine mandates and travel restrictions became part of everyday life. "Things like one parent saying only one or two other people could be with the other parent when the kids were there."
Other family law issues that aren't related to the pandemic but are being seen more these days include issues related to gender transition and minors. "Ten years ago, maybe families didn't deal with this type of thing much, but now, more clients are coming to us about that," Ghanem says.
Abdulhak adds that the legal system in future "must make sure that the law grows with the circumstances and the evolution of society while maintaining fairness and equitable results."
Abdulhak and Ghanem say that empathy is one of the essential skills a family law practitioner must possess. But "you also have to be cognizant of the law and the situation and be able to have that transparent heart-to-heart, so there is no misunderstanding on expectations," notes Abdulhak. An effective family lawyer requires "understanding your client's needs, finding proper solutions to address those needs, and, more importantly, advocating with passion."
Ghanem adds that family law clients have "a lot more emotionally invested" in their case than perhaps clients in other areas of law. "Their lives are breaking apart, and you must help them transition to a new life. It's crucial not to fuel litigation based on clients' emotions but focus on what is practical, doable, and, if there are any, the interests of the children.
For lawyers who practice family law, Ghanem says it is vital to have the ability to "separate yourself" emotionally from the troubles of clients "because you don't want your mental health to deteriorate – you have to build that wall for your sake and to help your clients."