Firm searching for lawyers with junior and mid-level experience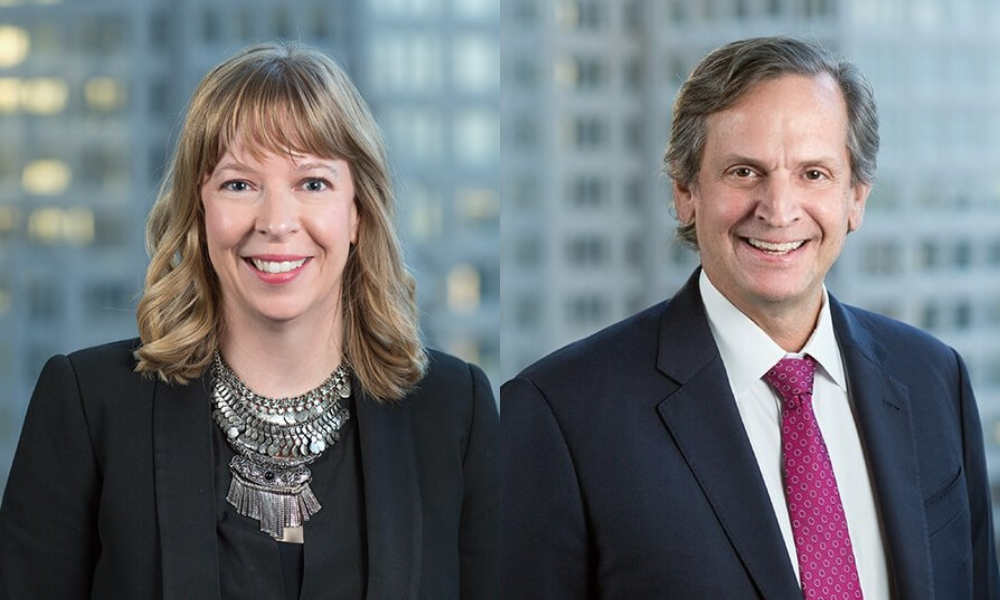 Just over a year after moving into the Vancouver market, global insurance law firm Clyde & Co is stepping into the Calgary legal scene with the recent hire of four partners from McLennan Ross. It plans to hire more legal staff as soon as possible, perhaps even as quickly as the end of the year.
"The Calgary market is a vital one for our regional and global insurer clients as well as many energy, construction, and transportation clients," says Carolena Gordon, a senior partner with Clyde & Co, based out of its Toronto office. "Each partner joining us has decades of experience operating in this market and, more than that has an excellent culture fit with the firm."
The partners who have joined from McLennan Ross include:
Don Dear, a litigation and dispute resolution lawyer who focuses on commercial insurance defence, including class actions, product liability, professional liability, construction, D&O claims and oil and gas litigation.

Alexis Moulton, an insurance and commercial litigation lawyer focusing on numerous lines of insurance, including coverage opinions, construction, product and professional liability claims, including medical malpractice.

Jeff Weidman, an insurance, litigation, and dispute resolution lawyer focusing on the defence of commercial insurance disputes, including auto, construction, tort, CGL, property, product liability, professional liability, occupiers' liability, class actions, and various forms of mediation/alternative dispute resolution.

Cynthia Aoki, an insurance defence and commercial litigation lawyer focusing on construction, E&O, product liability and property claims.
Clyde is now actively looking for associates in the Calgary office at the junior and mid-experience levels. "One thing that I think is unique that Clyde offers is an opportunity to work with any number of offices across a huge cross-jurisdictional platform. And that's attractive for young lawyers," Moulton says.
"We're looking for mid-level associates or junior partners that may come with some practice of their own and want exposure to the different lines of work that Clyde deals with. We're searching for qualified people who want to help us build this new office."
Adds Dear: "We're hoping for about a dozen lawyers. By Christmas is probably too soon, but we're hoping to establish a strong presence here quickly. I know that sounds overly effusive, but I'm very excited about how all those pieces fit."
Moulton, who has worked as a lawyer for 23 years, says that over the past five years, she has become more involved in "coverage" disputes through insurance policy claims. "I really enjoy the work," she says, "so for me, in terms of what Clyde has to offer, it has a lot of well-known, skilled, and reputable coverage counsel, and so I'm very excited to work with them and start to sort of grow that side of my practice as well."
Dear, who has practised for 35 years, says that Alberta is a unique market, especially for energy and insurance coverage. He says there is always the potential for claims to arise out of infrastructure issues, such as pipeline leaks. "It's what happens when you have steel in the ground and moving parts," he says, adding his practice has a lot of experience in dealing with these kinds of insurance cases.
Moulton adds that insurance involving refineries and pipelines is "very much a specialty area," with contracts unique to the oil and gas industry.
"Alberta is uniquely placed to deal with those sorts of insurance disputes," she says. "Certainly, that's an area Don and I both enjoy working in, and we're looking forward to getting to deal with big litigation matters with a number of parties on interesting topics. That's every litigator's dream."
Clyde & Co first opened in Canada in 2011 – in Montreal and Toronto – with a merger with Nicholl Paskell-Mede LLP (NPM). Since then, it has grown to become a leading law firm in Canada acting on coverage, litigation, corporate and regulatory matters for domestic and international insurers and businesses in other sectors, including construction and transportation. In July 2021, it entered the Vancouver market when it merged with local insurance and construction firm SHK Law Corporation.
The expansion into Calgary follows an announcement of establishing a permanent presence in Chile in August. Clyde also added offices in Phoenix, Las Vegas and Denver in May 2021 and opened an office in Munich in February 2021. Clyde now has offices in more than 50 locations across the world.
Dear notes that insurance companies are leaning towards wanting to work with fewer law firms, "so if they can deal with Clyde and get exposure to the markets they are in, that fits with their model, rather than finding a lawyer in every jurisdiction they work in."