Mathew Gorman holds drumsticks in one hand, law books in the other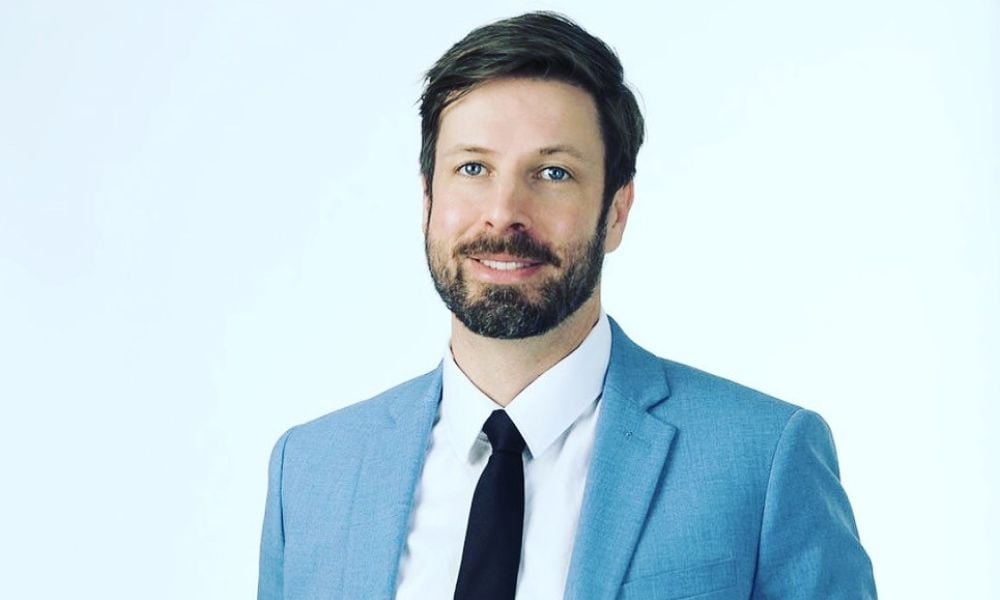 Most of us inevitably come to a point where we must choose a path at a fork in the road. For Matthew Gorman, he was presented with drumsticks, guitars, and the piano on one side, and lawbooks, court motions and robes on the other.
Luckily, the Halifax-based entertainment lawyer at Cox and Palmer didn't have to make that tough decision – he's combined his passion for music with his love for the law.
"I was a musician long before I was a lawyer," says Gorman, who grew up playing drums, the bass, guitar and piano. "So, I just assumed that it would be inevitable that if I became a lawyer, I would get into entertainment law."
Called to the bar in 2012 and spending his first five years in corporate law, Gorman decided to combine music and legal knowledge into a law firm called Ocean Town Music. He also wrote a legal guide for musicians through the Artists' Legal Information Society.
"That became a launch pad for focusing my practice on music and entertainment law," he says. "I already knew a lot of musicians and artists, and slowly but surely, folks in the business started coming to me seeking legal advice."
Eventually, he joined Cox & Palmer's Halifax office as counsel, but still runs Ocean Town Music for his non-legal music promotion, events and management business. For both businesses, his typical clients are performers, songwriters, producers, and hip-hop artists.
Gorman says about 70 percent of his legal work fits into the entertainment world, with the rest being general corporate and intellectual property work.
Gorman, now 36, admits that when he was in his teens, perhaps even into his early twenties, there was still the dream of keeping up with the rock n' roll lifestyle. He played with many different bands, "touring here and there." And perhaps "if I had landed that drumming gig with a Foo Fighters-type band, who knows, I might have made a career of that."
But then, "that's reality," he says, adding the "other reality was that I was always really passionate about law too."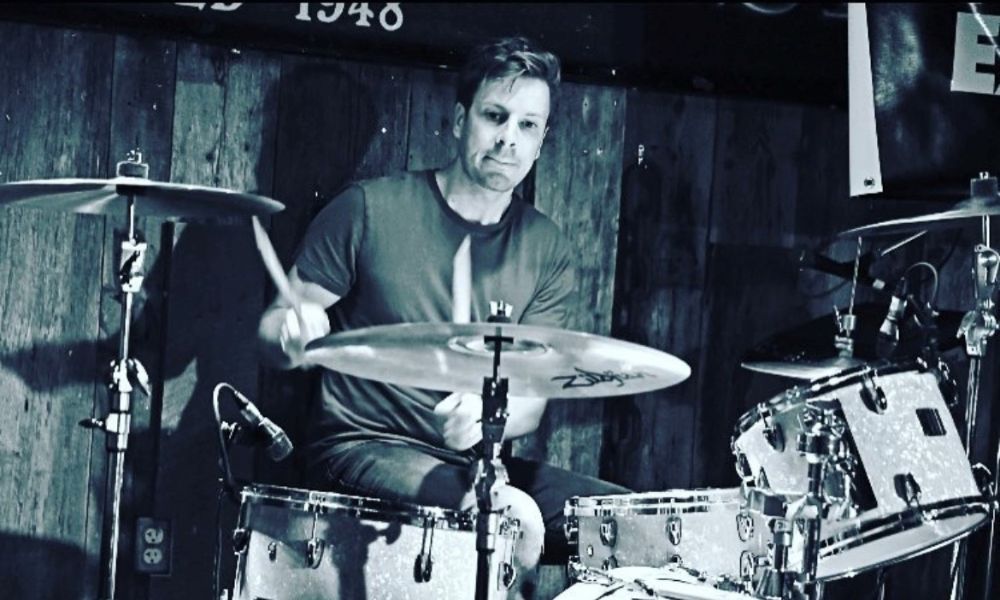 Gorman on the drums
And there are certainly no regrets, Gorman says. The father of two still plays in bands, but he also practises an area of law that is important to entertainers and musicians. "I'm at the point where I am married, have a family, and my two worlds move in tandem. I'm not at the point in my life where I'm going to go out on the road, even if I got the call."
Asked to describe entertainment law, Gorman says, "I like to think of it as a sexy-sounding form of commercial or business law, because that is what it comes down to ultimately." It's the type of law that involves contracts and lots of documents, but "it just happens that your client is an artist or performer instead of a bricks and mortar company."
The services Gorman provides his clients range from drafting co-writing agreements to advising on record label contracts and licensing agreements. He also uses his corporate commercial background to advise clients on the structure of their businesses – "maybe they should incorporate, maybe they are looking for a shareholder agreement, that sort of thing."
And like any part of the business world, the range of legal knowledge that entertainers have varies widely and doesn't necessarily depend on how long they have been around. "I chat with some artists who have been in the business a long time, and they don't know some of the basics of entertainment law that I would expect them to know at that point in their career," he says. "I know others – young artists at the start of their careers who are very savvy when it comes to the law and what they need to know as performers."
He adds that many people would "probably expect that artists from the creative world don't know anything about the legal or business side – they are only focussed on the art – but that's not always the case."
One difference in the entertainment world, compared to bricks and mortar businesses, Gorman says, is that being the latter almost always involves using a lawyer from the start – incorporating, signing leases and the like.
However, with entertainers, at the very early stages, there's virtually never a budget for a lawyer – "a lot of artists are doing much of the heavy lifting themselves." They are their own managers and distributors, putting out their music on their own platforms.
"If someone really wants to be a musician, they are really forced to, at least at a high level, understand how all these pieces fit together."
Gorman recently wrote a chapter for an upcoming International Association of Entertainment Lawyers book. It focuses on co-writing for musicians and the legal differences between Canada and the US. "It's a bit of a comparative analysis between the two countries on what constitutes co-writing, and some practical considerations that musicians and songwriters should think on."
The article's "biggest message," he says, is for co-writers to get the nature of their relationship and expectations down in writing at some point. However, the very heart of the creative process between collaborators is such that getting the terms set isn't necessarily the first thing on their minds.
"People collaborate with each other and write songs in many different ways," Gorman says. "When they get together and jam, for example, the common intention is to come up with a song. But where the complexities arise is when they don't agree with how the credit should be split."
Adds Gorman: "It may not be an issue at first, but when a song starts generating revenue, that's when memories get a bit foggy, and discrepancies arise. So, it's really helpful to have a co-writer agreement or a split sheet."
Sometimes all band members are named as co-writers, even if one or two were more responsible for the outcome than the others. Other times, the band is named as the song's author. "The key is for everyone to agree to the process."
An examination of the law of joint authorship reveals subtle distinctions between Canada and the United States, Gorman writes in his article. "Canadian authorities suggest that composers of joint works cannot exercise their rights independently of each other, while the less restrictive U.S. approach suggests that a co-writer can grant non-exclusive licenses for third party use without the consent of the remaining co-writers, subject to the provision of an accounting. The implication of these distinctions needs to be carefully considered."
Gorman says the question is more complicated than one would think as to what constitutes a work of joint authorship.
His article says that in Canada, a "joint author" of a song needs to establish that they made some significant original expression to the song, keeping in mind that the contribution need not be equal to that of the other co-writer(s). The conventional Canadian legal test for joint authorship also requires that there must be "joint labour in carrying out a common design." One court case involving a dispute over Sarah McLachlan songs held that, in addition to the above, each songwriter needs to intend the other co-author to be a joint author.
However, not all Canadian courts have adopted the "common intention" test. For example, the Federal Court of Canada rejected the common intention test that co-authors be joint authors. In that case, the court found that the Sarah McLachlan decision followed American law, which requires that collaborators also intend to regard each other as joint authors.
For example, the US case Childress v. Taylor identifies a three-prong test for "joint work" under American law. Each of the collaborators must have intended the other to be a joint author of the work, each author's work was independently copyrightable, and each author intended that the work be merged into inseparable or interdependent parts of the whole.
As an entertainment lawyer in Atlantic Canada, Gorman is quick to acknowledge that there is a "massive amount" of musical talent on the east coast, and in Canada generally.
"We certainly punch above our weight, I think. And that is one reason why I wanted to practise entertainment law. There aren't a lot of lawyers who specialize in this area, and most are in Toronto and Vancouver. I wanted to bring that level of service to Atlantic Canada, but also hope to establish a successful national entertainment law practice right here in Nova Scotia."