Dickinson Wright partner publishes new book looking at business, tax, and IP issues related to art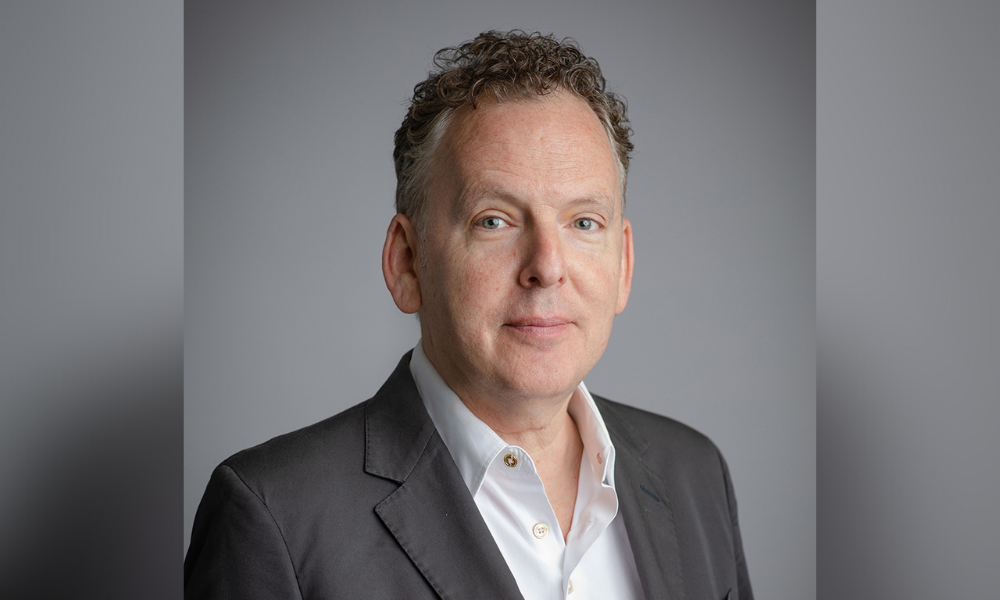 A happy person can say that their professional life embraces a passion or pastime – paying the bills while doing something much loved. Intellectual property lawyer Paul Bain, who specializes in law related to art and entertainment, is one of those people.
"Any time you can combine the two, something you love with your work, it's a bonus," says Bain, partner with Dickinson Wright LLP. He recently published Art Law: Cases and Controversies, which peeks behind the curtain at some of the key business, tax, and IP issues associated with what is now a US $50-billion market.
The 384-page illustrated book covers some of the most exciting and relevant legal issues artists, collectors, galleries, and public institutions face when creating, buying, selling, or donating art. On Tuesday, a book signing and reception were held at the central hub of the Toronto Biennial of Art international art event.
Asked why a book on art law in Canada is needed, Bain points out that one of Canada's leading art law books, The Art World: Law, Business & Practice in Canada, by Dentons lawyer Aaron Milrad (along with Ella Agnew), was published in 1980.
"A lot has changed since then," says Bain, noting that the introduction to Milrad's book talks about how copyright law is "going to be turned upside down" because of the advent of the photocopier. "Imagine what he [Milrad] would have to say about the internet."
Bain says that with so much potential on the internet for copyright infringement and outright fraud, "it's really a game of 'whack-a-mole' out there." He adds: If you're an artist, an owner of IP, or protecting an artist, it's difficult to stop it all."
With the internet "and now the metaverse," Bain says there are myriad ways that artists' copyrights are exploited and abused. Images are so ubiquitous and easy to take, he adds. "Just because something is out there in public or online doesn't mean you can slap it on a t-shirt or make an NFT (Non-fungible token) out of it. That's infringement."
The world of art law also must consider when some "appropriation" of others' images can still be legal if it takes those appropriated images to create an entirely new work. "It really depends on the case," he says.
Some artists are flattered at being copied, Bain says. The street artist Bansky, on the other hand, said that "copyright is for losers," and the public is legally free to reproduce and use any public domain works (where the artist has been deceased for a certain period) copyright works. "That may be easy for him to say because he's done very well," says Bain.
Bain says that deciding when appropriation of another's work is "fair use" or "fair dealing" or outright infringement isn't easy. He notes that while Canadian law in this context is still undeveloped, the U.S. Supreme Court recently agreed to take on a case that will decide whether Andy Warhol violated a photographer's copyright by using her image of the musician Prince without permission.
Photographer Lynn Goldsmith is suing Warhol's estate, claiming the pop art guru's series of paintings of the musician Prince infringed on her works. Goldberg so far has won in court, but Bain says many in the art-copyright bar believe the case was wrongly decided.
"Almost all contemporary and post-modern work is based on something else," Bain says. "The issue is whether the Warhol works are 'transformative,'" and something new and separate from the original images."
The same issues often crop up if an artist displays something in public – the thinking that it's fair game and not subject to copyright. "Not so. The copyright remains with the artist or the owner of the wall or building," Bain says, pointing to a recent case he was involved with that dealt with this issue.
In early 2021, Bain settled the first-ever "street art" related lawsuit in Canada on behalf of Los Angeles-based artist Tristan Eaton. The suit, filed in the Federal Court of Canada, involved an Ottawa real estate developer's reproduction of Eaton's piece, Audrey of Mulberry, without his permission. Under the confidential terms of the settlement, Eaton received a public apology and an undertaking to stop using the image permanently.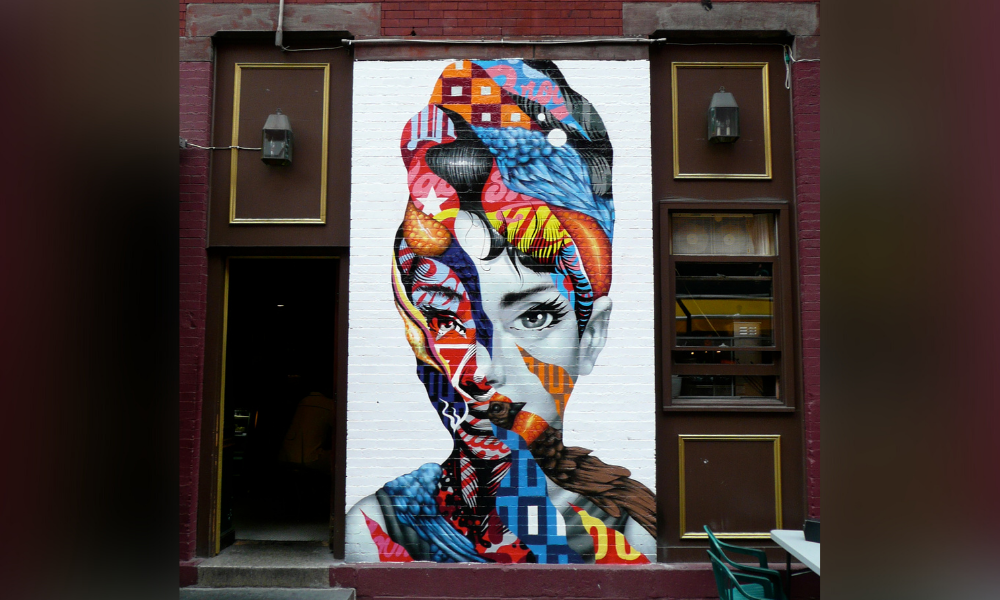 Audrey of Mulberry by Tristan Eaton
Eaton painted the original mural, a stylized portrait of actress Audrey Hepburn, on the side of a New York City Little Italy cafe in 2013. Eaton said he painted the mural for free as part of a public art initiative. However, the image has shown up on unauthorized t-shirts, a shopping complex in Dubai and the Ottawa student residence, the latter for which Eaton had sued the developer with the help of Bain's firm in Toronto.
Bain points out that there haven't been any significant awards for infringement of artists' works in Canada – and there are some critical differences in how laws surrounding art copyright are different from those in the United States.
"Of course, the U.S. is more litigious, so there are way more precedents there," he says, adding that the differences include:
Under the new Canada-US- Mexico free trade agreement, Canada will soon join the U.S. in extending our copyright term to 70 years from the artist's death. It is currently 50.
Copyright is automatic in Canada – meaning you don't have to register your rights if you're a creator. Most don't bother here, says Bain. "In the U.S., the Supreme Court has ruled that you can't maintain an action for infringement unless and until you have a federal copyright registration."
Canada, following the European model, has much more developed protections for moral rights – the right of an artist, even if they no longer have copyright, to prevent a work from being distorted or mutilated or modified. Bain says moral rights also include the right of "paternity" (to claim authorship or to be associated with the work).
The issue of "moral rights" is illustrated by a case involving Canadian artist Michael Snow's famous Flight Stop, consisting of 60 Canada geese in flight in the atrium of the Toronto Eaton Centre. In 1981, the Eaton Centre decided to put red ribbon bows on the geese for a Christmas promotion..
Snow thought "this made his work look silly," says Bain, and won a moral rights infringement case and an injunction to have the ribbons removed, arguing they offended the integrity of his work.
The judge agreed, ruling the work's integrity was "distorted, mutilated or otherwise modified," which was "to the prejudice of the honour or reputation of the author," contrary to s. 28.2 of the Copyright Act.
Art fraud is another issue with which lawyers in the art law bar must deal. "Some cases are clear – like when a painting purporting to be from the 19th century turns out based on scientific evidence to be made with a paint that didn't exist then," he says.
Other cases are more of a judgment call based on often-conflicting expert opinions. "Judges aren't often well-equipped to judge these cases," Bain says. He points to the trial decision in the Hearn v McLeod case. There, the judge found substantial evidence of a fraud ring but still refused to rule on the civil standard of a balance of probabilities that a painting purporting to be created by noted Indigenous artist Norval Morrisseau was fake.
The Ontario appeal court reversed this decision, with the estate of gallery owner Joseph McLeod ordered to pay the purchaser of the work, musician Kevin Hearn of Barenaked Ladies fame, for breach of contract. However, that was after years and hundreds of thousands of dollars in legal fees had been spent. "So, the cost of litigation is also a factor. And people are often reluctant to come forward and admit they were dumb or duped.
"You are saying something you have, and love is probably worthless – so it's almost against self-interest to claim fraud."
Bain became interested in art at a young age. Born in Montreal, his mother, Freda, was an artist, and he grew up around art and artists. While at the University of Toronto, Bain studied some art history, and later went to Osgoode Law School. He eventually started a law firm with two friends, then went out on his own. He soon realized that all the administration work "was too much to do" on his own, so he eventually joined Aylesworth, which in 2011 combined with Dickinson Wright, a U.S.-based firm with about 500 lawyers.
Bain's clients range from major institutions like the Art Gallery of Ontario to small galleries, appraisers, auction houses, and artists. "It's an interdependent little ecosystem," he says.
Bain is also an avid art collector, starting when he was young – "sometimes it would take me a year to pay for a work." While going to openings and meeting artists and gallery owners, Bain would often field legal questions, "so I needed to figure it out and understand the issues."
There wasn't much competition in the country, he says "and any time you can combine a personal passion with professional work, it's especially rewarding."