Taylor's long-standing dedication to diversity and experience advising employers came in handy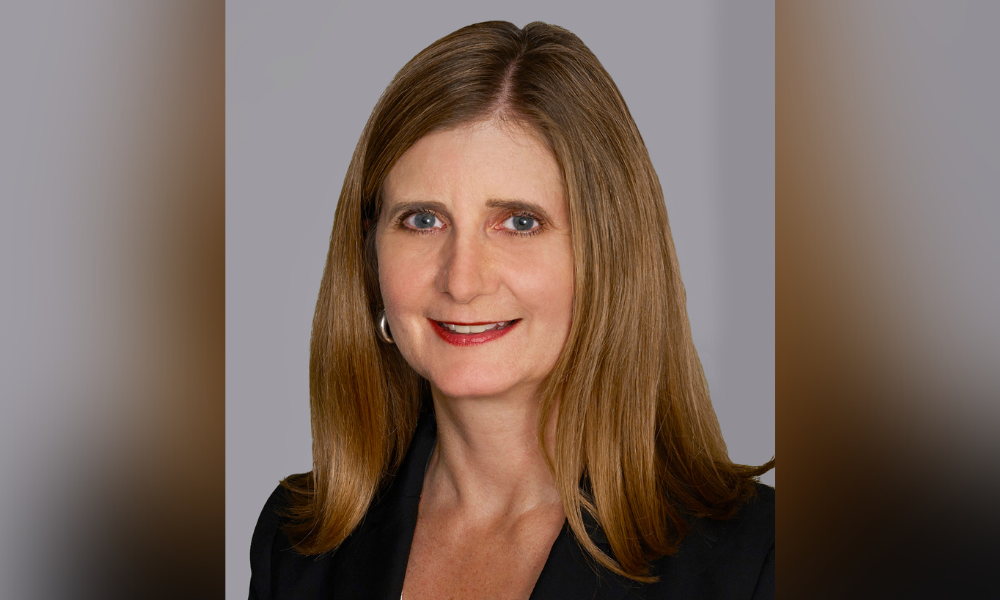 Last year was an eventful start for Kristin Taylor as managing partner at Cassels Brock & Blackwell LLP.
Cassels made the news just after Taylor learned she was about to be appointed managing partner. The Globe and Mail approached the firm, saying it would be publishing a story about the disparity in pay between male and female partners at the firm. The report would cite confidential compensation information that someone had leaked to the Globe.
"There's a visceral reaction to having privacy breached in that way," says Taylor.
So, as deputy managing partner and soon to be leading the firm, Taylor had to navigate the tricky balance of addressing the legitimate issues raised in the Globe's story while highlighting the broader trends in the entire profession.
When she spoke to the Globe, Taylor highlighted her firm's recent progress in addressing gender disparities. What was frustrating to her was that she knew this progress, while slow, was better than at other similar firms. But those firms did not have their data leaked to the Globe.
On the bright side, Taylor says it led to improvements in how the firm talks about gender diversity internally.
"To make a lemonade out of lemons, we've used it as an opportunity to share our statistics in quite a transparent way with all the lawyers at our firm."
Once Taylor was officially appointed a few months later, she expected things would settle down a bit.
It was April 2020, and with widespread vaccinations and a return to the office, things were looking up. "I thought we were coming to the end of the pandemic," Taylor says.
As we all know, a new wave was coming, and the pandemic uncertainties returned.
"It wasn't the year that I thought I was going to have. Trying to maintain that connectivity has been a challenge."
Despite these initial challenges, though, Taylor's long-standing dedication to diversity and inclusion, and her experience advising employers as a labour and employment lawyer, may have made her ideally suited to her very challenging first year.
Despite growing up in modest circumstances in rural Southern Ontario, Taylor knew she wanted to be a lawyer from a young age. When her father hired an articling student to resolve a small claims dispute for work done by a contractor on their house, she remembers her father describing the student as "nervous and unimpressive." For Taylor, though, the student was "Superman and the person I wanted it to be when I grew up."
When Taylor eventually entered the legal profession, she quickly determined that employment law was her calling when she joined Fraser Milner Casgrain LLP as an associate after articling at the firm.
"I absolutely fell in love with the subject matter and the psychology and the fact it was people-based as opposed to document-based. It's all about understanding people and what motivates them."
Taylor made partner after six years and quickly noticed that the 50/50 gender balance that she had seen in law school had worsened considerably.
"We weren't terribly great at keeping or retaining women in the profession at that point."
Taylor credits technology with helping to improve gender balance by allowing more flexibility for women now. But that wasn't the case when she made partner, and people assumed you weren't working if you were not in the office.
"That kind of mindset that if you weren't in the office, you weren't really working is now non-existent."
Taylor says she spent the first five or six years after she made partner focusing on retaining existing clients as she started a family.
Once her youngest daughter was in kindergarten and she could focus more on business development, FMC asked her to lead the labour and employment group.
Taylor says the attraction of leadership roles was the opportunity to exert a broader influence in line with her values. She also felt that, as a woman, she wanted to make it easier for those who came behind her.
Taylor became very involved with diversity efforts at FMC, which she says grew naturally out of her labour and employment work. She helped institute a more inclusive parental leave policy.
Taylor then moved to Cassels shortly after FMC joined the global firm Dentons.
She felt better suited to a smaller firm, saying she "wasn't convinced that bigger was necessarily better."
Cassels also allowed her to expand her labour and employment practice to sophisticated transactional work.
Cassels' managing partner at the time knew Taylor had a leadership role at her previous firm, but she told him from the outset that she was more interested in focusing on her practice. However, after a year, she relented and became chair of the firm's inaugural diversity committee.
Taylor says that taking on that role was "fundamentally built on a commitment to diversity and inclusion efforts within the firm. [It was about] weaving them into the fabric of the firm in a way that was rewarding for me."
Now that she is the managing partner, Taylor can be even more influential in advancing diversity and inclusion efforts and ensuring that her colleagues feel connected despite the challenge of remote work and physical distance.
Taylor says recruitment has been challenging, with U.S. firms offering enormous incentives to associates in a competitive environment. Despite the competition, Cassels is working on initiatives that are not "just compensation-based" to provide a connection for young lawyers to the firm.
She cites recent pro bono work the firm did to help members of an Afghan law firm find refuge in Canada and its grants to support Canadian Black-owned small businesses as examples.
Despite the many challenges, Taylor says Cassels had a record year in 2021. Apart from their restructuring group, all practice groups saw healthy growth, which is consistent with most large Canadian business law firms.
Taylor jokingly says she hopes her next year as managing partner is not quite as eventful as her first. But if it is, she is now well equipped to handle any crisis that comes her way.
Kristin Taylor is a judge at this year's Lexpert Rising Stars Awards, which honour leading lawyers under 40 from law firms, in-house departments, and other practices. Nominations are open, and close on July 8.