Firms making announcements include Aird & Berlis, Bennett Jones, Cain Lamarre, Cassels, Dentons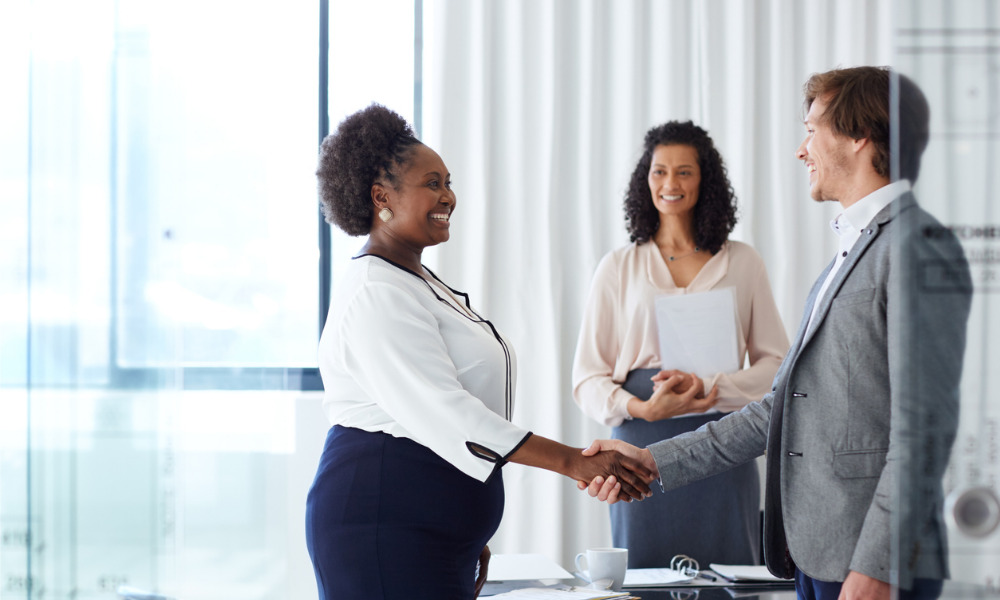 Welcome to this week's roundup of movements among major law firms, in which we sum up significant hires, promotions, departures and other announcements.
Aird & Berlis LLP
The Toronto-based firm announced that Amy Grenon is now a partner and a member of its intellectual property and litigation groups.
Bennett Jones LLP
Melanie Teetaert joined the firm as a partner in Vancouver. She has handled energy-related matters, commercial and construction litigation and commercial arbitration.
Cain Lamarre
The firm welcomed the following lawyers:
Laurie Villeneuve (Saguenay) — environmental law, municipal law
Mélissa Potvin (Montreal) — immigration law
Amélie Dufour (Saguenay) — personal and family law, litigation
Charles Desrosiers (Rimouski) — litigation, penal law
Olivia Meurant (Saguenay) — litigation, agricultural law, health law
Cassels Brock & Blackwell LLP
Davit Akman joined the firm as a partner in its Toronto office and as chair of the national competition and foreign investment group.
"He has a unique combination of experience handling both significant merger clearance matters and high-stakes civil and criminal competition litigation, including precedent setting cases before the Supreme Court of Canada and the Canadian Competition Tribunal," said Kristin Taylor, the firm's managing partner.
Deloitte
The firm announced that Pierre Laporte, president of Deloitte Quebec and vice-chair of Deloitte Canada, will chair the board of the Chamber of Commerce of Metropolitan Montreal for 2021–2022. Laporte has been Deloitte's lead financial advisory partner and leader of the firm's restructuring services groups in Canada and in the Americas.
Dentons Canada LLP
Tim Haney has been appointed as the firm's next Canada chief executive officer, effective Feb. 1, 2022, succeeding Beth Wilson in the position. Haney will join the firm's global management committee and global board and will lead the firm and its 600 lawyers working in offices in Vancouver, Edmonton, Calgary, Toronto, Ottawa and Montreal. He focuses his practice on M&A, securities and corporate finance.
The firm also announced a new strategic relationship with Rose-Mary Basham, a Vancouver-based litigator with over four decades of experience, and welcomed Pamela Sheppard as a partner in the litigation and dispute resolution group in Vancouver.
Fasken Martineau DuMoulin LLP
The firm announced the appointment of Alison Oxtoby as counsel in the estates planning group. She is based in the B.C. region.
"Alison's experience with complex, multi-party estate planning strengthens our team," said William Westeringh, the firm's managing partner in its Vancouver and Surrey offices, in a news release.
Goldblatt Partners LLP
Mark Rowlinson, who practises labour law, joined the firm's Toronto office as a partner, effective Nov. 1.
Lavery de Billy, L.L.P.
Anik Trudel, the firm's chief executive officer who is based in the Montreal office, was appointed vice-chair of the board of directors of the Chamber of Commerce of Metropolitan Montreal.
"Montréal is playing a significant role in the ongoing economic recovery, in concert with all other Quebec regions," said Trudel in a news release. "For businesses to thrive, we need to work hard to stimulate the city's business environment, both in our own operations and in our role as leader."
McMillan LLP
The firm welcomed Cynthia Sargeant as a Toronto-based partner focusing on capital markets, securities and M&A, effective Nov. 1.
Osler, Hoskin & Harcourt LLP
The firm announced that Riley Whitlock is a partner in the real estate group in its Calgary office.
"Riley has worked hard to build his profile in the commercial real estate industry and in the community and has consistently demonstrated the qualities that are necessary for success in this business," said Brian Thiessen, Calgary managing partner, in a news release.
Pallett Valo LLP
Two new lawyers joined the business law firm, which is based in Peel Region:
Matthew Greco — construction and commercial litigation
Christina Chiu — insurance defence
"We know their previous experience as well as life experiences will be an asset to our firm and will assist them in growing within their respective practices as talented and skilled lawyers," said John Russo, the firm's managing partner, in a news release.
Resolve Legal Group
The firm, which offers services in all areas of personal law, recently celebrated its tenth anniversary. The team chose to donate money to domestic violence programs at the Calgary Counselling Centre, at Sagesse and at Big Hill Haven, in lieu of a party.
Singleton Urquhart Reynolds Vogel LLP
The firm welcomed the following as counsel in the Vancouver office:
Peter Gorgopa — corporate and commercial law, wills and estates
Mike Nienhuis — commercial real estate, corporate law, Indigenous Law
Torkin Manes LLP
The Toronto-based firm congratulated Laurie Pawlitza, partner in its family law group, on the launch of the Minerva Group, an association of senior family law lawyers with over 150 years of combined experience of family law practice in Ontario.
Please submit your law firm news, including appointments, moves and other professional news by filling out this form or by emailing [email protected].