Lawyers, parties can state desire to be addressed as he/him/his, she/her/hers or they/them/their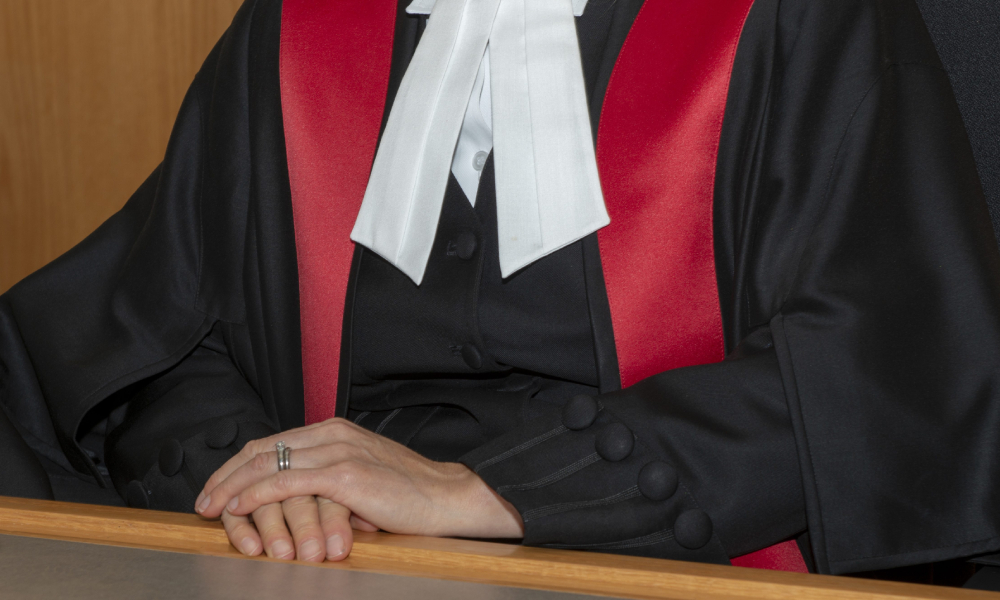 In what is considered a first for Canadian courts, the Provincial Court of British Columbia is mandating a procedure that asks lawyers to indicate the pronouns they want used when introducing themselves and their clients in court.
The new mandate is meant to allow for a court system that is more inclusive of those who identify as non-binary.
Some lawyers already volunteer this information, but under notice NP24, the court will use a process that asks those before the court to indicate if they use "she/her/hers," "he/him/his" or "they/them/their" prounouns.
The court said the policy change would improve the experiences of gender diverse people in the legal system and would help avoid confusion and the need for corrections when someone is misgendered.
"I think it's an amazing development for the courts in B.C.," says Lisa Nevens, a Vancouver-based civil litigator who is gender non-binary and uses they/them/their pronouns.
They added that while they have used the non-gender-specific pronouns for the last year and a half, having this become a court system policy makes it easier to focus on their clients and the law.
"A big difference it makes is that it standardizes and normalizes the practice, so I don't have to stand out and be against the grain in order to have the proper pronouns used," Nevens says. "I can focus on other matters, and my clients, and it also means I don't have to explain myself over and over again."
They say that it also deals with the possibility of people making the wrong assumption of someone's gender identity based on a name and can use the correct pronouns and salutations for that person. "It takes away that awkward moment when a judge might use the wrong pronoun, a situation the lawyer may not want to correct," Nevens says.
Lawyers who don't identify as non-binary also applaud the change. "The new practice direction reflects the reality of our times," says Jasmeet Wahid, partner at Kahn Zack Ehrlich Lithwick LLP, who uses she/her/hers pronouns. "It promotes inclusivity and respect for gender-diverse parties and litigants. It supports a shift in professional practice, legal culture and reflects our diverse and ever-changing times."
In a notice released in mid-December, Chief Judge Melissa Gillespie wrote: "Providing a forum of justice that is impartial, fair, consistent, and assures equal access for everyone is part of the mission of the Provincial Court of British Columbia." Giving people dignity and respect by using their correct titles and pronouns is one aspect of such a forum.
"To help judicial officers, lawyers, and litigants do this, the Court has issued a Notice to the Profession and Public to clarify how parties and lawyers can advise judicial officers and other parties and lawyers of their pronouns and form of address."
Until now, when parties, or a lawyer, spoke in B.C. provincial court, they started by introducing themselves and spelling their last name. For example: "My name is Jane Lee, spelled L-E-E. I am the lawyer for Joe Carter."
Under NP24, the court asks people to state their name, title (sometimes called "salutation"), and pronouns to be used in the proceeding, and for lawyers to provide this information for their clients. For example: "My name is Ms. Jane Lee, spelled L-E-E. I use she/her pronouns. I am the lawyer for Mx. Joe Carter who uses they/them pronouns".
("Mx." is pronounced like the word "mix" and is a gender-neutral salutation.)
If a party or lawyer does not provide this information in their introduction, they will be prompted by a court clerk to do so. "For instance, the court clerk may say 'For the record, I would ask counsel for the applicant to introduce themselves and their client, including their pronouns and title such as Ms., Mr., Mx., or Counsel'."
In situations such as criminal pre-trial conferences, there may not be a court clerk. In that case, the judge may ask for this information.
"Using incorrect gendered language for a party or lawyer in court can cause uncomfortable tension and distract them from the proceedings that all participants should be free to concentrate on," the court wrote in announcing the new policy. "The Court hopes its new notice will contribute to a culture that is inclusive and respectful of everyone."
Specifically, the announcement said that the new policy would:
improve experiences within the legal system for gender diverse parties and lawyers
identify correct pronouns and forms of address by adopting one practice that applies equally to all
avoid lawyers or parties having to raise the issue only after incorrect titles or pronouns are used
support a shift in professional practice towards asking all people how they should be respectfully addressed, acknowledging that this should not be assumed based on name, appearance or voice
The court developed the policy with the help of the executive of the Canadian Bar Association of B.C.'s Sexual Orientation and Gender Identity Community section.
"This was certainly the court's decision to go ahead with this policy, but it did receive some help from our group," says Nevens, who is co-chair of SOGIC.
They note the courts still have more work to do, including moving away from gendered titles for judges such as "my lord" and "my lady" used in the Court of Appeal. They also hope that the inclusive practice is picked up by B.C.'s administrative tribunals.
Other areas that need to be worked on include gender-neutral washrooms and barrister lounges in all B.C. courts.
Nevens says they don't know how far B.C. courts are ahead of other systems in Canada, but since the policy change, they have heard from other Canadian jurisdictions interested in what has happened.
Nevens admits that at first, it can be awkward for some people to use non-gender-specific pronouns like they/them/their. "But that is because we haven't gotten used to it," they say. "The more it becomes part of normal life, the easier it gets.
"And for those who identify as non-binary or transgender, this is a really significant event. For many lawyers, it will be the first time they've had their proper pronouns used in court."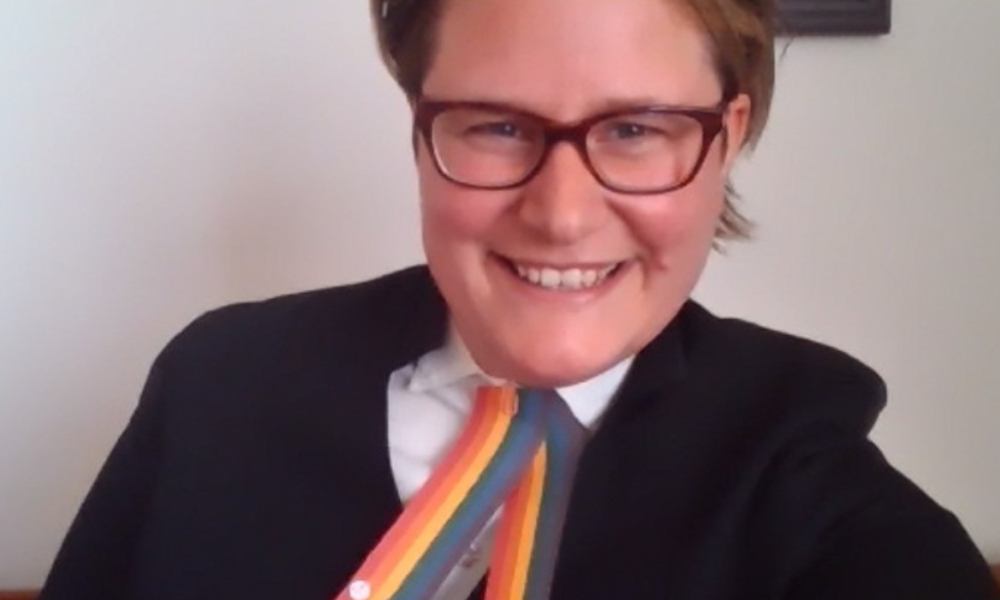 Lisa Nevens