Salter saw how antiquated processes held back the legal system early on in her career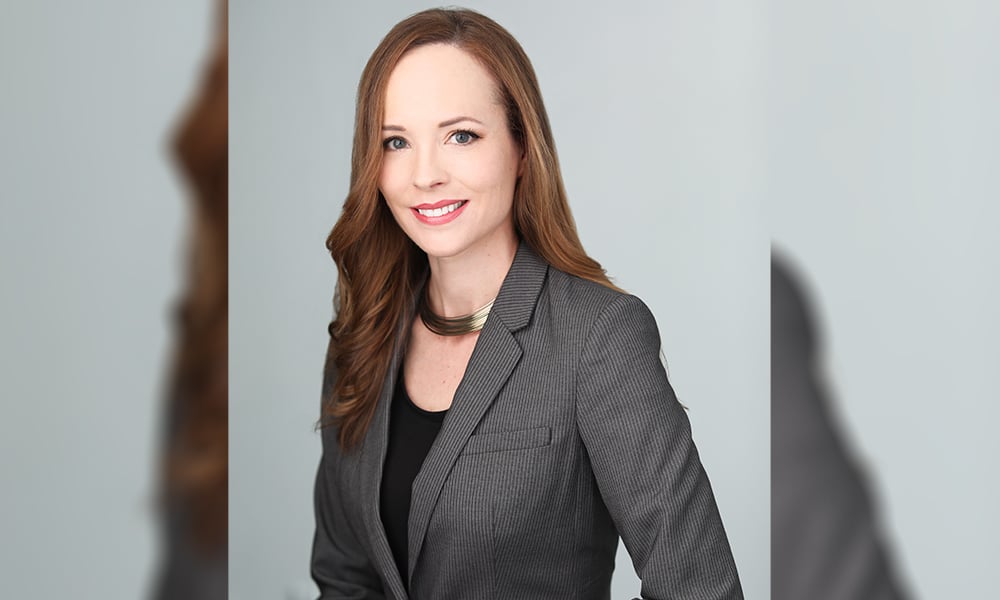 Shannon Salter is not a technophile. In fact, Salter is far from it. She has been driven by many things in her career, including a curiosity about governance, a keen awareness of the shortcomings of our legal system and a desire to improve access to justice. But a love of technology was never a motivator.
Despite that, Salter is chairwoman of the first online tribunal in Canada, and one of the first in the world, the Civil Resolution Tribunal. Since 2014, she has been responsible for all aspects of implementing and operating this multi-million-dollar project, including designing online technology processes, collaborating with software developers and reporting on the tribunal's performance.
In that role, outside of adjudicating disputes, she spends a lot time talking about how technology has improved access to justice for the public, including during the COVID-19 crises when her tribunal was able to operate seamlessly unlike other courts in Canada.
But Salter is also blunt about what technology can't do.
"It's not good enough to check the technology box. The best way to use technology is not just to slap a form on your website or to use in courts or e-filing. But it's rather to do the much more profound, difficult change work of using human-centred design to completely reconstruct the justice system around the needs of the public."
Salter's upbringing was consistent with a low-tech, human-centred existence that aimed to reconstruct traditional systems. She was home schooled from grade 7 to 10, living on Salt Spring Island in British Columbia with her family on a hobby farm. Her father, who is an environmental engineer, travelled often, and her mother stayed home with her and her siblings.
"We had very basic dial-up internet, [a] couple of TV channels, and no cable. . . . So, it's really quite beyond the realm of anything I could have imagined to be working so much with technology as I am now."
Salter did have a strong interest in governance, however, having participated in a youth parliament, which helped her imagine law as a tool for social good. She studied political science at the University of British Columbia and found as many opportunities as she could to understand the law and politics, including a stint in Ottawa at the Department of Foreign Affairs and volunteering with the International Federation of Liberal Youth, an organization dedicated to the promotion of human rights, democracy and youth political participation.
These interests naturally led Salter to law school, which she completed in 2005 when she graduated from UBC's faculty of law. She then worked as a law clerk at the Supreme Court of British Columbia and took a position as an associate at Farris Vaughan Wills & Murphy LLP.
While she speaks positively about both jobs, they also highlighted the real-life problems in the justice system. Clerking, Salter says, helped show "how inefficient and antiquated a lot of the processes were and continue to be," and in private practice it was "demoralizing to see cases that had been with the firm for five or six years and continued to be with the firm for five or six years after I left."
Salter took a leave from private practice, studying for a master's degree in Toronto with her husband, who is also a lawyer. She then had her first child, balancing academic demands with her new role as a mother.
Although she originally intended to return to private practice, she realized law firms are "not at all conducive to accommodating the lives of people with caregiving responsibilities," and she instead took a position as vice chairwoman of the Workers' Compensation Appeal Tribunal, where she worked until 2014.
Salter then saw a posting for position at the CRT, which initially felt was out of her reach.
"I think a lot of women have [felt that way], when they're presented with an opportunity like the one I was, and it was only because other women in my life encouraged me to apply that I that I took the chance."
Despite her disinterest in technology for the sake of it, Salter quickly saw the CRT position as an opportunity to work on her passions, civil reform and access to justice. Like she did growing up on a farm in British Columbia, she was given an opportunity to think about big issues while starting out with very little.
No technology, or even technology companies, had been procured, and "there were no staff members or anybody else. There is a group of really committed folks in the Ministry of Justice in B.C., whose brainchild that was, and who I worked really closely with after I was appointed."
Salter took the ideas she had developed in her career, including what needed to be fixed in the justice system, and who it was meant to serve, and got to work.
Her insights meant the technology, as well as those running the system, were designed with the user in mind from the outset, with meaningful input from the community legal advocates who served those users.
"One of the things I realized pretty quickly is that if you get a group of lawyers and IT professionals in a room together and have them design something that is meant to be used by the public, they're going to go wildly off base unless they user test."
With the COVID-19 pandemic, Salter hopes the success of the CRT will help guide a justice system that has been too slow to respond to the needs of those who use it.
"I think if there is any silver lining, from this devastating pandemic, is that, you know, necessity has always been the mother of invention."
The necessity, Salter would no doubt agree, is to harness technology to serve a greater purpose, a purpose that has motivated her throughout her career.
Shannon Salter
2014-Current: Chairwoman, Civil Resolution Tribunal,
2011-2014: Vice chairwoman, Workers' Compensation Appeal Tribunal
2006-2009: Litigation associate, Farris Vaughan Wills & Murphy LLP
2005-2006: Judicial law clerk, Supreme Court of British Columbia
Summer 1998: Policy analyst, Department of Foreign Affairs and International Trade
ODR around the world
The Civil Resolution Tribunal is the first online dispute resolution tribunal in Canada. Other examples of ODR tribunals are:
Utah Court ODR project: Launched in September 2018, Utah's ODR system is available to litigants who have small claims disputes that involve $11,000 or less.
Money Claim Online: A U.K. government internet-based service for claimants and defendants in England and Wales to make or respond to a money claim on the internet.
Victorian Civil and Administrative Tribunal ODR Pilot: A pilot in the Australian province to explore whether online dispute resolution will increase access to justice.
China's online courts: China's first internet court was established in the eastern city of Hangzhou in 2017, and China says millions of legal cases are now being decided online, according to Voice of America.
Michigan Court Traffic ODR project: Courts in the U.S. state began to use ODR to let people contest and resolve traffic tickets online in 2014, according to the International Journal of Online Dispute Resolution.