The litigator says young lawyers are not siloed and get experience with difficult cases from day one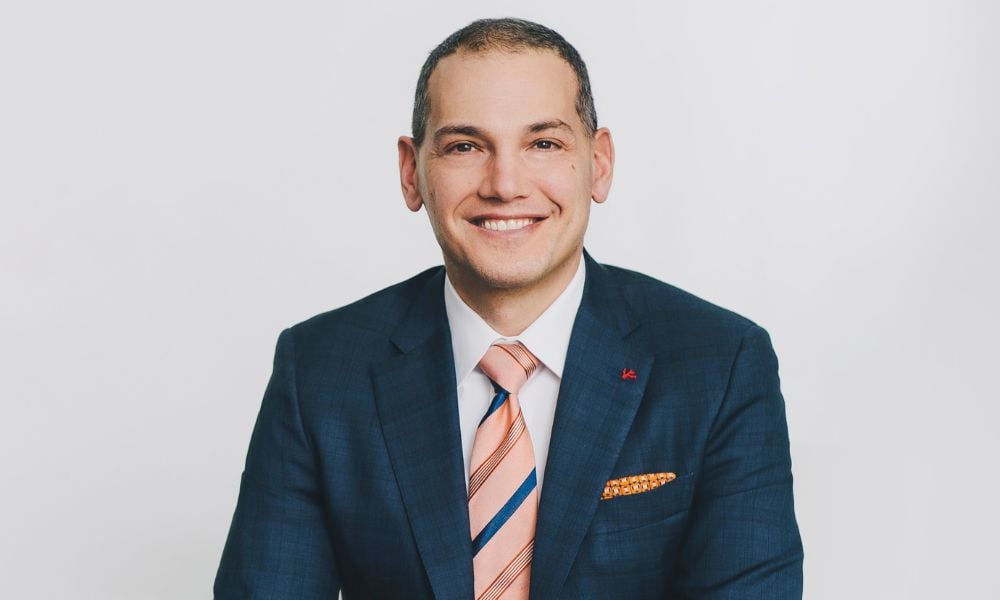 Canadian Lawyer recently spoke* with Paul Fruitman, a partner at Lax O'Sullivan Lisus Gottlieb LLP, about his practice at a litigation boutique and tips for young lawyers.
Fruitman is a judge at this year's Lexpert Rising Stars Awards, honouring leading lawyers under 40 from law firms, in-house departments, and other practices. Nominations will open on May 23, and winners will be announced on November 23.
Tell me about your practice.
I started at McCarthy Tétrault as a summer student in 2004 and worked there until 2012. When I came to Lax O'Sullivan Lisus Gottlieb LLP, the practice was not materially different. I came to this firm because I would have more opportunities to grow and more control over my practice in a relatively smaller environment.
My role has evolved a lot. I don't specialize in a specific practice area, other than the cases tend to be quite challenging.
For example, today, I am working on an insurance claim, a large oppression case that was initially going to trial, which we expedited to arbitration, a sensitive employment matter, and a cheque kiting fraud case a new client has been swept up in.
How has advocacy changed since the pandemic?
There have been many changes, and I hope many will be temporary.
Most people are on a part-time basis in the office. That is good in some ways; it gives people the freedom to run their lives. It also has a downside, which is that you lose some of the collaborative environment.
Many client meetings that used to be in person are now done via video conference. That is good because it's convenient, but you lose something if people aren't in person.
We now have many matters dealt with in a virtual environment. The good side is that it's much more convenient, and travel is lessened. But something is lost with virtual contested matters. Ideally, any substantive contested matters would be in person.
Everybody is getting comfortable working from home, but if we put ourselves in the position of clients, many of whom are not sophisticated litigants, they have one brush in their lives with the legal system. It is very costly, and it takes a tremendous toll on them. And I wonder if they feel that the justice system is working as well as it should if they never actually see the inside of a courtroom.
One of my favourite things as a young lawyer was going out to courthouses in smaller centres. However, virtual hearings are primarily here to stay.
The system is also really backlogged. So, now you see a more consistent movement into arbitration away from the court system because of how long it can take you to get a hearing date.
There used to be a whole skill set, which people called learning your way around the courtroom. How to approach the registrar with documents, how to appear and present when you are not presenting, how you should look when the other side is presenting, when bad evidence is coming out, and the ability to keep a poker face. We lose a little bit if we're sitting at home.
Tell me about a recent interesting case.
Our firm represented the Jewish Foundation of Greater Toronto. There was an effort by a prominent donor to put the charity into bankruptcy on what I will call spurious grounds. We brought a motion to dismiss the bankruptcy application, which was novel.
We tried to oppose an extension of time to file the appeal material, and that motion was dismissed by one judge of the Ontario Court of Appeal. But then, when it got up to the hearing, which was at the end of March, the court dismissed the appeal from the bench without even hearing from us, except for the costs ruling, which was high in the circumstances. Getting it dismissed summarily was quite an achievement.
What were the most noteworthy internal developments at Lax O'Sullivan Lisus Gottlieb LLP?
We have greatly expanded our insurance practice. We brought over a new partner named Hovsep Afarian to head that up.
The other significant change, which may be surprising for a firm of our size, is that we just opened a new student program. We had our inaugural student class in 2022. We have two more coming in 2023. We traditionally recruited from clerkships. But we're finding that as you grow, you need more people. And we want to develop people at the ground level.
The recruitment environment is competitive. How do you articulate the value of your firm?
We don't silo people; we don't leave people in boxes; everybody does everything with some minor exceptions. I'm the main person who would do anything related to health or hospitals, but most people will do anything. The common denominator with our cases is that they tend to be difficult. It's a steep learning curve, but that's usually quite attractive to people.
We also give our junior lawyers a lot more exposure than most places they get on their feet at an earlier stage. We allow people to stretch beyond what somebody might expect.
We don't overstaff our files. It's usually run lean with two or three lawyers, exposing juniors to the client, the case and senior people at the firm.
What advice would you give young lawyers to succeed?
Appreciate who your clients are. If you're a junior lawyer, your client is typically the partner who put you on the file. And your job is to make the partner successful, so you're successful.
You should also bring solutions and not just problems. Consider how you would solve the issue before coming to a partner or senior lawyer. It may not be correct, it may not work, but often it does.
Students should also investigate what firms are like before entering the recruitment process. If you get into an environment where you're looking for jobs and can't decipher one from another, do research and figure out what your life will be like in firm A or B, or maybe not at a firm at all.
What do you anticipate economically in the next 12 months?
There's going to be some economic volatility. Litigation is generally cycle-proof. We've been through the 2008 great recession, which did not impact us negatively. COVID didn't affect us negatively. There is a steady demand for our kind of work.
*Answers have been edited for length and clarity.