Virtual care insurance aims to cover gaps in coverage like tech and media liability, cybersecurity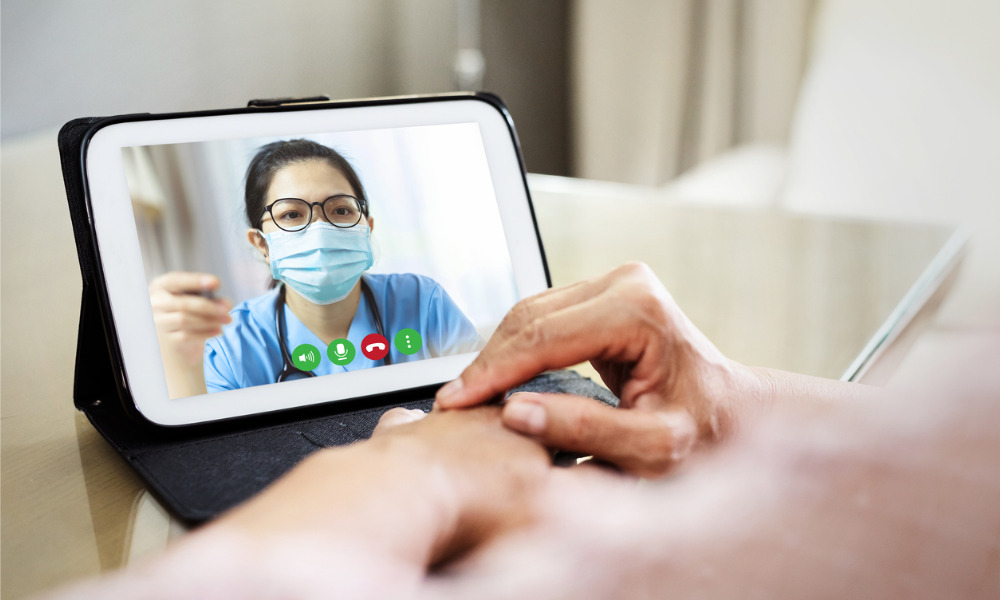 As technology-based healthcare becomes more of a reality, especially in the wake of the COVID-19 pandemic, new comprehensive insurance policies are available for technology-enabled and virtual healthcare services in Canada.
Specialist insurer Beazley has launched Virtual Care with the aim of helping telemedicine providers with the risks associated with offering digital healthcare, covering gaps in current insurance coverage for healthcare. The package features medical malpractice and professional indemnity, tech and media liability, public and products liability, as well as cybersecurity coverage and services through Beazley Breach Response Services.
Virtual care also has a coverage extension for claims due to loss of documents or reputational damage costs, as well as environmental liability costs, medical malpractice and professional indemnity.
"Advancements in technology are driving the evolution of healthcare provision as well as changing public attitudes around accessing care remotely and monitoring personal health and wellbeing," said Beazley, global head of miscellaneous medical & life sciences Evan Smith in a news release.
"With this comes potential risks from the shortcomings of data or the health advice provided, or due to errors or malfunctions in the technologies themselves. Data privacy and security concerns are also top of mind for many providers."
The insurance package is targeted at a wide range of organizations and businesses such as telehealth, as well as lifestyle and wellness technologies.
Derek Dow, a Vancouver-based underwriter for Beazley in the area of medical and life sciences, acknowledges that while mandatory traditional malpractice insurance is available to medical professionals, "some of the traditional wording would fall short in terms of addressing all the different exposures that telemedicine brings with it." He says a virtual care insurance product specifically deals with many of the issues related to virtual healthcare.
How Canadians access care and monitor their health is evolving, Dow says. He adds that according to the Canadian Medical Association, seven in 10 Canadians would take a virtual appointment if available, and 71 per cent of Canadians would like to be able to book appointments online.
The COVID-19 pandemic has sharply increased demand for telemedicine, and many providers are expanding or adding these services to meet demand and to protect patients as well as those providing healthcare.
"I think Covid-19 has absolutely exacerbated the need for virtual services," Dow says. "It allows people to still receive the care they need while practising social distancing. I imagine we would have seen services in healthcare move a more virtual platform in a gradual way, but Covid-19 has rushed that adoption by practitioners because now they needed ways to communicate with their patients in real-time but at a distance."
But in working with brokers on selling the product, Dow says "the messaging all long has been that this is an added service by doctors, and in no way replaces in-person care."
Dow says virtual care caters to a wide range of small to large organizations. This includes telehealth, which enables remote diagnosis and monitoring by professionals, and self-monitoring of chronic conditions via apps and wearables.
The policy also supports a range of lifestyle and wellness technologies that support healthy lifestyle choices. All these modes of care are supported by a range of IT tools, analytics, software, platforms and portals.
Beazley plc is the parent company of specialist insurance businesses with operations in Europe, the US, Canada, Latin America and Asia. Beazley manages seven Lloyd's syndicates and in 2019 underwrote gross premiums worldwide of more than $3 billion.
The insurer makes several recommendations for successful virtual care appointments:
In-depth screening for capturing as much information as possible about a patient's health, especially for first-time users.
Ensuring informed consent, explaining to patients their rights, and the telemedicine process
Taking note of verbal and non-verbal cues as to a patent's status.
Look for red flags such as shortness of breath and chest pains to see if patient should go to the ER or a doctor in person.
Follow up to make an assessment on the patient's wellbeing
Lawyers practising in the area of medical malpractice say that, in general, the standard of care for dealing with patients virtually is the same as treating them in person.
Darryl Cruz, a partner at McCarthy Tétrault LLP in the Toronto who acts on behalf of the defence in medical malpractice cases, told Canadian Lawyer that, in general, the current law around the concept of standard of care in either virtual or in-person setting is the same. That standard involves judging whether a doctor's treatment for a patient or actions are reasonable and comparable to what another doctor would do in the same circumstance.
And According to Duncan Embury, lead medical malpractice lawyer with Neinstein Personal Injury Lawyers, the threshold for passing a virtual patient on and getting them into the hands of some other professional for in-person diagnosis may well be lower.
As a result, the physician must ask the right questions, make proper notes and consider other factors like the ability to ensure the proper standard in a virtual setting.
Doctors in Canada are members of the Canadian Medical Protective Association, a mutual defence organization, as opposed to being an issuer. With this protection, lawyers such as Cruz and Embury say patients can be assured that any doctor that they see, virtually or in-person, has medical liability protection that considers duties to provide a proper standard of care.