She allegedly developed elbow injury for transcribing 95 percent of the time at work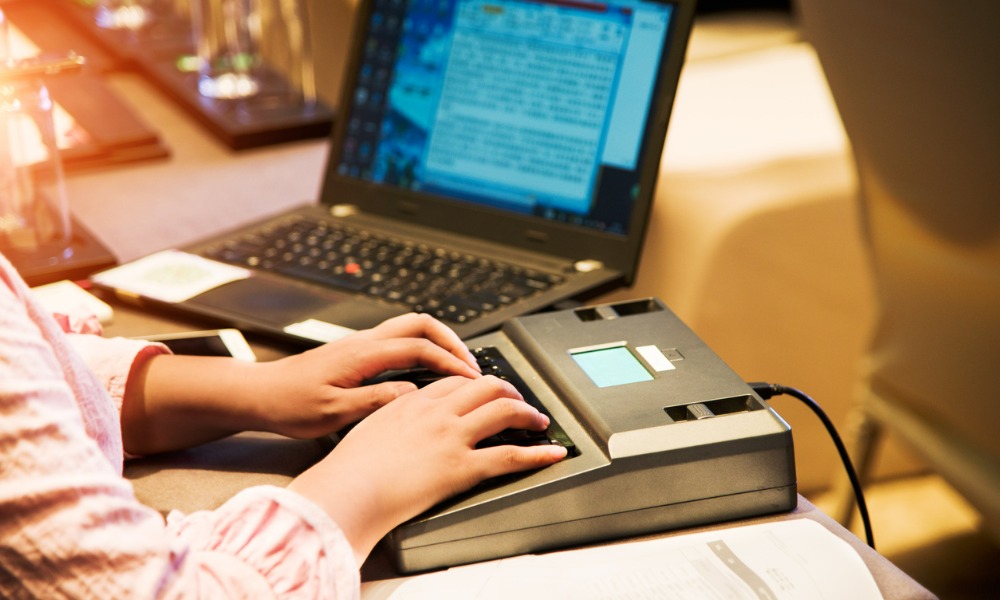 The BC Supreme Court has allowed a worker's appeal for compensation benefits for an injury that allegedly arose during her employment as a stenographer.
In Bird v. British Columbia (Workers' Compensation Appeal Tribunal), 2023 BCSC 543, Susan Bird worked as what the court described as a stenographer for over 20 years in the serious crimes unit of the Royal Canadian Mounted Police detachment in Nanaimo. She worked seven hours a day, five days a week, transcribing audio recordings of RCMP interviews with witnesses and suspects. Her duties included sitting at a keyboard throughout the day and transcribing audio recordings 95 percent of the time, typing 90 words per minute. Bird said she developed "tennis elbow" in both elbows because of her work as a stenographer.
The Workers' Compensation Board found no evidence of a work incident or a series of incidents to support Bird's claim for workers' compensation benefits. Bird appealed to the Workers' Compensation Appeal Tribunal (WCAT) and submitted an expert report by an occupational therapist, Eddie Everett. As part of Everett's assessment of Bird's condition, he used a surface electromyograph (sEMG) to measure muscle-electrical activity emanating from different parts of Bird's right and left arms. Everett's report concluded that Bird was "exposed to significant ergonomic stressors that, alone and or in combination, and more likely than not, contributed" to her condition.
Alleged failure to disclose all the evidence
The WCAT ultimately denied Bird's claim that her "tennis elbow" arose during her employment as a stenographer. As a result, she was denied all health care and wage-loss benefits. Bird argued that the WCAT decision was not made in a procedurally fair way in failing to disclose all the evidence the tribunal relied on when assessing Everett's expert report. Bird appealed to the BC Supreme Court.
The BC Supreme Court noted that the Workers' Compensation Act establishes a comprehensive no-fault insurance scheme for BC under which the Workers' Compensation Board pays compensation for personal injury or death arising out of and in the course of employment caused to a worker. In return, the worker or the worker's estate loses the right to sue an employer or another worker over such injury or death. WCAT is an expert tribunal and is the final level of appeal for the decisions made by the board.
Bird asserted that WCAT's criticisms of Everett's methods "crossed the line of procedural fairness" when the decision maker imported a piece of expert evidence from another worker's case, relied on the expert evidence even though it was never adequately admitted into evidence into Bird's case, and filed to disclose the expert evidence to Bird before making a decision. Bird said that the WCAT's failure to disclose all evidence it relied upon is a breach of the common law, the enabling legislation, and its rules of practice and procedure. She argued that she should have been allowed to make submissions or obtain additional expert evidence.
Breach of procedural fairness
The court found that a duty of fairness arises in the context of an appeal to the WCAT. The court said that the tribunal owed a high degree of procedural fairness to Bird because WCAT proceedings strongly resemble court proceedings, and the statutory scheme offers no further appeals from WCAT decisions. Further, the court emphasized that the WCAT decision greatly impacted the Bird's livelihood, making it a decision of particular importance.
The court said that the tribunal had an obligation to decide in a procedurally fair way by allowing each party to know or understand the case it had to meet and the chance to respond to the case before a decision was rendered. The court found that the WCAT breached its duty of fairness to Bird as an administrative tribunal could not base its decision on extrinsic evidence without first disclosing and allowing a complainant to respond.
The court found that the tribunal had to rely on expert evidence over the use of sEMG. The tribunal used a report made by Dr. Hamm which was not part of the record of the case. The court further found that WCAT should have notified Bird that it would rely on an expert report made by an expert in another proceeding. The court said the WCAT decision arose from Dr. Hamm's opinion, and the tribunal's failure to notify Bird that it would rely on Dr. Hamm's opinion violated Bird's right to fair notice.
The court concluded that the tribunal did not act fairly concerning its reliance on Dr. Hamm's opinion without specific notice provided to Bird. Furthermore, the court also found that the tribunal referred to unidentified research articles without allowing Bird to respond. The court had ultimately set aside the WCAT decision and remitted the matter back to the tribunal for a re-hearing of Bird's entitlement to workers' compensation benefits.
"I would like to clarify that Ms. Bird's occupation would be better described as a transcriptionist rather than a stenographer," Liz Royal, president of the British Columbia Shorthand Reporters Association told Canadian Lawyer. "A stenographer is trained in machine shorthand and uses a chorded machine to write at speeds of up to 225+ words per minute at over 95 percent accuracy. On the other hand, a transcriptionist's role involves transcribing audio recordings. While stenographers may work as transcriptionists, court reporters, CART captioners, and broadcast captioners, not all individuals in these roles are stenographers."