British Columbia has brought in amendments to its Supreme Court Civil Rules regulations, which will limit the number of experts and expert reports that can be used in motor vehicle disputes, with further amendments effective next year on all injury claims.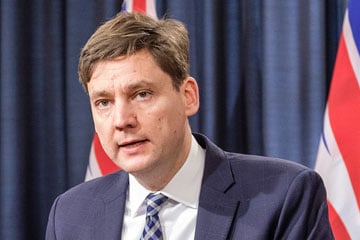 British Columbia has brought in amendments to its Supreme Court Civil Rules regulations, which will limit the number of experts and expert reports that can be used in motor vehicle disputes, with further amendments effective next year on all injury claims.
In making the announcement, Attorney General David Eby said it was required to further stem the more than $1 billion in losses that the Insurance Corporation of B.C. is projecting once the final figures are tallied for 2018. The increased use of experts has contributed to a 20-per-cent increase in ICBC's litigated injury settlements over the last year. The move, he said, is also in line with other province's court rules.
"The intent of these reforms is to avoid the costs and delays associated with the disproportionate use of experts and reports that we are seeing used today, without removing access to further expertise in situations where it's necessary," said Eby. "These changes are meant to encourage greater use of court-appointed or joint experts to provide a more neutral expert opinion and assist the court in determining appropriate amounts for injury claims."
Rule 9-7 was amended Feb. 11 to add sub-rule 11-8, with two schedules: one relating to motor vehicle claims of injury or death and a second schedule — effective Feb. 1, 2020 — relating to all personal injury claims and deaths.
The regulation rule amendment for motor vehicle cases is broken into two possible ways of proceeding in court using experts and their reports, which address damages flowing from wage loss, future wage loss and future care that can be used by each side in the motor vehicle dispute. The various parties will be able to use a maximum of three experts and reports to bolster their argument. However, there is the second option of "fast-tracking" claims (those less than $100,000 requiring a short hearing) by using only one expert or expert report.
The amendments do allow for exceptions such as if both parties agree to a joint report or if a judge deems a further report is required. The amendments also limit disbursement payments to three experts and reports, whether those reports are used in court or not. However, disbursements are permitted in cases involving exceptions as well as a responding report made 126 days before a court-scheduled trial date. Schedule 2 of the regulation amendments — taking effect in February 2020 — has rule 9-7 (7.1) of the Supreme Court Civil Rules amended by striking "in relation to a vehicle action" referred to in many sections and referring simply to an "action" in the new revised sub-rule 11-8. The old heading "Experts in Vehicle Actions" for rule 11-8 is amended to "Expert Opinion Evidence on Damages for Personal Injury or Death."
Schedule 2 rules parallel most schedule 1 rules (except for the two sections relating specifically to motor vehicles and fast tracking) and will apply to "all actions, whether or not a notice of claim for the action was filed before the coming into force of this rule," states the issued order. The transition exemptions for existing actions, other than motor vehicle, are for those where expert or export reports have already been obtained before Feb. 1, 2020 and do not affect disbursal payments prior to that date.
Capping the number of expert opinions has drawn a sharp rebuke from the Trial Lawyers Association of B.C.
"It is concerning to TLABC that the attorney general, who is responsible for the administration of justice for all British Columbians, is forcing such severe restrictions on a victim's right to prosecute her or his claim to the sole benefit of one party, ICBC," the association said in a released statement. No person is quoted in the release.
"TLABC understands that the attorney general is forcing these changes unilaterally. He is doing so despite protest from the independent [B.C. Supreme Court] Rules Committee, which is comprised of justices of the Supreme Court of British Columbia and a number of senior lawyers from around the province from various areas of practice, including lawyers who do defence work for ICBC," the statement said, adding that the decision was made behind closed cabinet doors by order-in-council precluding public debate.
"Passing such consequential changes to our system of civil justice with no legislative debate is undemocratic. Time and again, this government seems to favour ICBC's financial interests over the legal rights of British Columbians, and this rush to pass restrictions on how victims of negligence must prove their cases at law is the most recent illustration of making car accident victims pay for reckless driving," said the release.
TLABC public affairs director Todd Hauptman declined Canadian Lawyer's request for an interview with association president Ron Nairne, a motor vehicle injury lawyer.
Personal injury trial lawyer Craig McTavish says he has always been conservative in his use of experts and expert reports but the new rules mean lawyers need to carefully consider their court strategy using experts and look at how the new rules affect cases currently in progress.
He is currently handling a fast-track case where he needs a second report and is having to weigh options of how to obtain that needed report under the new rules.
McTavish says expert opinions and reports vary according to a case's complexity. In brain injuries, several professional reports may be needed to define the extent of the injury, followed by the need to gather impact information on the person's life and how awards will facilitate the individual's care or rehabilitation of injuries. If a lawyer representing a client is restricted by the limitations from gathering the information, he says, it means a return to court to obtain consent and subsequent delays.
"I gather we will be asking justices for further reports," he says.
McTavish says judges may also be requesting more reports as they "don't like to guess," giving the example of an old case where he forewent getting an economist report for a financial estimate only to be asked by the judge to obtain one.
McTavish says it would have been easier to bring in the rules limiting experts but it should have simply included the phrase "unless the court otherwise orders" and then permit counsel at a case's onset to determine and explain how many expert reports were needed. "If a lawyer has eight experts, the justice can say that is way over the top," he says, and the judge could make a determination of which reports were needed to decide a case and award.
The new order-in-council states it was made "after consultation with the Chief Justice of the Supreme Court, the Lieutenant Governor, by and with the advice and consent of the Executive Council." A full copy of the new rules can be found on the B.C. government website.