McLeish Orlando's Joseph Cescon on why he loves what he does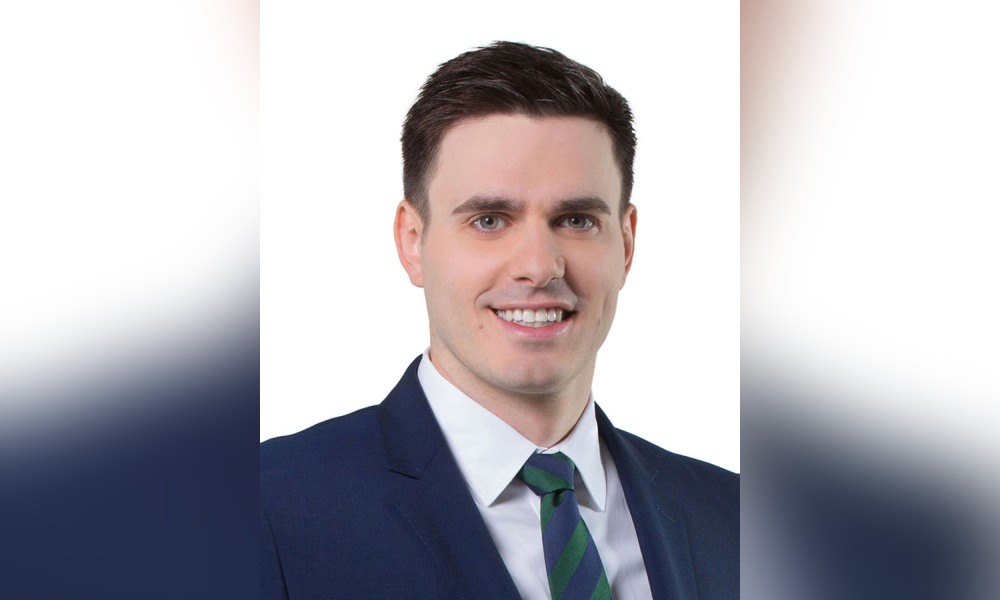 Sponsored content
Joseph Cescon didn't start out with a dream of being a personal injury lawyer. While attending law school he focused more on the academic stream of things, working predominantly for professors with little time spent in firms. When looking for an articling position, he came across an opening at McLeish Orlando LLP and the timing coincided with an increased personal interest after losing a family member in a tragic accident.
"It appealed to me as something I could pour my heart and soul into for that ten month articling period," he says.
But Cescon never left the firm after his 2008 articles — "It just turned out to be the ideal area of practice for me," he sums up — and he attributes that decision to two things: the culture of the firm that the principal partners have developed and the connections he made with his clients.
McLeish Orlando has a very collegial culture and everyone at the firm bounces ideas off each other, from what legal theory to use at the beginning of a case to the best way to present the facts to a jury at trial. There's a lot of minutia when it comes to the files they work on, "and it all gets filtered through the collective experience of the firm," Cescon, who is now a partner at the firm, says, noting he most enjoys "operating on the fringe of negligence cases and pushing the boundaries of the established law."
"Because of the total number of lawyers, I know everyone very well — we're like an extended family. We have a team approach where everybody is working to achieve a common end, which is the best possible result for our clients."
Without hyperbole, Cescon says he remembers every single person he's worked for. Each person comes to the firm with a unique story and set of facts, "and you invariably form bonds with them over the course of assisting them in their claims." The very first case he worked on has always stuck with him. It involved a young, Olympic-calibre athlete who had a significant spinal cord injury.. She's gone on to do amazing things despite her significant injury, and Cescon says that's something he's come to admire in the clients he represents.
"What always amazes me is the resilience — how people, despite these devastating injuries that have thrown their entire lives into complete disarray, manage to persevere," he says. "It's quite inspiring. We want to allow our clients to focus on their recovery and we try to handle absolutely everything else."
The COVID-19 pandemic has brought some added complications for already existing challenges in the space — even more significant trial delays despite judges continuing to move cases forward in creative ways, people calling for lower auto insurance premiums due to driving less despite the fact this means less coverage for themselves and others should there be an accident — but it has also opened the door to new opportunities. Cescon has been involved in the firm's expansion, including to Kitchener-Waterloo and surrounding communities where he grew up.. He's a long-time board member at the Brain Injury Association of Waterloo-Wellington, and says his strong connection to the community has motivated him to invest a lot of time in that organization as a way to give back.
Most recently McLeish Orlando also expanded into the far north of the province in Sault Ste. Marie, providing the opportunity to "bring a calibre of work to communities who may think they don't have other options," Cescon says.
"Particularly now with the pandemic and so many things happening virtually, everyone's realized distance isn't necessarily a barrier. I'm looking forward to meeting new clients and working on cases throughout Ontario."
Cescon looks forward to continuing to grow his practice, especially in under-serviced parts of Ontario, and his advice to young lawyers considering this area of law is to do their homework. There are many different kinds of personal injury firms throughout Canada, and each have their own style of practicing law.
"What I benefited from in terms of the way we practice is that we have close personal relationships with our clients because we have few of them by design," he says. "That has been the key factor in terms of my ability to enjoy the work I'm doing and obtain exceptional, precedent setting results for our clients."