Learn more about the laws on wills in Ontario: how to make a will, how estate lawyers can help testators, and what happens when a person dies without a will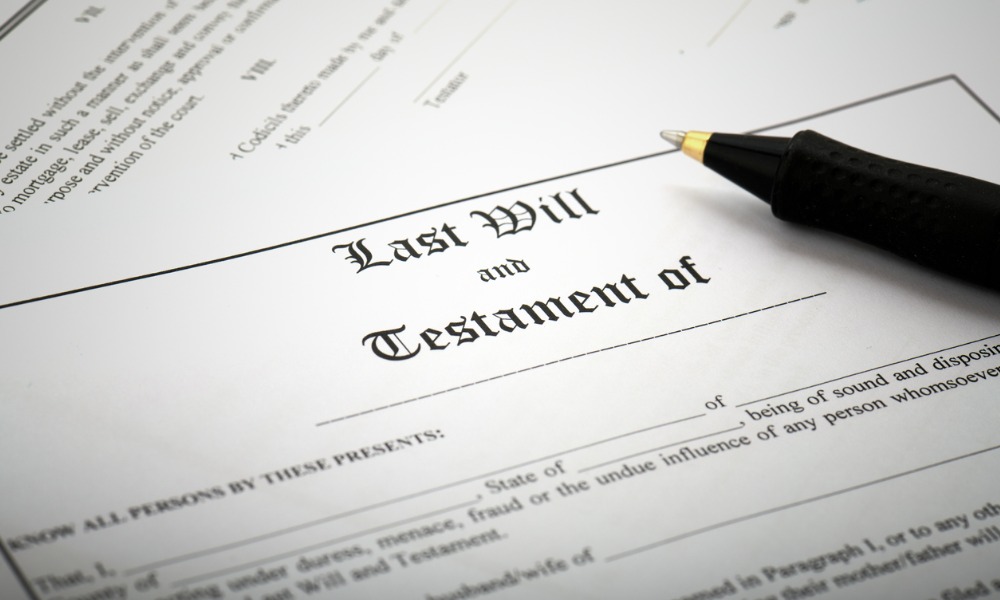 Whether you have various properties or not, having a will and doing estate planning is important. For this, the laws on wills in Ontario are instructive as to its validity. These laws also prevail when a person dies without a will.
For the lawyers reading our site, this piece should serve as an excellent explainer for your clients with these types of questions. Pass it along to them to get them started down the path.
A will is a legal document made by the testator (person making the will), which shall devise or dispose of properties after death.
There are two kinds of wills in Ontario:
Holographic Wills: personally written by the testator, that doesn't need to be witnessed.
Formal Wills: written with the assistance of counsel, which requires two witnesses.
There are also other forms of wills:
Living Wills: effective only from the time that the testator becomes incapacitated, until their death, which will govern the testator's health care arrangement and property management.
Form Wills: formatted wills that are store-bought or purchased online. It contains blank spaces to be filled out by the testator. Its validity works similarly with formal wills.
Aside from what is stated under common law, the provincial Succession Law Reform Act (SLRA) outlines the requirements for wills in Ontario to be valid. Its requirements shall also depend on whether the will is a holographic will or a formal will.
Common requirements for both holographic and formal wills in Ontario are:
The testator must be at least 18 years old.
The testator must be mentally capable or have a sound mind.
The following are the separate requirements for the validity of holographic and formal wills in Ontario:
Holographic Will:
It must be entirely handwritten by the testator
It must be written on a piece of paper
It must be dated
It must state the testator's full name
It must have the testator's signature at the end
There are no required witnesses
Formal Will:
It must be written by the testator on a piece of paper (not necessarily handwritten)
It must be dated
It must state the testator's full name
It must have two witnesses who are not among the beneficiaries in the will
It must be signed by the testator in front of the two witnesses
It must also be signed by the two witnesses in front of the testator
The witnesses must sign an affidavit, which states that the testator and the witnesses signed the will in the presence of each other
For an overview on wills and other matters, here's a primer to help you with estate planning.
Probate is required in Ontario only when a person is asking the court for:
authority as an estate trustee;
confirmation of the authority as an estate trustee as provided in a testator's will; or
approval of testator's will to be their valid last will.
Watch this video to know more about probate and its process:
If you're looking for lawyers or law firms to help answer your questions regarding wills in Ontario, head over to our Special Report on Best Law Firms for Wills, Trusts, and Estates.
While a lawyer is not necessary for wills in Ontario to be valid, hiring a lawyer in drafting a will provides many advantages:
Assistance with Ontario's Laws
Estate lawyers can guide testators to clearly put in their wills what their wishes are, without violating any applicable laws of Ontario regarding wills and estates.
This is relevant, since the goal is to make the will effective – in substance and in the form used – especially when it's being probated.
Assistance in Complex Estate
It's highly recommended that a testator hire a lawyer especially when the estate is complicated. This is especially helpful, compared to when the testator only uses an online will service, which cannot address complex estate issues.
Assistance with Tax Issues
Although the payment of taxes cannot be avoided (this would result in tax evasion), estate lawyers could help testators minimize their taxes. This will fully maximize their properties to be bequeathed after dying.
Taxes as to the testator's properties outside Canada may also apply. For this, lawyers can help testators prevent double taxation on their properties.
Physical Safekeeping of the Will
One of the problems with a holographic will is that its location may have been kept secret by the testator. When the time comes that it's needed, it may not be found anymore.
Lawyers can be entrusted with the safety of the testator's completed will. This will ensure that the testator's family can locate the will when the testator dies.
The costs of making a will in Ontario usually range between C$500 to C$1,000. However, the specific or actual cost will depend on the complications of the testator's properties and their beneficiaries.
Law firms for wills, trusts, and estates will consider these factors in determining the costs:
if there are properties and assets in other provinces or outside Canada
if the testator has an existing business
if there are family complications, as to testator's spouse, common-law partner, or children
One of the disadvantages of not having a will is that a deceased's properties will be distributed according to law.
While wills in Ontario are governed by the SLRA, this law will also prevail when a person dies intestate or without a will.
Intestate Succession
Intestate succession refers to the distribution or division of a person's properties if they died without a will.
Depending on the remaining relatives of the deceased, below is a general order of succession as provided by in the SLRA:
Spouse + no children: spouse receives the entire estate.
Spouse + children:

spouse receives the first C$200,000; and
spouse and children will equally divide the remaining estate.

No spouse + children: children will divide the estate equally among them.
No children + no spouse: deceased's parents will inherit the entire estate.
No children + no spouse + no parents:

deceased's siblings will equally divide the estate among them;
the children of any predeceased sibling will receive their parent's share.

No children + no spouse + no parents + no siblings: nieces and nephews will equally divide the entire estate among them.
No children + no spouse + no parents + no siblings + no nieces and nephews: the entire estate is equally divided among all other next of kin.
No next of kin: the entire estate goes to the government of Ontario.
Know that the "spouse" here does not include a common-law spouse. In this situation, it's better that the spouses make a will or do an estate planning; otherwise, intestate succession will apply.
Have you given some thought to preparing a will? If you need some guidance, read and bookmark our Trusts and Estates section for news and insights on wills, estate planning, and succession planning.
Related stories