Whether it is for estate planning or challenging someone's will, expertise is key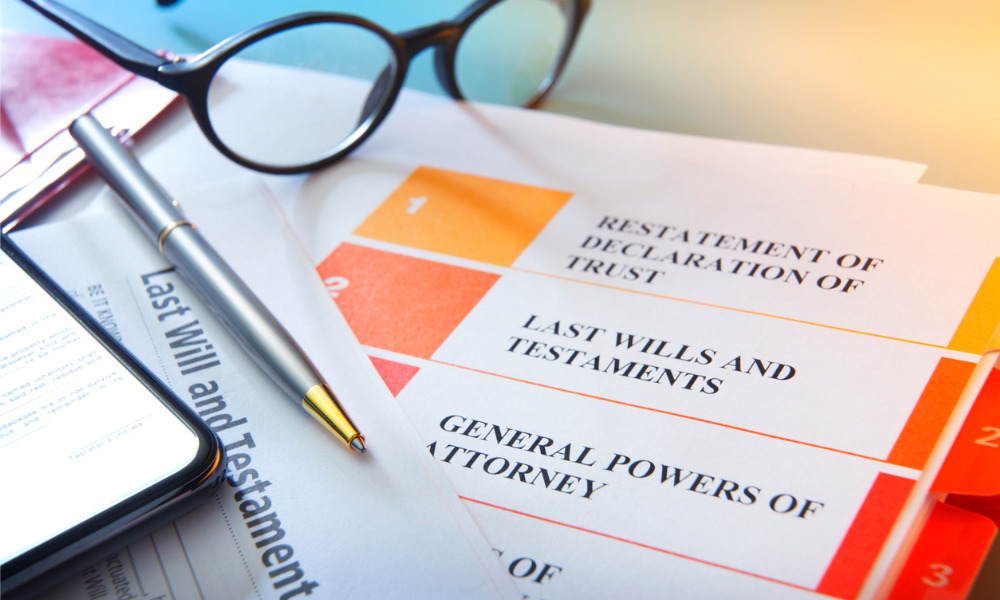 This article is part of a series addressing popular topics for lawyers as well as questions that clients and the public may have about the legal profession. We encourage law firms and lawyers to link to this article in their communication materials should it be useful.
Yes, it is possible to write your last will and testament on a paper napkin and, under certain circumstances, have it stand up in court to a challenge from disgruntled relatives. But you must ask yourself, why would you want your final desires to be left to chance instead of hiring an estate lawyer?
Daniel Paperny at WEL Partners says the big takeaway, when such napkin wills are challenged in court by disgruntled family or friends, is "don't tempt fate, don't leave anything to chance."
If you rely on something scribbled on a piece of paper, "you are begging for litigation," Paperny says, because it's easily challenged and difficult to prove that it is a valid expression of your testamentary intent. However, he adds that such "holographic" wills can be valid if signed and written in the testator's hand.
As a litigation lawyer, who has seen just about everything when it comes to families feuding over estates, Paperny suggests the best thing someone who decides to leave a will can do is to have one drafted that complies with formal statutory requirements and is properly witnessed by two witnesses. And if you choose to challenge a will, you need a lawyer who understands the law surrounding estate law and is in your corner. So here is a primer on what estate lawyers do and why you may need one.
Read more: Now's the time for estate professionals to visit — and revisit — the fundamentals
What is an estate lawyer?
There are different types of estate lawyers, says Diana Vieira with de VRIES LITIGATION LLP. "On one hand, you have estate planners. They help their clients with succession planning and choosing substitute decision makers." They also draft testamentary documents, such as wills and powers of attorney. Estate lawyers can also be an essential component of retirement planning, ensuring you have your affairs in order not only while you are living but when you pass on.
Then, there are estate litigators, such as Vieira. These types of lawyers "assist clients in resolving adversarial disputes involving estates and covering a wide range of legal disputes," she says. They provide advice to beneficiaries and estate trustees on such matters as will challenges, dependants' relief claims, and will interpretations.
As well, estate litigation lawyers also deal with matters involving capacity issues. These types of claims typically deal with disputes over whether someone was of sound mind when the will was written. It can also involve a disagreement over capacity assessments, guardianship matters, and health care decisions.
"Most people think of an estate lawyer as someone who drafts wills and powers of attorney or as someone who assists an estate trustee in administering an estate after someone's death," says Brittany Miller with Goddard & Gammage LLP. "While estate lawyers do perform these important roles, an estate lawyer also does much more than these discrete tasks."
An estate lawyer can represent beneficiaries of an estate in advancing their interests and ensuring the estate is administered properly. An estate lawyer can assist a spouse, child or other financial dependent in bringing a claim against an estate if they have not been sufficiently provided for. An estate lawyer can also help resolve conflicts between family members and estate trustees about estate assets.
Read more: Where there's a will, there's a way: the challenges of witnessing wills during a pandemic
When to hire an estate lawyer?
Well, that depends. If you want to ensure your dying wishes are carried out – and that should be all of us, says Margaret O'Sullivan, an estate planning lawyer at O'Sullivan Estate Lawyers LLP – you probably want a lawyer with a specialized practice to help you come up with an estate plan.
Sure, you can go to a general practice lawyer (or even an online will service), especially if your estate is relatively small and simple and your family situation is uncomplicated, says O'Sullivan. "But by going to a specialist, you're going to get a more tailored and bespoke approach in terms of helping achieve the objectives you are looking for." An estate planning lawyer can also advise who should be the executor of the will, a challenging but critical job that requires diligence. Sometimes, if the estate is more complicated, a lawyer might even suggest paying a professional to execute the will.
An estate planning lawyer will help develop a more airtight estate plan and how to divide estate assets. They can also advise on the various types of trusts out there - inter vivos trusts (or living trusts) and testamentary trusts are a couple of examples – and help decide if it should be a revocable or irrevocable trust. They can also advise on the probate process, avoiding probate or how to apply for probate and deal with the probate court.
Estate planning lawyers can also help you deal with issues such as income tax, minor children should you pass away before they come of age, what to do with real estate and life insurance, and what to do if there is a second marriage (with or without children) or common-law relationship involved.
In terms of estate administration, Goddard & Gammage's Miller says an estate lawyer can help guide an estate trustee throughout the administration process to ensure they understand and fulfill their legal duties and obligations. An estate lawyer can help solve any issues that might arise with beneficiaries, creditors or third-party institutions and help protect an estate trustee from personal liability.
For those who are unhappy beneficiaries (or not a beneficiary when they thought they should be), or unable to obtain information from an estate administrator, or not pleased with the estate trustee's actions, an estate litigation lawyer is what they'll likely need – someone with excellent knowledge of estate law.
These people often "tried to obtain information with little success," says Vieira. "They reach out to lawyers after their own efforts have failed to get results." However, Vieira says speed is needed if there is a potential claim against an estate. "Limitation periods apply and they need to move swiftly to formulate a potential claim and get information about their options."
For an estate trustee, they should seek out lawyers very early in the process. Estate trustees may be worried about personal liability, need assistance with administering an estate, or need an advocate to defend against a claim against the estate. "Being a fiduciary is a difficult and demanding role," she says. "It is not surprising that estate trustees would seek out legal advice."
Kim Whaley of WEL Partners (WEL stands for Whaley Estate Litigation) says among the more common reasons for litigation is the question of the capacity of the testator. A competent lawyer should be able to determine if the client "has the requisite capacity to make the choices that will be going into the will." That may sound easy, she says, but in these days of dealing with clients by remote means Zoom, telephone etc.), it can be a challenge.
The other common ground for litigation is whether there was "undue influence" by someone, forcing or coercing the testator so that they benefit more from the estate. "There may some coercion that is tantamount to fraud, but it may be difficult to prove, as there often aren't witnesses."
Sender Tator of Schnurr Kirsh Oelbaum Tator LLP agrees that capacity and undue influences are the biggest reasons for challenging a will. But he says it's important for a client to know 'there is a difference being a disappointed beneficiary and another to be someone with legal grounds to challenge a will."
"Don't get me wrong, anybody can challenge a will, but the courts, case law and statutes say there are very specific valid reasons for challenging a will."
Qualities of a good estate lawyer
Whether it is an estate planning lawyer or an estate litigation lawyer, you're going to want some obvious qualities – someone who is analytical has good interpersonal and problem-solving skills, and can communicate well in person and in writing. But a lawyer with specific other characteristics can also be necessary.
For an estate planning lawyer, going through the client's background and family dynamics can be crucial. Ian Hull of Hull & Hull LLP, who has done a lot of estate litigation, says red flags should go up when it comes to certain things going into a will – unbalanced gifting for children, perhaps, or leaving out of the will someone closely related to the testator.
It's not a matter of telling the client not to do these things, Hull says, but "a good estate planning lawyer should know the circumstances to make sure that these wishes won't be challenged by those who are disappointed." It could mean suggesting a family meeting, it could mean attaching a letter of explanation to go along with the will. The estate planning lawyer should also take good notes during any meeting with the client.
For an estate litigation lawyer, extensive knowledge about civil litigation and probate matters is a must, as well as some knowledge of health and family law. Paperny suggests two other qualities are needed. The first is that "you want a strong advocate, someone willing to go to the mat for you," regardless of which side of the litigation. The other quality is finding someone "who is going to be honest with you about your prospects for success and what risks there are in relation to the potential benefits."
Above all, whether a lawyer is on the planning or the litigation side of estate law, a strong understanding of the emotions and family dynamics is crucial. "There are issues that come up that date back decades," says Tator, "children who accuse their siblings of being more favoured, things that might have been unsaid for years."
"I think a good estate lawyer is cognizant of those dynamics and those emotions at all times," Tator says. "And I often say to clients, I know you can't remove the emotion from it, but it's not my family, so I can – let me shoulder that burden for you."