Jump to winners | Jump to methodology
Lack of jury trials adding to personal injury case backlog
New technologies, different ways of dealing with the courts and clients, and coping with what is and will continue to be an overburdened legal system. These are just some of the trends Canadian Lawyer's top personal injury firms for 2021 see in a future that has been drastically affected by the COVID-19, sometimes for worse, but sometimes pointing to a way of doing things better in the future.
David Levy, the managing partner at Toronto-based Howie Sacks and Henry LLP, says that the firm has seen "a dramatic change" in how personal injury litigation is being advanced because of the pandemic. Discoveries, motions, mediations and pre-trials done over Zoom are becoming the norm, and motions to strike jury notices have become commonplace.
While some are speculating virtual mediations are here to stay, others are less than enthusiastic when it comes to the ability to assess the credibility of a witness virtually. "At some point post-pandemic, a body of law will develop regarding when virtual procedures ought to still be preferred," Levy says. However, trial scheduling court and motions court have been "quite effective," so the expectation is that using virtual platforms for these proceedings will become permanent.
Levy's colleague Renée Vinett notes that bench and bar alike, despite the steep learning curve, "have adapted well to the technological demands of this new reality" as a means to eliminate delays and reduce costs. "There is little doubt that many of these technological advancements are here to stay even once we are finished with the pandemic."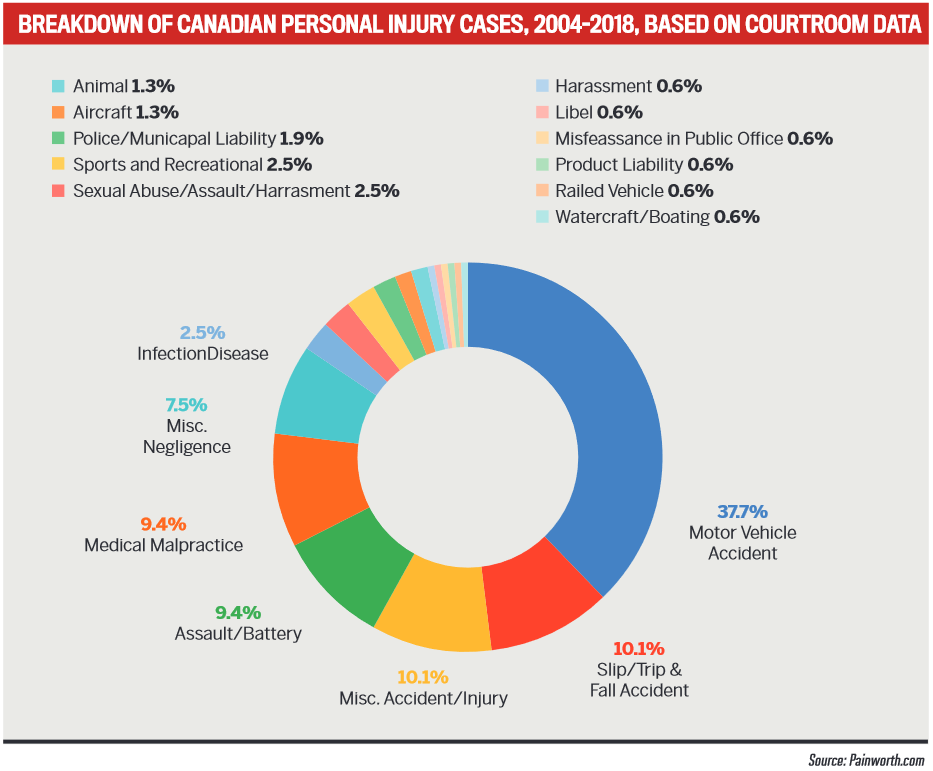 Working from home post-pandemic
At Rodin Law Firm in Calgary, Greg Rodin says technology adoption was not only a challenge for the court system. He notes the learning curve that was needed to develop strategies "to have almost everyone in the firm successfully work from home." He adds it will be "interesting to see whether working from home will endure post pandemic and to what extent."
David MacDonald at Thomson Rogers LLP in Toronto notes that the desire for social contact has made all parties involved in personal injury cases "much more collegial" and pleasant towards each other. Colleague Darcy Merkur says at a more practical level, communication tools such as Zoom will have an impact on whether firms feel there is an advantage in creating and promoting satellite locations of their firm as the playing field has "levelled out."
Warren Whiteknight, partner at Bergeron Clifford LLP, which serves eastern Ontario with offices in Kingston, Ottawa, Perth and Carleton Place, notes that the delays in cases caused by the pandemic exposes the increasing difficulty in getting personal injury civil trial through the court system. Delays in trials, potentially even more back-logged when criminal cases are fully up and running, leads to worries that civil cases like the ones his firm works on will be pushed back even further.
Future of personal injury jury trials
Indeed, the future of jury trials in personal injury cases is potentially at stake, says Whiteknight. He says to there is an increased willingness from judges to agree with plaintiffs who ask for trials to go ahead on a judge-alone basis. But there is often resistance from defence lawyers representing insurance companies who want to hold out for a jury trial. These defence lawyers expect that they will pay out less as jaded jurors who did not want to be on a jury in the first place take a more subjective approach in deciding "routine" automobile accident cases, for example, compared to how a judge trying the case might rule.
Whiteknight, along with other award winners, agree that going the judge-alone route in these routine cases might help clear the backlog more quickly. However, they also acknowledge there is still a strong need for juries in cases dealing with more catastrophic injuries, or medical malpractice. "There are certain cases where the issues at stake interact with public policy and the public good," he says, and it is important to have juries for those cases to check the temperature of Canadians on these important questions on liability and awards.
"I did a case a couple years ago, where, halfway through the trial, the jury was struck. So, we started with a jury and finished with judge alone," he says. "And the tone of that case changed from night to day." These issues existed long before COVID-19, but the pandemic showed the issues in a new light.
In Vancouver, Anthony Vecchio of Slater Vecchio LLP says that with British Columbia soon moving towards a no-fault system for setting accident claims, as many jurisdictions have done already, this puts a significant dent in the ability of accident victims to use tort law. "And any time you have a legal system that doesn't allow people to seek proper restitution, you have a fundamental problem that is hurting a cornerstone of democracy."
Mass tort claims is "wave of the future"
Vecchio says that partly due to what is happening on the no-fault insurance front in his province, his firm has been delving more into mass tort actions, seeing them as "the wave of the future."
Unlike class-action lawsuits, where the representative plaintiff pursues the claim on behalf of the class members, mass tort actions allow plaintiffs to pursue their cases individually. Pooling similar cases together allow plaintiffs to bring an individual lawsuit against a defendant alongside what is often hundreds of other individual plaintiffs in the same situation. These plaintiffs may have different interests, and assessments of individual damages may vary.
Paul Miller, head of the mass torts department at Howie Sacks and Henry notes the same trend, saying clients are showing a preference for mass torts actions compared to class actions.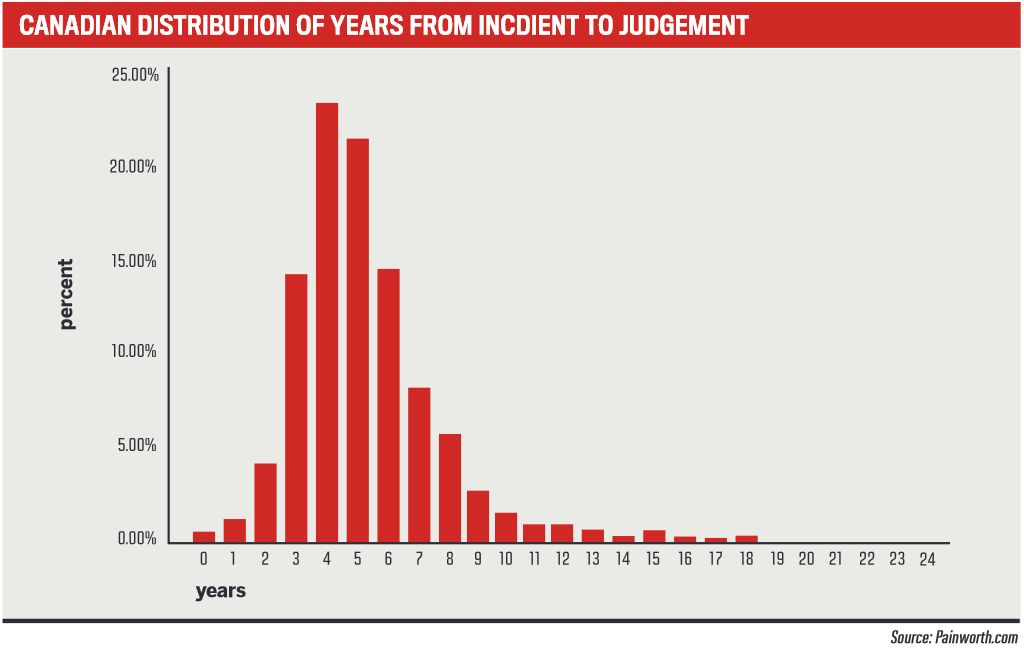 "It appears that there may be a trend emerging in serious personal injury cases to commence individual actions in an effort to avoid the lumping together of claims," Miller says. "The mass tort process empowers plaintiffs and allows them a real voice in the outcome of their case."
As well, amendments to the Class Proceedings Act also suggest a potential shift away from class actions in some instances. Says Miller: "The adoption of the question of fact or law common to the class members now being predominate over individual issues, may in fact create an environment in which it is difficult to certify class actions with respect to cases that involve personal injury or death."
A notable example of plaintiffs opting for a mass tort approach over a class proceeding is the case of the downing of UIA Flight PS752. There were approximately 176 passengers on this flight who departed from Tehran on January 8, 2020. Minutes after take-off, the flight was shot down by the Iranian Military, killing everyone on board. Of the 176 passengers, 138 were eligible based upon the Mont-real and Warsaw Conventions.
A class action commenced in January 2020. But at the certification hearing, a group of counsel representing 92 of the 138 passenger claims sought intervenor status at the motion to protect the rights of those who did not want to be part of the class action. The class was certified, Miller says, "but it is clear that the majority determined that a class was not the preferable procedure for their own case."
Gary Will at Will Davidson LLP serving Ontario through offices in Toronto Bowmanville, Midland, Huntsville, Oakville and Lindsay says his firm is also "somewhat moving away" from motor vehicle litigation and into areas such as medical malpractice and product liability. "These are fairly complex areas," he says, "you have to be specialized, you just can't dabble in this area." He adds his firm has put a lot of effort into training staff and lawyers "and having them go out and educate themselves in these new areas so they are ready to take them on."
Will notes that COVID-19 has led to a decrease in personal injury cases resulting from automobile accidents there have been fewer cars on the road. But what has opened up is a new area in taking on insurance companies as businesses try to settle payouts on business interruption insurance.
"There's a number of class actions and individual class from businesses who thought they had protection, and the insurers are fighting it," he says. Settling these cases will likely end up being decided on the specific wording of the insurance policies that businesses signed.
"It will likely take a while a year or two at least before these cases get fleshed out."
Howie, Sacks & Henry LLP
Toronto, Bobcaygeon, Brampton Georgetown, Kitchener, Markham, Oakville
hshlawyers.com
Will Davidson LLP
Toronto, Oakville, Huntsville, Midland, Lindsay, Orillia, Markham
willdavidson.ca
TOP 5 PERSONAL INJURY BOUTIQUES 2021 – WESTERN CANADA
Cuming & Gillespie
Calgary
cuminggillespie.com
Rodin Law Firm
Calgary
rodinlawfirm.com
Slater Vecchio LLP
Vancouver
slatervecchio.com
TOP 5 PERSONAL INJURY BOUTIQUES 2021 – WESTERN CANADA
Correia & Collins
Saint John
cclawyers.ca
MacGillivray Law Office Inc. (MacGillvray Injury and Insurance Law)
Halifax, New Glasgow, N.S.
macgillivraylaw.com
McKiggan Hebert Lawyers
Halifax
apmlawyers.com
Roebothan, McKay & Marshall
St. John's
makethecall.ca