Jump to winners | Jump to methodology | View PDF
SHOWCASING THE TOP VENDORS THAT LAWYERS RELY ON
Doing business better during a pandemic
It goes without saying that COVID-19 continues making all of us adjust to new or different ways of doing things. The legal sector is no exception, so law firms of all sizes are looking at what vendors can offer to help make their practices work smarter. Meanwhile, life goes on for the typical law firm client, and they are looking for ways of doing what needs to be done more efficiently.
A good example is in Alternative Dispute Resolution using arbitration. Kim Stewart, CEO and co-founder of Readers' Choice winner Arbitration Place (in the ADR mediation chambers category), says she has seen a considerable increase in demand for arbitration services, thanks in part to the continuing backlog in the court system, especially when it comes to commercial matters. "There have been several practice directives issued by the courts encouraging parties to consider alternative dispute resolution." The compulsory use of arbitration is more likely to be baked into a contract these days as a means of settling disputes, she says. Still, even when such a clause is not included, there is more incentive to use arbitrators rather than go the far lengthier litigation route.

COVID-19 has also caused the legal industry to take a step back and evaluate the time and cost of current models. Arbitration chambers have ramped up their ability to provide services virtually, which is less expensive than travelling to in-person arbitration and often held in far-flung places that can be difficult to get to because of vaccination requirements — never mind the risk of travelling during a pandemic.

J. Brian Casey, the co-founder of Bay Street Chambers, another winner in the ADR mediation chambers category, notes that as the world becomes more "globalized," arbitration can help lessen any nationalistic tension. More than 150 countries have ratified the United Nations Convention on the Recognition and Enforcement of Foreign Arbitral Awards of 1958 (the "New York Convention"). Once both sides agree to the arbitration process, the perception is that neither has "home court" advantage.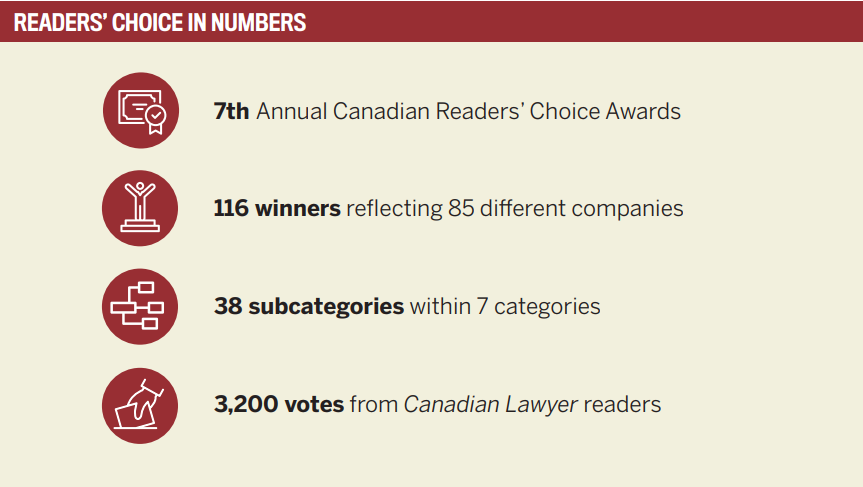 A helping hand for lawyers' clients when times are tough
This has undoubtedly been one of the most challenging times for those involved in personal injury and medical malpractice cases, says Jeffrey Gottheil of Nudorra Capital Litigation Loans. Many are simultaneously suffering physically, mentally or emotionally, as COVID-19 has prolonged the court process for many matters and the economic impact of the pandemic has been hard.

A winner in our Readers' Choice litigation loan category, Nudorra helps those involved in lawsuits to get through the tough times they might face while waiting for their case to be settled or dealt with in court. It's not necessarily for legal fees, as most lawyers in these cases work on a contingency basis so that those expenses would come out of any settlement or award. "They can put that money towards car payments, pay rent, put food on the table, take care of any medical treatment, anything they need," he says.

Lawyers are prohibited from loaning money to their clients, so often, they rely on companies such as Nudorra to help fill the financial gap, recommending them when they feel the need. "I think law firms are looking for competitive rates for their clients, a company that is good to their clients in terms of quickly processing the loan," he says. "Once someone comes to us [and] fills out the application, we ask the lawyer for more details about the case. Once we have all the information, we can approve the loan, have the documents ready and then money in their bank account — all within 24 hours."

Making sure law firms aren't lost in translation
While the pandemic has changed how the world has been getting things done for almost two years, it is also — like the song says — becoming "a small world after all." And one sign of how the world is becoming more connected is the need for translation services that consider an increasing number of languages.

"Translation is one of the strongest growing industries, increasing in the double digits every year," says Gary Kalaci, CEO at Alexa Translations and Alexa Translations AI, one of the Readers' Choice winners in the translation and interpretation services category.

"It is not just in the legal industry. If you think of a globalized world, [and hence] more organizations with products and services, the need to having things properly translated keeps getting stronger and stronger."

He adds that speed of translation and accuracy are among the top qualities that law firms are looking for in a translation service. But having a choice is also a factor — firms want different price points and timelines for varying levels of translating a document into one language or another. Sometimes, getting the basic understanding of a document is all that is needed, while other times, the highest level of accuracy and nuance is necessary.

As for speed, Kalaci notes that artificial intelligence has become increasingly a part of the translation service sector. But we're not talking Google Translate here, he says. Instead, Alexa's proprietary translation software reflects specialized areas such as business law, how a language has evolved and which idioms are used.

However, while AI helps to get a good first draft that is, for Canadian French, say about 90 per cent accurate, Kalaci says, "you'll also need a team of professional translators who are legally trained to really close the loop effectively." Other languages that are more "unusual," such as Indonesian Bahasa, may take more time to translate accurately and might require using a freelance or contract translator that Alexa keeps on its roster. Aside from Canadian French, other popular languages for translation include Spanish, Chinese, German, Brazilian Portuguese, and then another tier of languages that include Arabic, Russian and Italian.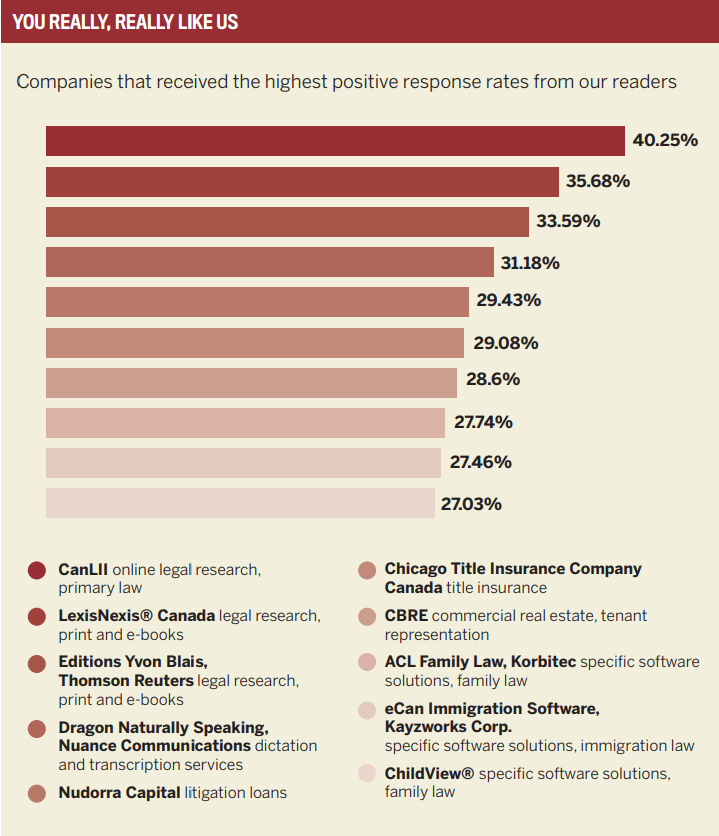 Always having the correct forms at your fingertips
Filing documents with the court can be a finicky business, says Alan Bass, CEO of Korbitec Inc., a Readers' Choice winner in two legal technology categories. Use the wrong form, for example, and the court clerk will likely reject it, saying to come back with the correct form filled out.

What became clear over the past few decades — as forms can now be updated frequently with a few strokes on a computer keyboard — is that law firms need a software platform that allows them to have access to the most up-to-date forms for court procedures in specific jurisdictions.

The company's roots date to 1976 in Cape Town, South Africa, but its presence in Canada happened in 2006 when it purchased a Canadian software player that morphed into what the company is today — focusing on its flagship software, ACL (an acronym for Automated Civil Litigation). Korbitec maintains more than 3,500 court forms within its ACL platform which it updates regularly. "So far this year, we have gone through 18 content updates, and we're now working on 19."

The platform also helps prevent errors from creeping into a document — a considerable efficiency tool. "The most common errors that crop up when firms are putting together documents usually arise from 'cut and paste' errors that [occur] when an existing completed document is used as a template for a new one," Bass says. "Inevitably, not everything that needs to be replaced in a document will be — so, dates could be wrong, incorrect names are left in, the wrong gender pronouns are used." A system that makes the process of filling out court documents less prone to mistakes is a crucial part of a law firm's proficiency and economics. Flexibility to adapt to a particular law firm's procedures and practices is also a hallmark of good document management.

Document management as the key to efficiency
As document sharing and filing electronically become more standardized, law firms are looking for vendors who provide digital tools to promote greater productivity when managing workflow.

In the case of Estateably, first cousins Ari Brojde and Alex Wulkan have developed a platform that streamlines the process of administering an estate. Their idea stemmed from their own negative experience as beneficiaries in managing their grandmother's estate. The first version of Estateably's software was a platform built in 2018 that streamlined the electronic submission of tax clearance requests. Brojde says the company then moved on to an end-to-end estate administration program and is ready to launch a purpose-build trust and Power of Attorney administration product in 2022.
As more law firms move to the cloud, Brojde says they are looking for web-based software that can be accessed by staff wherever they are. Permissions can also be granted to allow non-lawyer executors to participate in the administration process, even dividing up tasks if there is more than one executor.

Brojde says that "law firms are increasingly aware of the massive transfer of intergenerational wealth that is unfolding and will continue to unfold over the next two decades as members of the Boomer generation age and pass away. On the other hand, "they are confronted with a relative shortage of the clerks and other paraprofessionals that are knowledgeable and experienced in estate administration."

Technology that helps law firms process the administration of these estates more efficiently is becoming more valuable as they try to capture the opportunity ahead of them and streamline procedures to take on greater volume without adding additional staff. A more efficient system can also handle the increasing complexity of estates as there are more blended families, more second marriages and beneficiaries with competing interests. "It requires software that can embed the required logic to have these managed effectively."
ADR Chambers
Arbitration Place
Bay Street Chambers
Canadian Commercial Arbitration Centre
Financial Services & Consultation
Business Valuation & Services
Baker Tilly Canada Cooperative (formerly Collins Barrow National Cooperative Inc.)
KPMG LLP
MNP LLP

Forensic Accounting Services
Baker Tilly Canada Cooperative (formerly Collins Barrow National Cooperative Inc.)
KPMG LLP
MNP LLP

Trustees in Bankruptcy / Restructuring Services
Baker Tilly Canada Cooperative (formerly Collins Barrow National Cooperative Inc.)
KPMG LLP
MNP LLP
Real Estate
Commercial Real Estate - Tenant Representation
Avison Young
CBRE
Colliers International

Title Insurance
Chicago Title Insurance Company Canada
FCT®
Stewart Title Guaranty Company
Legal Technology
Calendar & Docketing Software/Solutions
3E® (Thomson Reuters Elite)
Amicus® Attorney
PCLaw® | Time Matters

Case Management Software/Solutions
Case Notebook (Thomson Reuters)
CaseMap® 13 (LexisNexis)
Clio®

Cloud-based Practice Management Software/Solutions
Abacus Next Private Cloud™
Clio®
MyCase by appfolio™

Cyber Security Consultants
Baker Tilly Canada Cooperative (formerly Collins Barrow National Cooperative Incorporated)
Cytelligence
Symantec (Canada) Corporation

Dictation & Transcription Equipment
Dragon Naturally Speaking (Nuance Communications)
Grundig Business Systems
Olympus Professional Dictation

E-discovery Software/Solutions
eDiscovery Point (Thomson Reuters)
Open Text™ Accelerate™
Open Text™ EnCase™

Legal Document Assembly Software/Solutions
Amicus® Attorney
Clause Testament (Thomson Reuters)
Infoware

Managed Security Services
Bell Canada
BMC Networks
Symantec (Canada) Corporation

Matter Management Software/Solutions
3E (Thomson Reuters Elite)
ACL5 (Korbitec)
Amicus® Attorney

Practice Areas Specific Software/Solutions - Corporate Law
Corporate Entities, Legal Suite
Corporate Manager ET, Emergent Technologies
ecorp, Dye & Durham Corporation

Practice Areas Specific Software/Solutions - Estates, Wills & Trusts
Estateably
Estate Administration, Emergent Technologies
Estate Planning & Vault Manager, Emergent Technologies

Practice Areas Specific Software/Solutions - Family Law
ACL Familiy Law (Korbitec)
ChildView®
DIVORCEMATE Software Inc.

Practice Areas Specific Software/Solutions - Immigration Law
CanadaImm, Uniques Software Corp.
eCan Immigration Software, Kayzworks Corporation
ImmForms, Uniques Software Corp.

Practice Areas Specific Software/Solutions - Real Estate Law
ProSuite™, Do Process Software
Real Estate, Legal Suite
RealtiWeb®, LawyerDoneDeal Corp.

Time & Billing Software/Solutions
3E (Thomson Reuters Elite)
Acumin™ (Dexco Corporation)
Legal Tracker (Thomson Reuters)
Litigation Support & Consulting
Court Reporting & Deposition Services
Amicus Reporting Group, a Veritext Company
ASAP Reporting Services Inc.
Atchison & Denman
Catana Reporting Services

Accident Investigation & Reconstruction Expert Witness
AB Forensics Ltd.
Advantage Forensics
Anderson Associates

Civil & Structural Forensic Engineering Expert Witness
30 Forensic Engineering (formerly Giffin Koerth)
Anderson Associates
Arcon Forensic Engineers
Brown & Beattie Ltd.

Medico-legal Expert Witness
A.R.S. Assessment Rehabilitation Services Inc.
Assess Med®
Associated Specialties Assessment Inc. (ASA)

Personal Injury Damage Quantification Expert Witness
Associated Economic Consultants (2017) Ltd.
Baker Tilly Canada Cooperative (formerly Collins Barrow National Cooperative Incorporated)
Grant Thornton LLP

Litigation Support & E-discovery Consultants

Litigation Funding
BridgePoint Financial Services Inc.
CaseMark Financial
Nudorra Capital

Process Servers
Borg Process Servers Inc.
Calgary Document Service
Canadian Process Serving Inc.

Public Record Searches & Filing
Alberta Service Bureau
Borg Process Servers Inc.
Cyberbahn

Structured Settlements
Baxter's Structured Settlements
EPS Settlements Group of Canada
Henderson® Structured Settlements LP

Translation & Interpretation Services
Accent Translations Inc.
Alexa Translations
MOSAIC Interpretation & Translation Services
Legal Research
Legal Research - Print & E-books
Editions Yvon Blais (Thomson Reuters)
Emond Publishing
LexisNexis® Canada

Online Legal Research - Primary Law
CanLII
La référence (Thomson Reuters)
LexisNexis® Quicklaw® Full Service

Online Legal Research - Secondary Contentment & Analysis
CanLII
LexisNexis® Quicklaw® Full Service
Practical Law Canada (Thomson Reuters)
Recruiting, Staffing & Outsourcing
Legal Process Outsourcing/ Managed Document Review
Axiom Global Canada Inc.
Conduit Law LLP
Ricoh Canada Inc.

Legal Recruiters
Berger Legal Search
Branion Williams
Robert Half®

Legal Support Staffing Recruiters
Cartel Inc.
David Aplin Group
Mirillion Group
The ballot consisted of categories encompassing areas such as ADR mediation chambers, financial services and consultation, legal research, legal technology, litigation support and consulting, recruiting, staffing and outsourcing, and real estate. Once the research period is over, our team reviews the results to see which entrants received the best grades.
In total, 459 products and service providers were listed on the official ballot and voters were also allowed to write-in any businesses not listed. We have named the top three vote-getters in each category (in some cases four, if there was a tie) and listed them in alphabetical order. Categories with more than three winners indicate a tie.